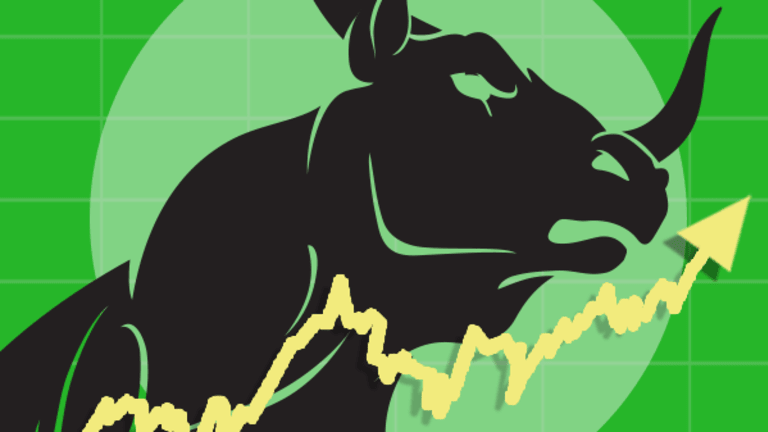 Intel, AMD and 24 Other Stocks I Love for October
From energy stocks to hurricane-recovery plays, these are the names to own in October. Get your pen and paper out.
As we reach 2017's later stages, much of the muddy water that's clouded our market vision this year has cleared to the point where it's easier to see the landscape. So, how should we play things this month?
Many of you know that I've been bullish for quite some time -- years even. I felt fine being optimistic when almost everyone else was sounding alarm bells. But now that so much of the street has joined me in the optimism camp, I'm starting to feel like I'm doing something wrong. What am I missing?
As we sail from one month with a troubled history (September) into another (October), I expect trouble to pop up somewhere -- but volatility shouldn't scare us. We should just slow this game down for the home-gamers who aren't Wall Street professionals and try to share an understanding of what's at risk.
So let's dig in, gang. This is where I've been the most active since I last laid out my market moves heading into September:
Banks
Man, did I miss out on buying these stocks back when they were cheap.
Fortunately, because prudent investors do stay diversified, I stayed long Citigroup (C) - Get Citigroup Inc. Report based on valuation and international exposure. I also remained long KeyCorp (KEY) - Get KeyCorp Report because I think the firm could be a winner among regional banks down the road. I did lighten up on my KEY holdings, though.
Lastly, I'm looking to add Bank of America (BAC) - Get Bank of America Corp Report on weakness, although I don't currently own the stock.
Consumer
I'm still long on "The Mouse" -- Walt Disney Co. (DIS) - Get Walt Disney Company Report -- but I don't own a share that doesn't have an option written against it. I'm basically stuck in neutral on that one.
I'm also long an initial tranche of Hasbro (HAS) - Get Hasbro, Inc. Report that I discussed last month. I bought about a fifth of a position there and got run over, but I haven't bought more so far.
Elsewhere in the sector, I think General Electric (GE) - Get General Electric Company Report will be a "sleeper hit" for me. I bought it right around current prices, but new CEO John Flannery is streamlining the firm. GE pays a nice dividend, and they have a ton of money stashed overseas for a non-tech company. I think all of that adds up to the stock going to $28 from Friday's close at $24.18. That's where I'll sell it.
Defense
North Korea's threat against human civilization isn't going away anytime soon, and anyone who reads my columns knows that I love Kratos Defense (KTOS) - Get Kratos Defense & Security Solutions, Inc. Report .
I'm still pounding the table for KTOS, as these guys are the elite in the drone space. I am also still long Lockheed Martin (LMT) and Raytheon (RTN). All three of these stocks have outperformed my portfolio by a longshot.
I've thought about adding Boeing (BA) - Get Boeing Company Report , General Dynamics (GD) - Get General Dynamics Corporation Report and Northrop Grumman (NOC) - Get Northrop Grumman Corporation Report as well, but my need to stay diversified beyond defense stocks is keeping me out of those names.
That said, I did recently add one other name in the defense sector -- II-VI Corp (IIVI) . This is a laser/precision optical firm but isn't a pure defense play, as IIVI also sells medical and commercial applications.
Energy
Talk about a turnaround! Energy's drag on my book is dragging no more.
My favorite energy name is still Apache Corp. (APA) - Get APA Corp. Report . Even though second-quarter earnings were a huge disappointment, I still like APA based on the company's potential and its massive holdings in the West Texas Alpine High energy field. I ended up having to buy more Apache than I should have, but I'm in the green as long as the stock stays in the mid-to high-$40s. (APA closed Friday at $45.80.)
Meanwhile, Schlumberger (SLB) - Get Schlumberger NV Report -- which for my money is the best-in-class oil-services name -- is starting to show some life. Valero (VLO) - Get Valero Energy Corporation Report is also one of my holdings in this group given how it rode out Hurricane Harvey.
Lastly, I bought Sanchez Energy (SN) - Get Sanchez Energy Corporation Report on speculation. Sanchez is a name that I dabble in from time to time just to trade the momentum. I don't get myself into a jam over the stock.
Hurricane-Recovery Names
I hate to say this when many people are still suffering the effects of Hurricanes Harvey and Irma, but it was obvious that certain firms would do well in the rebuilding that's following these storms.
I previously went long on home-improvement retailer Home Depot (HD) - Get Home Depot, Inc. Report , and I moved into building-supply makers Owens-Corning (OC) - Get Owens Corning Report and Weyerhaeuser (WY) - Get Weyerhaeuser Company Report immediately following Hurricane Harvey. As noted above, I also bought oil-refinery play Valero, and I added United Rentals (URI) - Get United Rentals, Inc. Report shortly after Harvey hit.
All five of these stocks have been an absolute gift. I've since rung the cash register on WY, but I remain long the other four names.
Retail
As noted above, Home Depot is already on my books. Regular readers also know that I'm long both Walmart (WMT) - Get Walmart Inc. Report and Kohl's (KSS) - Get Kohl's Corporation Report .
Both have made significant moves to differentiate themselves from the rest of retail -- and both have performed superbly for me.
Technology
I rang the register and recently sold my shares of Nvidia (NVDA) - Get NVIDIA Corporation Report , but I still love the company. I'll buy it back on a serious dip, but discipline demanded that I sell.
I rotated part of my proceeds into Advanced Micro Devices (AMD) - Get Advanced Micro Devices, Inc. Report , which is funny because I'm short Tesla Motors (TSLA) - Get Tesla Inc Report , which recent reports say is developing artificial-intelligence chips with AMD.
Elsewhere in tech, I'm long Intel (INTC) - Get Intel Corporation Report , Activision Blizzard (ATVI) - Get Activision Blizzard, Inc. Report and my new all-time-favorite stock, Lam Research (LRCX). I'm also long Seagate Technology (STX) for the dividend, although that's been a poor decision in retrospect.
Oracle (ORCL) - Get Oracle Corporation Report has also been very good to me in the past, but I got caught on some puts that I wrote against the stock going into the company's earnings release. However, I decided that I needed some cloud exposure anyway, so I let the shares get "put" to me, then bought some more right around current prices. (ORCL closed Friday at $48.35.) I'm down a little on the position, but I think it's kind of like recovering a fumble on the one-yard line.
Transports
I sold my shares of Southwest Airlines (LUV) - Get Southwest Airlines Co. Report at a nice profit and I'm now flat the airlines -- but that doesn't mean I dislike transports.
You give me a U.S. tax-reform plan and I'll give you growth, and you give me growth and I'll show you higher stock prices for railroads and delivery services. That's why I recently rolled into CSX Corp. (CSX) - Get CSX Corporation Report . ("Rolled in" -- get it?) CSX is a name that's done me well in the past.
I'd also like to add FedEx (FDX) - Get FedEx Corporation Report but the stock carries too high of a price tag right now (kind of the same problem with Boeing). However, I'll buy some FDX in early October if I see some weakness in the name.
'The Wolf of Wall Street' Jordan Belfort Talks Financial Fraud and Bitcoin
Watch More from October's Trading Strategies:
A Strong September Could Be Setting Up an October Pullback
The 'Snowball Effect' Could Create an October Pullback
A Dovish Dollar in October Will Push Stocks Higher
At the time of publication, Guilfoyle was short TSLA and long AMD, APA, ATVI, C, CSX, DIS, GE, HAS, HD, IIVI, INTC, KEY, KSS, KTOS, LMT, LRCX, OC, ORCL, RTN, SLB, SN, STX, URI, VLO and WMT, although positions may change at any time.