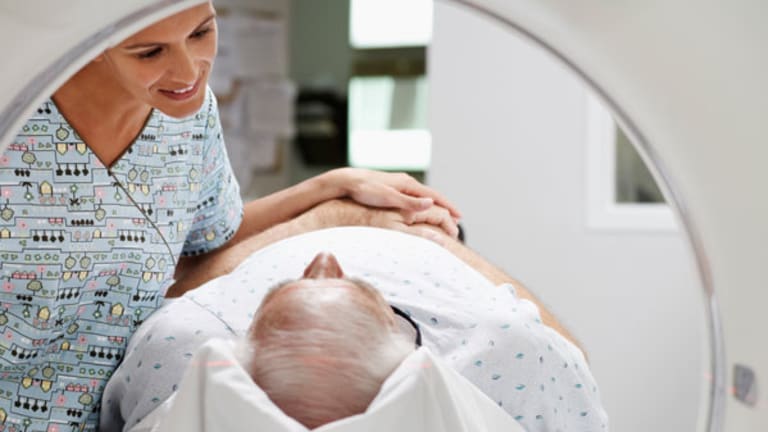 Insurer Stocks Fall on Reform Bill Passage
After months of debate, the Senate Finance Committee passes a health care overhaul bill with the support of Republican Olympia Snowe (above), inching the Congress one step closer to sweeping reform.
WASHINGTON (
) -- In another step toward President Barack Obama's vision of health care reform, the Senate Finance Committee passed its version of a bill on Tuesday afternoon by a 14-9 vote.
Senate Democrats managed to show some solidarity after Maine Senator Olympia Snowe, who stayed mum on her status in the days and hours leading up to today's vote, ultimately voted against her party in favor of the 10-year, $829 million package. Still, Snowe reserved support on any future versions of the legislation.
The vote also marks a triumph for Montana Senator Max Baucus, chairman of the committee, who emerged as a chief power broker in Washington's daily health reform machinations -- much to the chagrin of the liberal wing of the Democratic party.
On the heels of the bill's passage, a cluster of health care stocks were down on the day.
UnitedHealth
(UNH) - Get UnitedHealth Group Incorporated Report
,
WellPoint
(WLP)
and
Aetna
(AET)
were each moving lower, down 3%, 0.5% and 2.9%, respectively.
Medical device and supply makers
Johnson & Johnson
(JNJ) - Get Johnson & Johnson Report
and
Boston Scientific
(BSX) - Get Boston Scientific Corporation Report
were lower by 2.3% and 0.7%.
Abbott Laboratories
(ABT) - Get Abbott Laboratories Report
, on the other hand, was holding steady, up by 0.3% in the afternoon.
Tenet Healthcare
(THC) - Get Tenet Healthcare Corporation Report
,
Community Health Systems
(CYH) - Get Community Health Systems, Inc. Report
and
Universal Health Services
(UHS) - Get Universal Health Services, Inc. Class B Report
were representative of the hospital sector, down 1.3%, 1.3% and 0.6%, each.
Though the bill's passage was a largely forgone conclusion given the Democratic majority on the committee, the vote still marks a landmark of sorts. The health reform legislation has gone farther than President Bill Clinton's similar overhaul efforts in the early 1990s. From here, the bill will be readied for the floor and blended with a more liberal version offered by the Senate Health, Education, Labor and Pension Committee.
Still, just before the vote, ranking Republican Chuck Grassley expressed the sentiments of many in the opposition, who said the legislation would ultimately lead to higher costs for Americans.
"There's a lot in this bill that's just a consensus that needs to be done, but there are other provisions of this bill that raise a lot of questions," Grassley said, according to
The Associated Press
.
Baucus' bill includes consumer protections such as limits on copays and deductibles and relies on federal subsidies to help lower-income families purchase coverage. Insurance companies would have to take all comers, and people could shop for insurance within new state marketplaces called exchanges.
Medicaid would be expanded and, though employers wouldn't be required to cover their workers, they'd have to pay a penalty for each employee who sought insurance with government subsidies. The bill is paid for by cuts to Medicare providers and new taxes on insurance companies and others.
Unlike the other health care bills in Congress, Baucus' also would not allow the government to sell insurance in competition with private companies, a divisive element sought by liberals.
The bill has come under assault from a slew of health care-related industry lobbying organizations. On Sunday, a study produced by
PricewaterhouseCoopers
and released by the industry's America's Health Insurance Plans showed that under the current scheme, families and individuals would face growing premium costs in the years ahead.
In late rounds, legislators softened hard-and-fast requirements requiring coverage for all. Among other complaints, insurers and others in the industry argue that the lack of full participation, coupled with rules banning insurers from denying coverage based on pre-existing conditions, would boost costs for those already insured.
The Washington Post
reported various statements from other health care groups on the heels of the news. Advamed, a trade organization for medical device makers, said in an e-mail to the paper that the group "supports broad-based health-care reform that will ensure all Americans have access to quality, affordable health care." According to the report, device makers have previously balked at plans requiring tens of billions in annual payments from the industry.
Doctors' own American Medical Association, too, said it "will stay constructively engaged in the legislative process to ensure that the final bill improves the system for patients and their dedicated physicians," President James Rohack said, according to
The Washington Post.
Though hospitals were on-board with an early cost-cutting agreement, accepting $155 billion in cuts to help pay for the government's reform efforts, the paper also said that Chip Kahn, President of the Federation of American Hospitals, argued last week that the Senate Finance Committee's bill "does not meet the standard of coverage that our agreement is based on."
-- Written by Sung Moss
Follow TheStreet.com on
and become a fan on
Copyright 2009 TheStreet.com Inc. All rights reserved. This material may not be published, broadcast, rewritten, or redistributed. The AP contributed to this report.