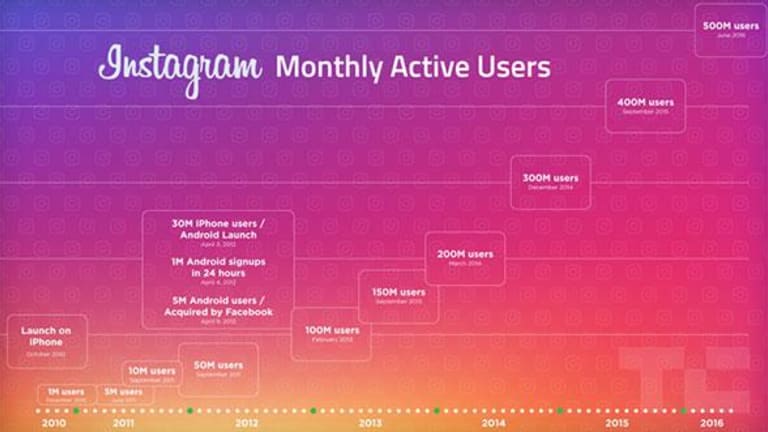 Instagram Is Facebook's Biggest Weapon in Its Battle Against Snapchat
As Snapchat's parent gets ready to go public, Facebook is pulling out all the stops to slow down its rival. Instagram, which just added live video support, looms large.
As Snapchat's parent gets ready to go public, Facebook is pulling out all the stops to slow down its rival. Instagram, which just added live video support, looms large.
As Facebook (FB) - Get Reportfeverishly added new features to its most valuable properties in recent months to better compete against Snapchat, the company often faced accusations it was simply copying its fast-growing rival rather than deliver anything original.
With its latest moves, Facebook is changing this narrative some, and doing so through the property that's arguably best-positioned to slow Snapchat's momentum.
Less than four months after Instagram launched its Stories feature -- like the Snapchat feature bearing the same name, it lets users share streams of photos and videos that disappear after 24 hours -- it has updated Stories to support live video broadcasts that last up to an hour. But unlike Facebook proper's much-hyped live video service, Instagram's live videos aren't saved and thus can't be replayed.
Instagram is also launching a feature that competes head-on with Snapchat's original claim to fame: The ability to use the Instagram Direct messaging service to send photos and videos to friends and groups that disappear after being viewed twice. The sender is able to see if a message has been viewed or if a screenshot has been taken.
Neither feature should struggle to find an audience: Instagram says the number of monthly Direct users has soared to 300 million from 80 million over the last year, and Stories -- prominently displayed on the home page of Instagram's app -- topped 100 million daily active users (DAUs) in early October. For comparison, Instagram claimed 500 million monthly active users (MAUs) as of June, up from 300 million in December 2014.
Facebook is a holding in Jim Cramer's Action Alerts PLUS Charitable Trust Portfolio. Want to be alerted before Cramer buys or sells FB? Learn more now.
Meanwhile, Facebook Messenger, which now has over 1 billion MAUs, is testing a Stories-like feature known as Messenger Day in some foreign markets. WhatsApp, which also claims over a billion MAUs, has begun deviating from its traditional minimalist approach by adding Snapchat-like features such as animated GIF and emoji support, as well as the ability to draw and write text on top of shared images.
And Facebook proper has been testing photo/video effects and face filters that have much in common with Snapchat's -- the content can either be posted on a news feed or shared via messages. In addition, the company is still actively promoting its Live video platform, as part of a broader effort to boost "original" content sharing among users as more and more of this content gets shared via Snapchat and other messaging apps.
But Instagram seems to be the one Facebook property that could meaningfully put a dent into Snapchat usage -- or at least slow down its rapid growth -- by providing a mixture of similar and novel features. Unlike Messenger and WhatsApp, which remain messaging apps at heart, Instagram -- like Snapchat -- is actively used for both public and private sharing.
And unlike Facebook proper, it's very focused on photo/video-sharing. For many Instagram users, much of the app's appeal comes from the fact they see nothing but a stream of photos and videos uploaded by followed accounts when opening the home page. As with Snapchat, there's little chance of seeing a political rant from your uncle on Instagram, or a casserole recipe that an old high school acquaintance happened to "like."
Moreover, Instagram's user base, like Snapchat's, skews young; there's plenty of evidence pointing to strong overlap between the two. And unlike Facebook proper (but like Snapchat), Instagram supports pseudonyms, giving users a measure of anonymity if they want it.
With Stories, Instagram also co-opted two of the other attributes that have made Snapchat feel like a breath of fresh air for many relative to standard Facebook: Ephemerality, and a lack of pressure to provide "popular" content. Users don't need to worry about Stories content hanging around permanently, and there are no "likes" or comments attached to them.
Adding support for Stories live video broadcasts that don't get saved fits with this effort, as does support for ephemeral private messages. Tellingly, Instagram product chief Kevin Weil declares the new features represent a strategy shift. "Instagram should be all of your moments, not just your highlights," he says. Snapchat founder Evan Spiegel seems to have a similar philosophy for his company's app.
All of this is happening as Snapchat parent Snap Inc. gets ready to go public; Bloomberg reported Snap had confidentially filed for an IPO, and is aiming for a valuation of $20 billion to $25 billion.
Prior reports indicated Snapchat had over 150 million DAUs as of June, and is aiming to grow to deliver 2016 revenue of more than $350 million and 2017 revenue of $1 billion. Should one buy into it, the 2017 sales target implies Snap is looking to trade for 20 to 25 times its forward sales.
With ad sales soaring, tech IPO markets favorable and the company's popularity and media hype at an all-time high, this feels like an ideal time for Snap to go public. If Facebook's Instagram-led efforts to slow down Snapchat succeed, investors probably won't be as excited to pay such steep multiples a year from now.
And with each passing month, Facebook is providing fresh reasons to think its efforts can deliver at least a measure of success.