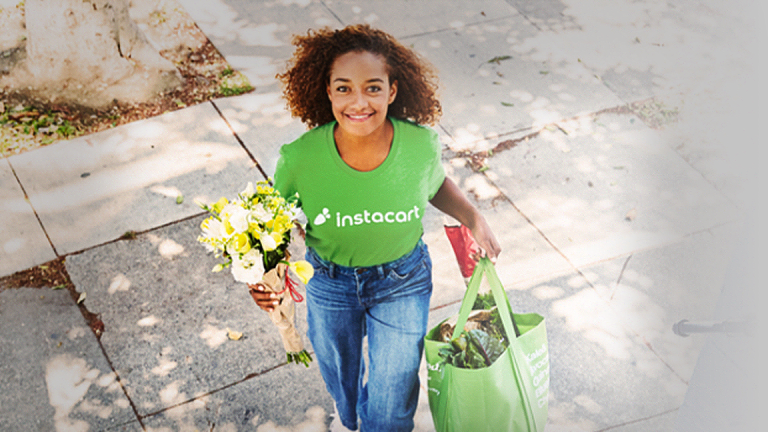 Why Instacart Says It's Not Afraid of Amazon
Instacart is priming for rapid expansion.
Amazon.com Inc. (AMZN) - Get Report may have sent shockwaves through the grocery industry when it announced the $13.7 billion acquisition of Whole Foods in June. It turns out, though, that not everyone panicked.
For Instacart, the startup grocery delivery service, it signaled a stellar opening. Since then, the San Francisco-based Instacart has signed 15 new grocer partnerships, according to Dacyl Armendariz, the head of communications at Instacart.
The company, now valued at over $3 billion, claims to be the sector's only same-day grocery delivery service of its scale. It boasts over 165 partnerships with grocers in 156 markets, up from 30 at the beginning of the year.
The Amazon deal was a "wake-up call to the grocery industry," Armendariz told TheStreet Tuesday, Nov. 7. "It's realizing that they have to have an e-commerce solution. It was an incredible opportunity for us."
In August, Instacart signed a contract with German grocery chain Aldi Inc., starting in urban markets like Los Angeles and Atlanta. More recently, Instacart updated its partnership with Costco Wholesale Corporation (COST) - Get Report to offer same-day delivery for both perishable goods and packaged items through the Instacart app. Users don't even have to be a Costco member—and deliveries of items costing more than $35 come at a flat fee of $6.
As for what's ahead? For one, being acquired is almost entirely off the table, Armendariz said, by a grocer or by anyone else.
If anything, expansion is the word. Instacart is now in major cities like Los Angeles and Chicago as well as smaller markets such as Buffalo, New York, and Evansville, Indiana. Next, it plans take on smaller cities, the suburbs and rural areas.
Instacart still maintains its relationship with Whole Foods. It accounts for just under 10% of Instacart's total revenue. According to Armendariz, Amazon's ownership has not yet become a conflict of interest.
So far, the e-commerce behemoth has not launched a major delivery program with Whole Foods. In fact, it cancelled its existing grocery delivery service, Amazon Fresh, in a number of zip codes.
Still, Instacart sees Amazon as its ultimate opponent. Not even Wal-Mart Stores Inc. (WMT) - Get Report , which recently bought same-day delivery company Parcel as part of its ongoing efforts in tackling delivery,is a bother to Instacart, Armendariz said. 
"Really, we don't see any big competitors outside of Amazon with Whole Foods," she added. "I think it's just Amazon."
More of What's Trending on TheStreet: