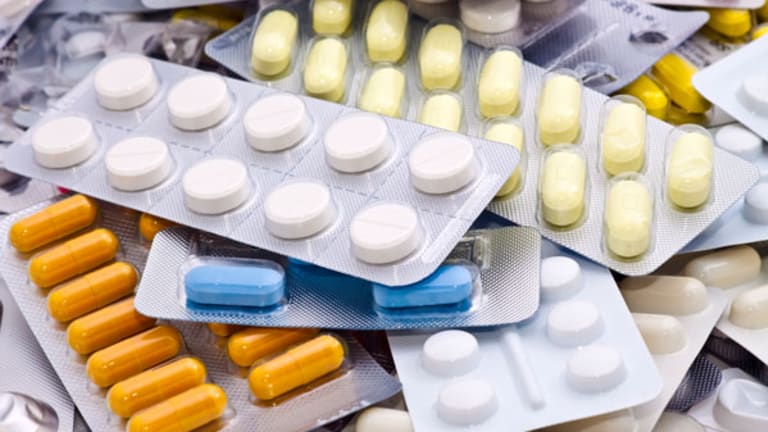 NEW YORK (
) -- Insider buying in biotech is a rare thing. Even more rare: Large insider buying. Executives and directors of biotech companies generally don't need to buy their own stock in the open market because of generous stock option grants. Those options become very valuable if a company succeeds and the stock price prices.
Over the last few days, however, insiders at
Auxilium Pharmaceuticals
(AUXL)
and
Aveo Pharmaceuticals
(AVEO) - Get AVEO Pharmaceuticals, Inc. Report
have purchased significant blocks of their respective company's stock. I've started small positions in both stocks because of this insider buying.
Interestingly, both Auxilium and Aveo have had a very rough go of it lately, albeit for different.
Auxilium markets two drugs. Testim is a testosterone replacement therapy, a steady grower in a mature and entrenched market. More recently, Testim sales have flattened a bit due to competition. Auxilium is trying to squeeze more production from its sales force but growth will likely only come from demographic changes (as men get older, they're more likely to try testosterone therapy) and some price increases.
The Auxilium drug with greater growth potential is Xiaflex, approved last year to treat Dupuytren's contracture, a thickening of tissue beneath the skin of the hand that causes involuntary bending of the fingers and palm. The Xiaflex commercial launch has been disappointing because physicians have been slow to try Xiaflex injections in lieu of surgery.
Expansion of Xiaflex into additional indications is a significant growth driver. Auxilium is studying the drug in Peyronie's disease (a syndrome that causes the penis to bend) with positive phase III data reported over the summer. Xiaflex may also work in frozen shoulder syndrome and cellulite reduction -- perhaps the biggest market opportunity of all. Proof of concept data, somewhat mixed, from a phase Ib trial in cellulite reduction were reported last week.
Auxilium's stock price took a hit last month after
Pfizer
(PFE) - Get Pfizer Inc. Report
decided to stop selling Xiaflex in Europe, returning marketing rights to Auxilium.
Auxilium CEO Adrian Adams purchased almost $1 million of company stock on the open market, according to a regulatory filing Monday. This was the largest insider buy at the company in almost a decade. What's interesting here is that Adams was previously the chief executive at three other biotech companies that were eventually acquired: Sepracor, Inspire Pharmaceuticals and Kos pharmaceuticals. He was also a director at Amylin Pharmaceuticals, acquired by
AstraZeneca
(AZN) - Get Astrazeneca PLC Sponsored ADR Report
and
Bristol-Myers Squibb
(BMY) - Get Bristol-Myers Squibb Company Report
.
Given his history, Adams could be dressing up Auxilium for a sale.
Before that happens, Adams probably has to set a course for faster growth from Xiaflex and stabilize Testim sales. Once that's done, Auxilium could be ripe for a sale. All this makes Auxilium an interesting stock to follow for the next year.
Aveo is developing the kidney cancer drug tivozanib, currently under review at the FDA with an approval decision date of July 28, 2013. Investors have been punishing the stock because of worries about the approvability of tivozanib. In a pivotal phase III study, tivozanib delayed tumor progression and demonstrated a better safety profile than
Onyx Pharma's
(ONXX)
Nexavar, but overall survival was greater for Nexavar than tivozanib.
Aveo has tried to explain away the survival benefit conundrum, insisting that patients treated with Nexavar in the pivotal trial "crossed over" to treatment with tivozanib as well. Still, the controversy has created an overhang on the stock.
Last week, Aveo CEO Tuan Ha-Ngoc purchased 75,000 shares of Aveo stock. Three directors also bought shares, including Henri Termeer, the former CEO of Genzyme. These insiders obviously betting that the FDA will approve tivozanib.
While many companies try to explain away doubts about clinical trial results, it's rare to see executives and directors talk with their wallets by buying significant amounts of their own stock. That's what Aveo insiders have done.
It will be quite interesting to see what happens next summer when tivozanib comes up for FDA approval. Before the decision, FDA is likely to convene an advisory panel to review the pivotal trial data. The confounding survival results will definitely be debated.
Rosenblum is long Auxilium and Aveo.
Dan Rosenblum has been a full-time stock trader since 1999 after leaving a job at a publicly held medical-device company. Rosenblum joined
that year and has been the online trading community's resident biotech expert ever since. Rosenblum writes the
newsletter, which has outperformed the S&P 500 and the Nasdaq Biotechnology Index every year since its inception in 2006. Rosenblum lives with his wife and kids in Rockland County, New York.