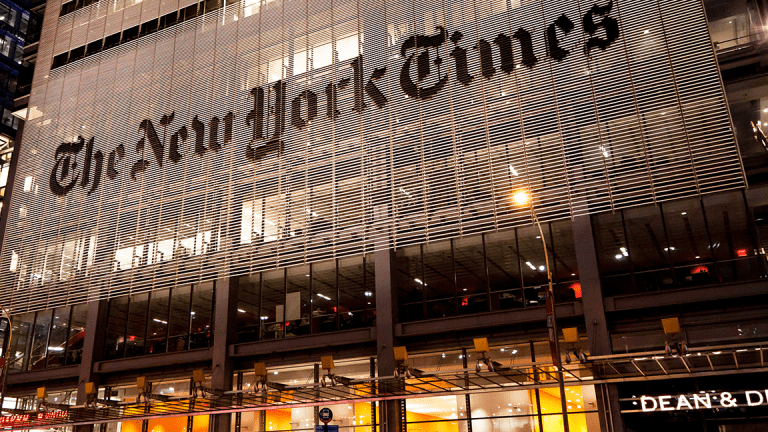 Inside the New York Times' Digital Subscription Machine
When A.G. Sulzberger III assumes the reins at the New York Times in January, he will turn to his top executives, including Consumer Revenue Chief Clay Fisher, to keep digital growth humming.
Machines need tuning.
Home of the now legendary digital news paywall, the New York Times has recently tightened up its bolts and screws, halving the number of free monthly articles readers can access. Now, from any one browser, readers can nab five articles, down from a recent 10 and down from the 20 that were offered when the paywall launched, amid great skepticism, in 2011. The goal: accelerate the acquisition of new news subscribers.
At last report, the Times counts 2.1 million digital news subscribers, after the Trump Bump more than doubled its growth. Now, it's growing at a pace of about 100,000 a quarter -- still a good number -- but one the Times wants to ramp up.
As the Times this week announces the retirement of A.G. Sulzberger, Jr., it focuses, appropriately, on the Times' reader revenue revolution. That makes a year-end examination of how the Times has built its system -- and what is still on its to-do list -- highly timely. A.G. Sulzberger III takes over the family position at the first of the year, and he will turn to his top executives for that machine tuning work. 
Clay Fisher is the Times' master handyman, making the adjustments. Now into his third year as Senior Vice President of Consumer Marketing & Revenue for the New York Times, Fisher brings the keen eye of a guy who did consumer acquisition and retention for DirecTV to his job at the Times.
"I oversee the subscription business on both print and digital from a revenue perspective," he told me in a recent interview.
At 39, Fisher is responsible for performance marketing, consumer marketing, and consumer revenue. That includes "our direct response market, all our retention efforts and our customer care. So, the acquisition-retention and the overall revenue strategy and revenue management of the subscription business.
As Vice-President of DirecTV's digital marketing and media group, he completed more than four years on the job there, and then moved into the quite different world of the mission-driven New York Times in mid-2015. 
What was his biggest surprise in moving from the satellite to the news business?
"I think it's understanding the culture and how this not necessarily a business first. It's very much mission, journalism-first." 
That's of course what has long separated the business of journalism from other businesses. Journalism businesses seek -- and have historically made -- lots of profit, but the best owners trade those profits, when necessary, to preserve the company's direct responsibilities to their readers.
"DirecTV wasn't a mission-driven company, but a damn good business. A well-oiled machine. So, I brought a lot of that performance orientation into the building, and how we structure our team, how we goal our team, how we manage a team, the pace we work at, and our philosophy of making decisions that are data-driven and fast."
The Times indeed has demonstrated mastery in balancing its journalistic and business priorities for last several years. Those 2.1 million digital news subscribers now outnumber the Times' print subscribers almost two to one, as 1.1 million households still take the print Sunday Times. Overall -- including subscribers to the Times' crossword product and newer, launched-in-July Cooking product -- the Times counts 2.5 million digital subscribers. Times CEO Mark Thompson has set a stretch goal of 10 million digital subscribers, Newsonomics: The New York Times' Mark Thompson on regulating Facebook, global ambition, and when to stop the presses (forever) some time in the 2020s.
Overall, the Times' reader revenue revolution -- subscribers and single copy print buyers now account for 62% of all Times income -- has served as a global best practice model, and has seen its Wall Street success separate from its once-newspaper industry peers: "New York Times' Good Quarter Shows Its Separation From Newspaper Pack."
While few publishers have the resources, journalistic, technological or analytics, of the Times, its success is well-admired by publishers.
In my talk with Clay Fisher, we focused on a number of the Times' key advances and learnings. Those lessons now provide wider ones for all publishers now seeking to plug their deeper ad losses with reader revenue:
The Times global push: Today, one in seven Times digital subscribers lives outside the U.S. That percentage -- 14% -- has actually nudged up a point or two in the last several years. One translation: Even with great Trump Bump growth of 2016-2017, global take-up has more than kept up. Now as post-Trump Bump growth resumes a less dramatic growth curve in the U.S., non-U.S. subscriptions could become a wider slice of the pie.
It is the English language edition that will carry the Times' global efforts forward.
After jettisoning the Herald Tribune branding in 2013, and adopting some "International" New York Times branding over time, the Times has simplified its sell.
"We're selling the New York Times," says Fisher simply. Then, comes the nuance. "In our marketing, our branding, we're trying to position ourselves differently in different markets. Pricing varies by market. But for the most part, we have a segmented pricing strategy for different markets."
The trend towards limiting free articles:
The Times, like most premium publishers, has found that very few among its large audience actually collide with its paywall. In fact, only about five percent of the Times' digital audience hits it monthly.
Further, the wide understanding: If you want to get more of those brand-liking, but unsubscribing readers to pay up, you have to force their choice.
Fisher sees the move as one well beyond just the Times.
"Willingness to pay starts with the macroeconomic kind of landscape. The more there is a consumer behavior shift towards paying, the more this becomes a reality." 
In fact, the Washington Post, which has emerged as the Times' prime digital subscription competitor in the last couple of years, has also significantly limited its free, monthly access.
"It can't be the New York Times that's contracting their free content," says Fisher. "It's got to be an industry-wide effort to shape the consumer behavior, and people, I think, in this moment of time, have that greater appreciation of journalism and are more willing to pay. You're seeing that shift happening, not just with us, but with everyone else as well, which is great."
On introducing more friction: All news publishers have put a new major premium on engagement in recent years. They understand that those most engaged with their content are "customers" of a kind, and not just occasional users. 
Yet, says Fisher, the relationship between high engagement and digital subscription is more elusive than many might believe. 
"We've been growing our engaged reader base, but our subscriptions will still vary in our conversion rates. Just because people are highly engaged, doesn't mean that they're going to be subscribers," he says. "Because of that free factor that's out there, the generosity of our free model, and the abundance of free content out there, just because people have a habit of reading the New York Times every day doesn't mean they're necessarily going to subscribe. 
"Engagement models are not propensity models."
Look at the Times' halving of its monthly free article count as part of it efforts to close off -- with some complexity -- some of the doors opening up to its content. Marketer Fisher puts the proposition in "helpful" terms. 
"It may help the casual reader who has developed a habit consuming our free content to consider subscribing or learning more about why they should subscribe. They'll still have avenues to experience the quality of our journalism via newsletters and featured reads (think signature content we want everyone to read).
"This change is the first big step to a new acquisition model where we have a much more controlled and thoughtful sampling experience -- and it's consistent with our desire to signal to consumers that we're a subscription product first with a sampling experience vs. a free product with a paid subscription offering. The future model will put more emphasis on marketing (telling our story and articulating our value proposition) and developing an initial relationship (registration, targeted sampling (flexible meter and trials, targeted pricing and offers, etc.) with prospective subscribers. The habituation and deep engagement with the product will happen during the initial onboarding and first 90 days."
In addition, the Times has tightened some Facebook access points and blocked other "sideways" avenues to more free access. Still, lots of ways to access more free content - using multiple browsers (which single digits of the Times' 100 million plus U.S. audience does, monthly), "incognito mode" or newsletter access points -- still exist.
Says Fisher, "I think there's just a healthy amount of people who are consuming our content, but not necessarily paying." 
"So, our ability to actually introduce friction with our paywall, this has got to be very strategic, very dynamic. We're learning how to do that better and better. 
Fisher makes this point: "Certainly, the habit is a starting point, but it's not necessarily causal to actually subscription conversion." 
If the line between habit and payment is less direct, that's forced the Times, along with other top paywall practitioners, to discover other ways to value those who consume a fair amount of content, but remain allergic to paying for it.
Fisher isolates two other big factors of value, in addition to direct payment.
One is sharing.
"The smarter we get in our model, the more we can actually say, this user never subscribes, but shares articles like crazy. Open the whole thing up for them, because they're adding value in different ways.
"There's value creation there, I'll use that term. But it's not necessarily subscription, but it could be leading to subscriptions down the road with whom they're sharing with."
Similarly, commenters add stickiness to the site overall, bringing non-direct revenue as well, Times analytics have shown.
The black box of pricing. Times, and paywall, watchers often focus on one big number, that of the total number of Times digital subscribers. Of course, it's the multiplier of that number -- the price paid -- that determines Times revenues. 
Significantly, the Times hasn't really raised its digital pricing in more than three years. That's an intriguing contrast to consistent pricing up of print-taking customers. In some parts of the U.S., seven-day print subscribers now pay more than $1000 a year for the Times, also gaining digital access as do all print subscribers. 
How does Clay Fisher think about that digital pricing for current customers?
Clay Fisher says current customers "at some point" will be asked to pay more.
For new customers, acquisition pricing is more nuanced, and a continuing work in progress.
"I think we've been a lot more sophisticated in how we understand the pricing curve. We've pursued that learning through discounting off the rack rate, meaning percentage discounts through [our] understanding of the willingness to pay off of that. [That way] we can preserve that revenue increase in the future, as well as preserve our position in the marketplace. We don't want to be racing to the bottom with pricing."
The Times' digital pricing runs along $16-$27-$36 price points. At $16 price point, subscribers get only access to the news products themselves.
It's the $27 one -- the bundle -- that's key. For $27 subscribers get access to the Times on all devices. In addition, they get the two other Times paid products, "Crosswords" and "Cooking." That's been an "every four week" charge --  a vestige of print pricing methodology -- but Fisher says the Times is moving to more modern monthly pricing. 
They also get, says Fisher, "behind-the-scenes information and experiences as well." As those events experiences -- physical and digital -- expand, Fisher sees them as a route to optimizing reader revenue among the most loyal Times readers.
"When we've tested a third tier that's all digital we've included our events / experiences and additional bonus subscriptions to differentiate the tiers. We've been testing an all-digital $36 product that includes exclusive access to events and will continue to test that in 2018. This is critical due to the fact that we have a diverse demand curve with high willingness to pay and want to offer our HD customers, often our most loyal customers and strongest brand advocates, the most complete NYTimes experience."
One translation: Don't leave money on the table. 
Then, there's a $36 price point that includes Sunday print delivery, depending on geography.
Moving from acquisition to retention: Digital news paywalls still seem like a recent innovation. The Times erected its in 2011, and that started the movement in the U.S. So it makes sense that publishers have been disproportionately focused on acquisition, and have more recently put more effort and investment into learning the retention ropes.
"It's the maturity level of most subscription businesses," says Fisher. "You start off with acquisition, acquisition, acquisition. Can we prove ourselves? Then you start transitioning into, okay, you're going to saturate the market. There's only so much you can get.
"One of the things I actually brought into this building was a retention-first mindset. Really focusing on, how do we create a great experience? How do we focus on retaining people?"
Retention at any point in a subscription life forms a key metric. At the same time, the Times - like the Financial Times, which has moved profoundly away from a metered approach to "trialing" -- now focuses strongly on the experience of the trialer who has signed up for 30- or 90-day subscription at a low, low price.
"We want to build a relationship with customers as they come on board. Four weeks, 99 cents. Give you a four-week window. It's essentially a free trial. So that experience has to feel incredible.
"When you acquire someone, are you acquiring high-quality customers, are you setting them up for success?"
Fisher says the answer was no, or not enough, so the Times has put major emphasis on acquainting trialers.
"Should we start setting certain expectations, and then give ourselves the opportunity to demonstrate the value in the first 30, 60, 90 days?
One of the things we've done with our investment in the brand team is, we've got to set expectations beyond just "why the New York Times," in terms of what the subscription will do for you from a benefit perspective. 'Here's what the New York Times does better than everyone else,' our unique value proposition."
That includes the use of newsletters, notifications and alerts. In addition, the Times tests more guidance to the new reader.
"We did some experiments last year on product experience as well. We actually put a ribbon at the top of the page, a guide you to different sections. We know if people understand the value of our breadth, they get hooked on different sections, they're going to be hooked from the free experience."
On the future of the Sunday paper: While Sunday newspaper sales continue to decline several percentage points a year, Fisher can point to a small contrarian trend.
"We're seeing a younger audience, and more outside the New York area, show an interest in Sunday print.
"We're thinking about print more and more as how is it one experiences the Times? If during the week, you have your mobile phone, your digital reading, what unique experience -- what job -- does print serve on the weekends? And how do we position a way and augment the product in a way so it fits with print, it's not just another of the same reading stories?
"It's something I'm really intrigued with. I mean, we obviously will do some qualitative research on regular basis to understand usage. But the big missing piece for us it the actual usage of the product." 
Hearing the Times: "I think audio's the next big thing," says Fisher. "What are the three best things I should read in this paper today? What are the three most talked-about articles, and what pages are they on in this print?" Because I want to enjoy the experience of leaning back, being disconnected, but I only have 20 minutes, so guide me, even though the paper requires two hours." So far, the Times has engaged with both Alexa and Google Home, but its experiments are just beginning. 
The Times, of course, has found a hit on its hands with The Daily podcast. The audience question becomes a revenue question -- as audio builds New York Times value. Says Fisher, "Now you've a [new] ecosystem, more engagement, with the New York Times brand being more pervasive."
At the time of publication, Doctor had no position in any stocks mentioned.