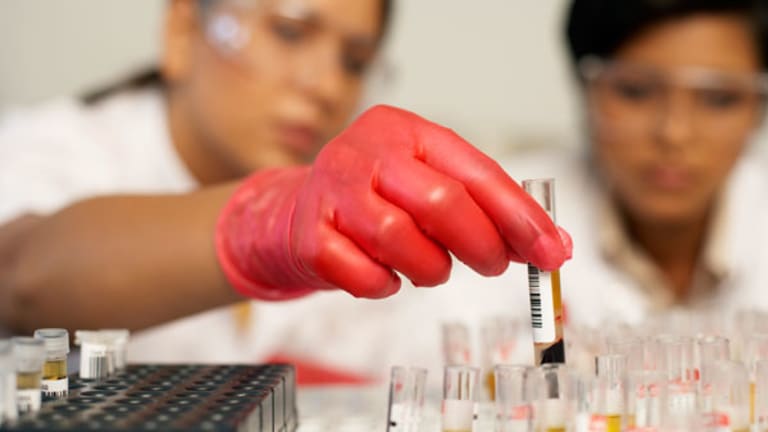 Inside the Hedge Fund Club Pitching a New Alzheimer's Drug IPO
The Axovant Sciences IPO, scheduled for this week, is one of those clubby hedge-fund deals which explains why most investors believe Wall Street is an unfair game.
BOSTON (TheStreet) -- The initial public offering for Axovant Sciences, scheduled for this week under the proposed ticker AXON, is one of those clubby hedge-fund deals that explains why most investors believe Wall Street is an unfair game.
It's also hard to imagine the Axovant IPO working without help from a raging biotech bull market. Investors seem content to buy just about anything and worry about the risk or consequences later.
Let me try to explain how this deal is going down from the company's regulatory filings for the IPO. Healthcare investor Vivek Ramaswamy leaves the hedge fund QVT in May 2014 to form what is essentially a shell company, Roivant Sciences. In October 2014, Roivant spins off a subsidiary Axovant Sciences, which then buys an old, unapproved Alzheimer's drug from GlaxoSmithKline (GSK) - Get GlaxoSmithKline plc Sponsored ADR Report for $5 million.
In May, Ramaswamy decides to sell a 20% stake in Axovant to the public, hoping to raise around $170 million while retaining a controlling 80% interest for himself through Roivant Sciences. Last week, the Axovant IPO was upsized to $250 million, which values the company at around $1.3 billion.
You with me so far? Hedge fund guy forms a company and subsidiary to buy an old Alzheimer's drug Glaxo didn't seem to want for $5 million. Six months later and without doing any clinical development at all, hedge fund guy sets terms for IPO of shell subsidiary which values the same old Alzheimer's drug at well over $1 billion.
It gets better. Perhaps sensing reluctance from outside investors to buy a minority stake in an old Alzheimer's drug Glaxo seemingly gave away for almost nothing, Ramaswamy gets two more hedge funds -- RA Capital and Visium Asset Management -- to "indicate an interest" in buying shares in the Axovant IPO valued at up to $150 million.
As inducement for their interest in the Axovant IPO, RA Capital and Visium are allowed to sell their shares (if they buy) after 90 days. The customary lock-up period for insiders in an IPO is 180 days.
The biotech bull market is a wonderful thing. Ramaswamy the former hedge fund guy spins an old Alzheimer's drug bought for $5 million into a $1.3 billion public company in six months. He then offers to sell small pieces to two more hedge funds and gives them sweetheart exit terms just in case those hedge funds want to flip their shares to less privileged investors.
Oh, I failed to mention that Ramaswamy set up Axovant, this soon-to-be-public Alzheimer's drug company, to be headquartered in Bermuda. He also gave his mother and brother -- employees of parent company Roivant -- options for more than 1 million shares of Axovant with an exercise price of only 90 cents.
Jefferies, the investment bank leading the Axovant IPO, is the former home to healthcare banker Sage Kelly, accused last year of using sex, booze and drugs to win client business.
More recently, Jefferies helped Boston biotech maven Cristoph Westphal raise $86 million in an IPO for Flex Pharma (FLKS) , which is developing extracts of extracts of ginger, cinnamon and bell peppers to treat muscle cramps. Flex Pharma, like Axovant, went from inception to IPO in less than one year.
None of the participants in the IPO is allowed to comment during the SEC mandated "quiet period" prior to the offering.
Alzheimer's is a devastating neurological disease with few, effective therapies affecting millions of people worldwide. The drug acquired by Axovant, RVT-101 (formerly SB-742457), is designed to block a receptor on neurons, which in turn, causes more of the neurotransmitter acetycholine to be released into the brain. Glaxo conducted multiple studies of RVT-101 in Alzheimer's patient but the found the drug, on its own, to be ineffective in improving cognition or memory.
A subsequent study combining RVT-101 with the currently approved Alzheimer's drug Aricept did demonstrate an improvement in cognition and memory over Aricept alone. The benefit of RVT-101, like Aricept, was short lived, however. The drugs don't treat the underlying cause of Alzheimer's like Biogen (BIIB) - Get Biogen Inc. Report is trying to do with its experimental drug BIIB037. Instead, RVT-101 and Aricept only slow temporarily the rate at which patients lose memory and function.
After its IPO, Axovant is planning a randomized phase III study comparing RVT-101 and Aricept to Aricept and a placebo to start at the end of the year.
I know Big Pharma makes a lot of boneheaded drug development decisions, but would Glaxo give up on a potential blockbuster Alzheimer's drug for $5 million?
A few hedge funds certainly hope so.
Adam Feuerstein writes regularly for TheStreet. In keeping with company editorial policy, he doesn't own or short individual stocks, although he owns stock in TheStreet. He also doesn't invest in hedge funds or other private investment partnerships. Feuerstein appreciates your feedback; click here to send him an email.