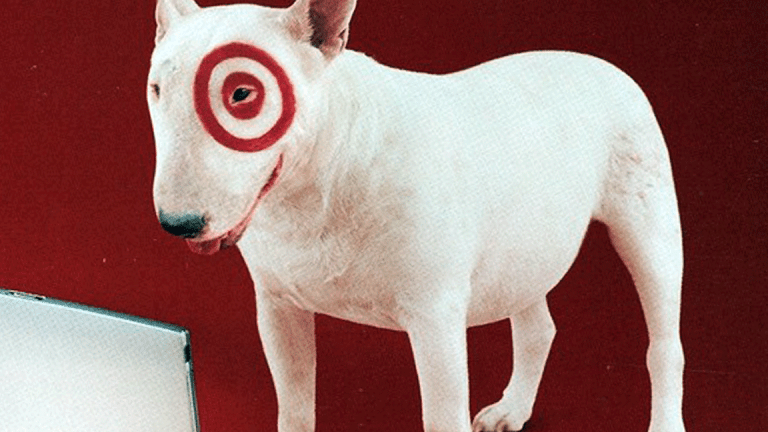 Go Inside Target's Holiday Playbook
All Target wants for Christmas is higher sales.
Target is game on for the holidays. 
Target Corp. (TGT) - Get Target Corporation Report posted a 34% increase in digital comp sales during the holiday season last year, but the Minneapolis-based retailer is set on outdoing itself this year, company executives announced at a holiday preview event Thursday, Oct. 19.
To drive sales both in stores and online in the last quarter of 2017, Target is offering customers a line of services that make shopping more convenient as well as increasing spending on marketing. Target.com's order pickup function, for instance, is now available to 95% of online orders. And come November, Target will roll out a mobile wallet function in its app, allowing loyalty card holders to pay for purchases and use coupons on their phones.
The mobile wallet function will likely encompass credit cards some time in the future, according to Chief Digital Officer Mike McNamara.
"We're starting with the Target REDcard (the loyalty card) but we're not going to end there," he told reporters Thursday.
But Target is a little late to the game. Wal-Mart Stores Inc. (WMT) - Get Walmart Inc. Report has had a mobile wallet since 2015. Walmart Pay accommodates all major credit cards and recently unveiled a 30-second return function through the app.
Additional ways for Target to drive sales this season include offering free shipping online beginning Nov. 1 and featuring more than 1,000 items under $15 as part of its gift assortment. Affordability is also a main focus of its new private labels, eight of 12 of which will be available by the end of 2018.
Its most-hyped line is a partnership with home improvement reality TV stars Chip and Joanna Gaines. The new Hearth & Hand with Magnolia line contains 300 home goods, most of which are under $15.
Even a year ago, "value as an ethos was a bit confused" for Target, said Chief Merchandising Officer Mark Tritton.
As part of its marketing strategy, Target will prioritize messaging to families with toddlers, teens and preteens, according to Chief Marketing Officer Rick Gomez. But this outreach only applies for the holidays, he said. In all, 98% of Americans over the age of 18 will see Target's marketing, he said.
While Target's overall sales actually fell in the fourth quarter of 2016, its digital operation is growing at roughly twice the rate of the industry, the company announced.
"We are just breaking our stride," McNamara said.
Target shares rose up to 3% last week following the opening of its new Herald Square location in Midtown Manhattan. Ahead of the ribbon-cutting, the company announced that it will open 35 new stores in 2018, a bulk of which will be small-format. It also plans on having remodeled 1,000 stores by the end of 2020 as part of a $7 billion investment plan.
"We're trying to make sure that we evolve the company to be incredibly competitive in this new era of retail and position ourselves to be one of the long-term market share winners in retail," CEO Brian Cornell told TheStreet Thursday.
More of What's Trending on TheStreet: