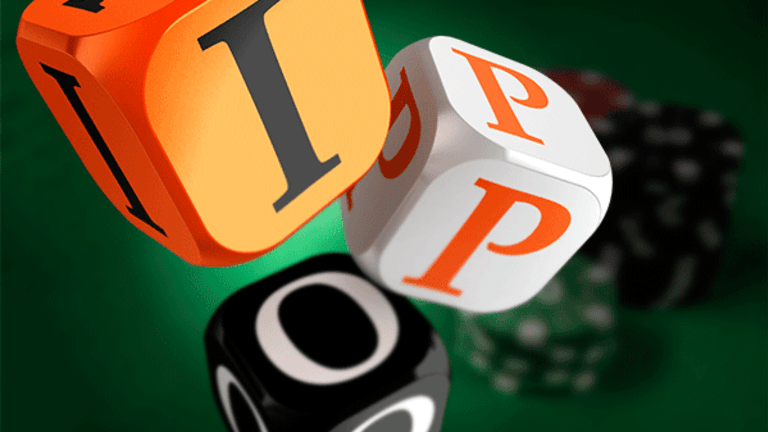 Roku, Nucana and Other IPOs That Should Be on Your Radar in 2017
Newly public companies such as Roku, NuCana and Restoration Robotics could bring a jolt to your portfolio. But remember all IPOs aren't created equally.
The markets continue to trade at or near all-time highs, with companies in just about every sector (even some in the beleaguered retail and much maligned oil and gas industries) trading at record valuations.
With stock markets flourishing, it's no surprise that there has been a recent uptick in companies seeking to go public and raise money.
A whopping seven companies priced last week and another half dozen will price this week.
The options have been bountiful with energy companies, tech companies, pharma companies and everything in between seeking to raise capital on the public markets.
On Sept. 27 Chinese early education company RYB Education Inc. is set to debut on the New York Stock Exchange as (RYB) - Get RYB Education Inc. Report . The company priced a $18.50 above its projected range and will raise about $144.30 million through the offering of 7.8 million shares.
Last week Alibaba Group Holding Ltd. (BABA) - Get Alibaba Group Holding Ltd. Report -backed logistics company Best Inc. (BSTI) ; Argentine travel website Despegar.com Corp. (DESP) - Get Despegar.com, Corp. Report , backed by Tiger Global Management LLC and Expedia Inc. (EXPE) - Get Expedia Group, Inc. Report ; and Zai Lab Ltd. (ZLAB) - Get Zai Lab Ltd. Report a Shanghai biotech developing products for oncology, autoimmune and infectious diseases hit the market.
Best, Despegar.com and Zai Labs all popped in their first day of trading Wednesday, Sept. 20. IPO investment adviser Renaissance Capital LLC estimated the seven listings would raise a total of about $1.6 billion, but Oasis Midstream Partners LP (OMP) - Get Oasis Midstream Partners LP Report subsequently priced its offering below the expected range.
Luckily for investors, the raft of IPOs means there will be new companies where you can get in on the ground floor. And the choices are aplenty, with companies including BP plc (BP) - Get BP Plc Report looking to spin out assets and make a chunk of the equity available to the public. Meanwhile, bigwig private equity and venture capital investors also are looking to exit companies and in turn give the public some skin.
But before you go throwing your money at these rookie floats solely based on hype -- I think we can all recall the pain some investors felt when eyeing Snap Inc. (SNAP) - Get Snap, Inc. Class A Report and Blue Apron Holdings Inc. (APRN) - Get Blue Apron Holdings, Inc. Class A Report in their initial trading days -- it's important to know a few things. Why is the company going public, who owns it, how much will you be able to afford of the new stock, and what risks and pitfalls stand to derail an IPO or take a stock down once it begins trading.
But as we look ahead to the coming days and weeks, there will be even more companies hitting the markets to raise cash. Here's a look at some of those readying to hit the public markets and some that may be a little further off that you should have on your radar.
Roku Streams for Success
Streaming television provider Roku Inc. likely will see its shares hit the market on Sept. 28. Roku plans to offer about 9 million shares at a range of $12 to $14 a piece, meaning at the midpoint the company would raise about $117 million. Shareholders Menlo Ventures and Sky Ventures Ltd. are selling an addition 6 million and 668,000 shares, respectively, and the underwriters, which include Morgan Stanley, Citigroup, Allen & Co. LLC and RBC Capital Markets. have the right to purchase an additional 2.35 million shares. 
The Los Gatos, Calif., company on Sept. 1 filed a Form S-1 with the Securities and Exchange Commission for an initial public offering. Roku's Class A shares would trade as (ROKU) - Get Roku, Inc. Class A Report on Nasdaq. 
In July, The Wall Street Journal reported that Roku was planning an IPO before the end of the year, seeking a $1 billion valuation.
The filing is the latest evidence that the tech IPO market is -- in spite of some high-profile disappointments -- perking up following a big 2017 Nasdaq rally and healthy debuts for a slew of internet services and enterprise tech firms. Roku's filing comes as "Angry Birds" developer Rovio Entertainment Ltd. pursues a Helsinki listing while reportedly aiming for a $2 billion valuation.
Roku's revenue rose 25% in 2016, and 23% during the first half of 2017 to $199.7 million. Hardware sales, though, actually fell 2% during the latter period to $117.3 million. Revenue growth stemmed entirely from a 91% increase in Roku's higher-margin platform revenue. That business, which covers ad sales, software licensing, branded channel buttons on Roku remotes and revenue cuts on subscriptions and on-demand content purchased on Roku devices, increased to $82.4 million.
The boost there helped Roku's net loss drop by $9 million to $24.2 million in spite of an 18% increase in operating expenses to $97.7 million. The company recorded just a 12% GAAP gross margin on hardware revenue but a 76% margin on platform revenue. That bodes well for Roku's ability to turn profitable over the next year or two, provided it can keep platform revenue growing quickly.
NuCana Looks to Raise Some Cash
Brought to you in part by the same venture Capital firm that brought you ZS Pharma Inc., NuCana plc, like many biotechs looking to raise capital, has yet to come up with a commercializable product, let alone turn a profit, so beware -- these things can turn in a second.
Here's what we know as the company targets a Sept. 28 listing:
NuCana is based in Edinburgh, Scotland, and has three drugs in its pipeline that look to address chemotherapy for resistant tumors. Its most advanced product candidate, Acelarin, is currently under evaluation in four clinical trials.
The company, which has backing from Sofinnova Venture Partners and a partnership with Cardiff University in Cardiff, Wales, plans to raise about $100 million by offering 6.7 million shares at $14 to $16. At the midpoint of the proposed range, NuCana would command a market value of $463 million.
NuCana, founded in 2008, plans to list on Nasdaq under the symbol NCNA. Citigroup and notable healthcare experts Jefferies LLC and Cowen and Co. LLC are the joint bookrunners on the deal. It is expected to price during the week of Sept. 25, according to Nasdaq.com.
Since its founding the company has accumulated a deficit of £26.6 million ($36 million). Net losses totaled £5.3 million in 2015, £6 million in 2016 and £4.4 million for the six months ended June 30. As of that date it had £15.9 million in cash and cash equivalents.
Sofinnova is a longtime biotech investor founded in 1974 in Paris; in 1984 it opened up shop in Silicon Valley. Sofinnova has about $2.2 billion under management.
In November 2015, AstraZeneca plc (AZN) - Get Astrazeneca PLC Sponsored ADR Report   agreed to pay $90 per share, or $2.7 billion, for ZS Pharma, a company focused on developing treatments for hyperkalemia, a serious condition of elevated potassium in the bloodstream typically associated with chronic kidney disease.
ZS, which was backed by Sofinnova and other venture investors, went public in June 2014 for $28.50 per share.
Chemicals Between Us
Backed by New York private equity firm CCMP Capital Advisors LP, PQ Group Holdings Ltd. will look to list on Sept. 29 as PQG on the NYSE.
The company produces a wide range of chemicals with industrial and consumer applications. According to its S-1 it is a "provider of catalysts, specialty materials and chemicals, and services that enable environmental improvements, enhance consumer products, and increase personal safety."
For the year ended Dec. 31, PQ Group generated sales of $1.1 billion and a net loss of $79.7 million, though adjusted Ebitda was $420.8 million on 30% margins. 
The offering, is the second time since 2014 that the company has attempted to go public. 
In addition to CCMP, which owns 58% of the company but will reduce its stake to 45% after the offering, PQ Group is backed by U.K.-based chemicals multinational Ineos Group Ltd., which will reduce its stake to 23% from 30%. 
The PQ Group you know today is a bit different than the one that tried to list in 2014. The company sold a 50% stake to CCMP in 2014 and then shortly thereafter CCMP acquired Eco Services Group Holdings LLC from the U.S. unit of Belgian plastics and chemical company Solvay SA. 
In 2016 CCMP combined Eco into PQ Group. 
While PQ has beefed up it still must compete with companies that have serious scale and a global presence. On the specialty chemicals front the company names PPG Industries Ltd. (PPG) - Get PPG Industries, Inc. Report, Occidental Petroleum Corp.'s (OXY) - Get Occidental Petroleum Corporation Report  OxyChem and Germany's Evonik Industries AG as competitors. As for catalysts, PQ Group competes against companies such as BASF  undefined and W.R. Grace GRA, among others, it said.
PQ has a slew of underwriters including Morgan Stanley, Goldman Sachs & Co., Citigroup, Credit Suisse AG and J.P. Morgan Chase & Co. among others.
More Biotech and Pharma IPOs to Watch
Avista Capital Partners LP-backed ear, nose and throat specialty pharma company OptiNose Inc. looks to list on Nasdaq in the coming weeks, though no date has been forecast.
The company filed its S-1 on Monday, revealing that it had about $47.5 million in licensing revenue for 2016, mainly through a partnership with privately held Avanir Pharmaceuticals Inc. to develop migraine medication.
The company's lead product, however, is XHance, a nasal spray used to treat nasal polyps in patients above the age of 18. On Monday, the U.S. Food and Drug Administration approved the new drug application. According to the S-1, the U.S. healthcare system spends approximately $60 billion annually in "direct costs treating patients with chronic rhinosinusitis and its associated symptoms, including an estimated $5 billion on sinus surgeries."
New York private equity firm Avista Capital invested about $48.5 million in OptiNose and moved its headquarters from Oslo to Yardley, Pa. The company is led by former Johnson & Johnson Inc. (JNJ) - Get Johnson & Johnson Report executive Peter Miller.
Jefferies, Piper Jaffray & Co., BMO Capital Markets and RBC Capital Markets are underwriters on the IPO. 
Another biotech looking to raise money in the coming weeks is Deciphera Pharmaceuticals Inc., which has said it would look to sell 6.25 million shares for $15 to $17 per share. Deciphera plans to list on Nasdaq as DCPH, according to its S-1. 
Deciphera is a clinical-stage biopharmaceutical company developing kinase inhibitor treatments for a variety of cancers. Deciphera was founded in 2003 and is focused on developing a kinase inhibitor drug candidate to treat GIST, or gastrointestinal stromal tumors, which occur in the digestive tract. It has yet to turn a profit and has no significant source of revenue.
The Waltham, Mass., company is backed by venture firms including New Leaf Venture Partners LLC, Brightstar Associates LLC, SV Health Investors LLC and Viking Global Investors LP. New Leaf is probably the most well-known household name, having invested in a number of healthcare companies including Alder Biopharmaceuticals Inc. (ALDR) - Get Alder Biopharmaceuticals, Inc. Report , now traded on Nasdaq and seeking to bring migraine treatments to market. 
JPMorgan Securities LLC, JMP Securities LLC and Nomura Securities International Inc. are underwriting Deciphera's offering.
Midstream Assets En Vogue? 
BP plc's (BP) - Get BP Plc Report  U.S. midstream unit, BP Pipelines (North America) Inc., will offer some of its assets up for public investment through a newly formed master limited partnership, BP Midstream Partners LP. The MLP expects to list on the New York Stock Exchange under the ticker symbol BPMP.
BP revealed in mid-July it was considering an initial public offering of some of its U.S. assets as it continues to build its midstream business.
Following the BP Midstream Partners IPO, BP Pipelines will indirectly own the MLP's general partner, a majority of its limited partner interests and all of its incentive distribution rights.
An MLP is a tax-advantaged structure most often employed by midstream oil and gas companies. Other major energy companies have launched MLP IPOs in recent years, including Royal Dutch Shell plc  (RDS.A) , which raised nearly $1 billion in 2014.
BP Pipelines' U.S. midstream infrastructure includes about 4,630 miles of crude oil, refined products, natural gas and diluent pipeline systems that transport about 2.1 million barrels of oil equivalent per day to refineries, refined products terminals, connecting pipelines and natural gas processing plants.
Following on BP's heels were Oasis Midstream Partners and Howard Midstream Partners LP. Oasis said Wednesday it had priced 7.5 million shares at $17, below the $19 to $21 range. Notably, TheStreet's sister publication The Deal reported in September 2016 that upstream oil and gas company Oasis Petroleum Inc. (OAS) - Get Oasis Petroleum Inc Report was likely to sell or spin off its midstream units in 2017.
Howard Midstream, initially backed by EnLink Midstream Partners LP  (ENLK) and Quanta Services Inc. (PWR) - Get Quanta Services, Inc. Report and now controlled by a unit of Alberta Investment Management Corp. and Cayman Islands investment firm Alinda Capital Partners LLC, provided a $200 million placeholder in its filing.
Welcome to ... Fatburger?
Fat Brands Inc., the parent of Fatburger Inc., is hoping a "mini" IPO will turn customers into investors and raise enough capital for it to expand its franchise business worldwide, as it adds two new brands to its belt.
On Sept. 6, the Los Angeles global franchising company, which runs casual-dining chains Fatburger, Buffalo's Cafe and Buffalo's Express, applied, under Securities and Exchange Commission Regulation A, to list up to 2 million shares priced at $12 each on Nasdaq under ticker symbol FAT. Fat Brands, seeking to raise $24 million, will use the funds to further expand, through franchisees, its portfolio of brands worldwide.
Reg A allows the sale of IPO shares to individual investors, not just institutions. Along with its mini IPO, Fat Brands announced that it would complete the acquisition of Homestyle Dining LLC, the parent of Ponderosa Steakhouse and Bonanza Steakhouse, for $10.5 million. Across the Ponderosa and Bonanza brands, Fat Brands will gain 120 locations open and under development.
Fat Brands bought Southwestern-style casual dining chain Buffalo's Cafe, known for its chicken wings, in 2011, and created a fast-casual version in 2012, Buffalo's Express. Along with calorie-laden burger joint chain Fatburger, touted as the "Last Great Hamburger Stand," Fat Brands already operates 200 locations open and under development in 18 countries, with plans to expand to 32. 
The food industry has seen quite a shakeup recently, with the rise of in-home delivery services such as GrubHub Inc. (GRUB) - Get Grubhub, Inc. Report as well as newer fast-casual restaurants such as Shake Shack Inc. SHAK continuing to take market share from the likes of Chili's (owned by Brinker International Inc. (EAT) - Get Brinker International, Inc. Report ) and Applebees International Inc. (owned by DineEquity Inc. (DIN) - Get Dine Brands Global, Inc. Report .)
Fat Burger CEO Andy Wiederhorn recently sat down with TheStreet to explain the rationale behind the IPO:
"The creation of Fat Brands has entered into the next step of our business plan of becoming a global franchise company with multiple brands. We bought the Fatburger brand almost 15 years ago with 40 restaurants just in California and Nevada, and we grew it to now have almost 200 restaurants and another 300 in our development pipeline. We felt it was time to create a multibrand holding company." Read the full interview here.
More on Fat Burger and its menu:
Know the Experts: CarGurus Files for IPO
Used car marketplace CarGurus Inc. filed for an IPO on Sept. 15.
CarGurus, which listed a $100 million placeholder amount in the S-1, plans to list its stock on Nasdaq under the ticker symbol CARG. Following the offering, founder, chairman and CEO Langley Steinert, a cofounder of TripAdvisor Inc. (TRIP) - Get TripAdvisor, Inc. Report , will control the company's voting power.
The Cambridge, Mass., company connects buyers and sellers of used cars, with over 40,000 dealers and 5.4 million car listings as of June 30. Marketplace subscription revenue from dealers accounts for the bulk of CarGurus' revenue; the company also sells advertisements. Citing comScore Inc. data, CarGurus said it's the most-visited online car marketplace in the U.S., with 2.3 times the number of visits on its U.S. website as the next-largest competitor.
Among its competitors, CarGurus lists TrueCar Inc. (TRUE) - Get TrueCar, Inc. Report , which raised $70 million in a 2014 debut. Shares are up nearly 29% year to date, well ahead of the S&P's 11.9% increase during the same period.
In another vehicular IPO, Phoenix competitor Carvana Co. (CVNA) - Get Carvana Co. Class A Report , a car vending machine purveyor (yes, you read that correctly), closed down 14% on its first day of trading in April.
CarGurus had a profitable 2016, earning $6.5 million, up from a net loss of $1.6 million in fiscal 2015. Revenue more than doubled during the same period, to $198.1 million from $98.6 million. During the six months ended June 30, CarGurus reported earnings of $143.3 million, up from just $84.2 million during the same period in 2016. Marketplace subscription revenue of $128 million during the first half was up 78.6% year over year.
Restore Your Portfolio With Restoration Robotics
The selfie generation, aging baby boomers, the rise of vanity -- call it whatever you want, but Restoration Robotics is seemingly your way to play at least some of these phenomena on the public markets.
Based in Mountain View, Calif., Restoration Robotics designs and manufactures medical devices for hair transplantation and has raise about $120 million since its founding in 2002. It will listed on Nasdaq under the symbol HAIR and is likely to hit the markets the week of Oct. 9, according to Nasdaq.com.
The company plans to offer about 3.1 million shares for between $7 and $9 per share to raise $25 million at the midpoint. The underwriters, which include National Securities Corp. and Roth Capital Partners LLC, will then have the option to purchase an additional 468,750 shares. 
Backed by Clarus Ventures LLC, Sutter Hill Ventures, Alloy Ventures Inc. and InterWest Partners LLC, the company had about $11.3 million in revenue for the first half of 2017.
Though small, some of its investors pack a big punch. Sutter Hill Ventures, for instance, which owns 15.2% of Restoration, has invested in a host of companies in the health, consumer and technology sectors including employee review website Glassdoor.com, Horizon Pharma plc (HZNP) - Get Horizon Therapeutics Public Limited Company Report and Nvidia Corp. (NVDA) - Get NVIDIA Corporation Report .
Alloy also has had its successes, though a bit less high profile. The Palo Alto, Calif., venture firm was an early investor in Verinata Health Inc., a noninvasive prenatal screening and diagnostic testing company that was sold to Illumina Inc. (ILMN) - Get Illumina, Inc. Report in 2013 for $350 million and Barrx Medical Inc., a manufacturer of catheters to treat Barrett's esophagus that was acquired by Covidien plc (eventually sold to Medtronic Corp.) in 2012 for $325 million.
Nvidia is a holding in Jim Cramer's Action Alerts PLUS Charitable Trust Portfolio. Want to be alerted before Cramer and the AAP team buy or sell NVDA? Learn more now.
Happy Birds: Rovio Files for Listing
Rovio Entertainment, the maker of "Angry Birds," on Sept. 15 announced the initial price range for its proposed IPO, valuing the company at around $1 billion.
The company set a price range of between €10.25 and €11.50 a share ($12.27 to $13.77), which will be listed in Finland. The range gives the company a market capitalization of between €802 million and €896 million.
The IPO, announced Sept. 5, is expected to offer 54.6% of the company's shares in the float. There also will be a secondary sale by its largest shareholder, Trema International Holdings BV, and certain other shareholders.
Zynga Inc. (ZNGA) - Get Zynga Inc. Class A Report , perhaps Rovio's closest competitor sans the strong IP of the Angry Birds franchise, has had a rocky ride during its stint as a public company. Shares of the company behind "Words With Friends" and "FarmVille," among other titles, are up about 52.5% in 2017 to $3.92 apiece. The company hit an all-time high of $5.88 in March 2014.
Zynga has been talked about as an acquisition candidate in the past as companies begin to look at mobile gaming as a serious frontier in the gaming world. In February, Take-Two Interactive Software Inc. (TTWO) - Get Take-Two Interactive Software, Inc. Report , the company behind video game franchises such as "Grand Theft Auto," acquired mobile gaming company Social Point SL for $175 million in cash and $75 million in shares, with additional earn-outs of up to $25.9 million.
The deal appears to provide a good exit for SocialPoint, which had raised less than $45 million since it launched in 2008. Its investors included Highland, 83 North, Greylock and Nauta Capital.
More of What's Trending on TheStreet:
Editors' pick: Originally published Sept. 21.