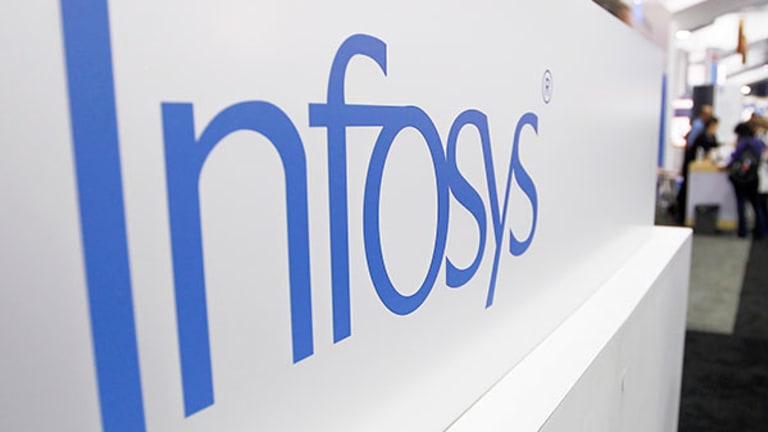 Infosys Is Tanking Because Its Ex-CEO's Transformation Efforts Are Now in Limbo
CEO Vishal Sikka tried to remake Infosys' culture and service offerings. That led to tension with the company's founders.
If one wants to understand why Infosys Ltd's (INFY) shares are down over 7% in response to news CEO Vishal Sikka is resigning, a good place to start would be the lengthy Knowledge@Wharton interview he gave in March.
There, Sikka talked at length about his attempts to shake up Infosys' culture as the Indian IT outsourcing giant deals with intensifying competition and some big secular challenges. He talked about Infosys' Zero Distance initiative, which prods every software team at the company to "do something innovative" with a project, as well as its Design Thinking initiative, which aims to improve the problem-solving abilities of workers. And about his attempts to differentiate Infosys' offerings via investments in areas such as AI/machine learning and automated IT services.
Sikka's departure doesn't necessarily spell an end to these efforts. But it does introduce a big dose of uncertainty, especially since the circumstances surrounding his exit pave the way for a bitter fight between Infosys' board and its founders.
In a letter to Infosys' board announcing his resignation, Sikka, originally appointed in 2014, asserts he and the board have been "besieged by false, baseless, malicious and increasingly personal attacks" that have "been repeatedly proven false and baseless by multiple independent investigations." He adds this "continuous drumbeat of distractions and negativity" has impacted his attempts to remake Infosys, and that "hundreds of hours" of his time have been recently devoted to dealing with it.
The remarks are a reference to criticism of Sikka by Infosys' founders, including chairman Narayana Murthy. The founders, who collectively still own 12.75% of Infosys, had previously questioned Sikka's compensation, as well as that of COO Pravin Rao (now Infosys' interim CEO). In a July letter to the board that Murthy released following Sikka's resignation, he raised perceived governance problems surrounding Infosys' $200 million 2015 purchase of Panaya, an Israeli provider of testing and quality-management tools for enterprise apps.
A whistleblower had alleged Infosys overpaid for Panaya and suggested some Infosys execs may have financially benefited from the deal, which was opposed by now-departed CFO Rajiv Bansal. However, a probe of the deal led by law firm Gibson Dunn had cleared Infosys of wrongdoing in June. In his letter, Murthy insists he's not questioning "[Sikka's] strategy or its execution," and is only worried about governance. But Murthy is also reported to have sent an e-mail quoting some Infosys directors as saying Sikka is "CTO material" rather than "CEO material."
This morning, Infosys' board released a strongly-worded statement defending Sikka's track record and asserting Murthy's letter "contains factual inaccuracies, already-disproved rumours, and statements extracted out of context" from conversations with directors. It adds "dialogues" with Murthy over the last year that were meant to legally address his concerns without compromising the board's independence have been unsuccessful.
The board also accuses Murthy of threatening to publicly attack the board unless it carries out "certain changes in policy," "[appoints] specific individuals" and carries out "operational and management changes." It also declares Murthy might be in the process of holding talks with "certain key [Infosys] stakeholders" to further his attacks on the board and management. Needless to say, this dispute is shaping up to be a messy one.
Cultural differences appear to have played a role in the falling out between Sikka and Infosys' founders. Though born in India, Sikka went to college in the U.S., worked for several American software firms and later joined German software giant SAP, where he eventually became CTO. In dress and demeanor, his style contrasted with that of Infosys' original management. And while Infosys' headquarters remain in the Indian city of Bengaluru, Sikka and the company's "Office of the CEO" were stationed in Silicon Valley.
More of What's Trending on TheStreet:
All of that was bound to add to tensions with Infosys' old guard as Sikka tried to overhaul its corporate culture and made a string of acquisitions. In addition to Panaya, Sikka oversaw the purchase of a pair of e-commerce services firms -- Kallidus Technologies and Skava -- for $120 million apiece, and the purchase of oil/gas IT consulting firm Noah Consulting for $70 million. In addition, two startups -- Skytree, a provider of machine learning-based software for analyzing corporate data, and Brilliant Basics, a provider of design services for apps and websites -- were bought for undisclosed sums.
All of these acquisitions, of course, fit with Sikka's broader efforts to transform Infosys, a firm that started out as a provider of basic, low-cost, app outsourcing solutions, into a company that also provides a variety of differentiated, value-added services. A look at the broader IT outsourcing landscape drives home the need to make such moves.
Soaring enterprise spending on cloud infrastructure (IaaS) and app development (PaaS) platforms, such as those provided by Amazon.com Inc. (AMZN) , Microsoft Corp.  (MSFT) and Alphabet Inc./Google (GOOGL) , is doing a number on traditional, on-premise, outsourcing work. As is, to some degree, the adoption of third-party cloud apps (SaaS). Moreover, less of the money that enterprises are still allocating to outsourcing work is related to large-scale "digital transformation" projects compared with smaller department-specific projects. And as spending on traditional work has dropped, competition between outsourcing firms for large deals has intensified.
Jim Cramer and the AAP team hold a position in Alphabet for their Action Alerts PLUS Charitable Trust Portfolio. Want to be alerted before Cramer buys or sells GOOGL? Learn more now.
Against this backdrop, Infosys has been performing reasonably well during Sikka's tenure. Revenue rose 7.4% in fiscal 2017 (it ended in March) to $10.2 billion, and is forecast on average by analysts to rise 8.7% this year to $11.1 billion. In its defense of Sikka, the board noted Infosys' base $100 million-plus clients has grown by 6 to 18 over the last three years, and that the employee attrition rate has dropped to 16.9% from 23.4%.
Some peers have had a rougher time. HP Enterprise Inc.'s (HPE)  Enterprise Services business, recently spun off and merged with Computer Sciences, saw revenue drop 6% in fiscal 2016 (ended last October). IBM Corp.'s (IBM)  Global Business Services revenue fell 2% annually in Q2 to $4.1 billion, and its Technology Services & Cloud Platforms revenue fell 4% to $8.4 billion. Others, such as Accenture Plc (ACN) , Wipro Limited (WIT)  and Cognizant Technology Solutions Corp. (CTSH) , are still seeing positive outsourcing growth.
There's clearly a fear right now that if Infosys' founders win their battle with the board, a lot of Sikka's transformation efforts will be undone. There's probably also concern that even if the board wins, the dispute will distract the board and management amid a search for Sikka's successor. And markets, as always, hate uncertainty.