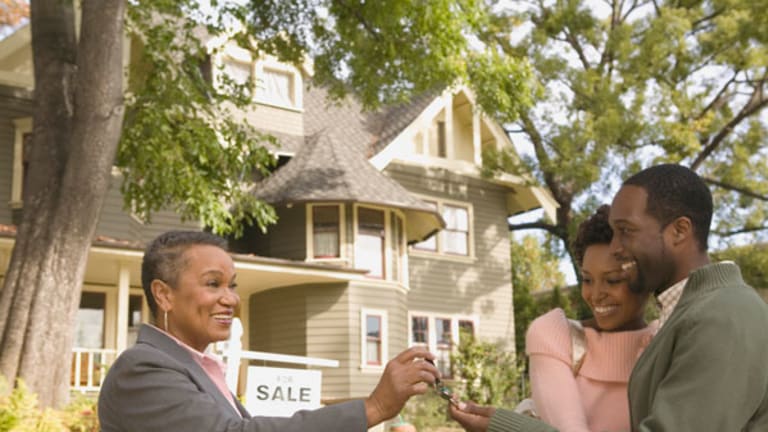 Indymac in the Hot Seat
Its issues are separate from subprime, but the lender still faces a hit from 'Alt-A' mortgages.
Indymac
( NDE) made its case Thursday to distinguish itself from the crumbling subprime market, but with defaults rising among so-called Alt-A mortgages, the lender still is facing a very challenging 2007.
That's why the company and fellow thrifts like
FirstFed Financial
( FED) are among the favorite shorts of hedge funds right now.
Shares of Indymac jumped early Thursday after the company
issued a statement seeking to emphasize that it won't face the same liquidity crisis hitting subprime lenders like
New Century
and
Accredited Home Lenders
( LEND).
Some industry experts are now warning, though, that the next shoe to drop in the current mortgage downturn will be the Alt-A market, which mostly consists of pay-option mortgages and interest-only loans.
These risky adjustable-rate mortgages helped fuel the housing boom earlier this decade in areas like California, Florida and Arizona by allowing many homebuyers to spend more money on a home than they could actually afford, absent the initial low teaser rates.
In a report this week, UBS mortgage credit research analyst David Liu highlighted the growing signs of weakness in the Alt-A market.
Delinquency rates on both subprime and Alt-A loans have doubled in the past year, Liu noted. At the end of December, about 2.4% of borrowers for Alt-A loans were delinquent by more than two months on payments, whereas the rate for subprime was 14%, according to data from First American LoanPerformance.
Alt-A borrowers generally have higher credit scores than subprime borrowers, who are the riskiest homeowners. From a credit standpoint, Alt-A loans are riskier than prime mortgages because the underwriting often is sloppier.
One popular Alt-A product, the option ARM, allows borrowers the choice to pay less than their fully amortized rate each month. Once too much of the proper loan balance is deferred, a process known as negative amortization, then the monthly payment adjust to the full amortized rate -- known as payment shock.
Indymac has a very large exposure to the Alt-A market. About 90% of the company's mortgage originations last year were Alt-A, with slightly more interest-only loans than option ARMs. A total of 45% of these Alt-A loans were originated for California homes.
To be clear, Indymac is indeed a much different story than New Century and Accredited. Unlike the subprime lenders, Indymac is a bank, giving it much better access to capital. In the simplest terms, Indymac borrows from the federal government to originate loans, whereas subprime lenders relied heavily on Wall Street banks' credit lines.
The looming issue with Indymac is not one of a liquidity risk, like the subprime guys. Indymac said in the release Thursday that it has more than $2.4 billion of liquidity.
Instead, the problem is that the Alt-A mortgage origination business is on the verge of becoming unprofitable.
Moreover, as defaults among borrowers pick up, Indymac will be forced to repurchase more bad loans that it had sold off in the secondary market to Fannie Mae, Freddie Mac and Wall Street investment banks (similar to what happened with the subprime lenders).
Indymac expects to repurchase $600 million of loans this year, but a rapidly falling Alt-A market could make that number look conservative.
Homebuilder Hit
Another less talked about issue at Indymac is the fact that the company has significant exposure to the weakening homebuilding market, although not with the better-capitalized large public builders such as
Lennar
(LEN) - Get Lennar Corporation Class A Report
.
In recent years, Indymac aggressively provided financing to consumers looking to build custom homes. This financing is referred to as "CTP/Lot" loans in the company's
Securities and Exchange Commission
filings.
At the end of 2006, Indymac had $2.25 billion of such loans on its balance sheet. Another $2.5 billion was sold off last year to the secondary market.
Indymac also provided financing to small- and medium-sized homebuilders, many of whom were building "speculative" homes without buyers. Another $1.3 billion of these loans sat on the balance sheet at the end of last year.
If these loans turn bad, Indymac will be forced to record impairment charges against the company's reserves for losses. As Indymac notes in its annual report, it had virtually no write-offs of construction loans, but the company expects such charges to increase this year. About 60% of these construction loans are in California, with 11% in Florida. Both markets are facing heavy home-price pressure.
In the filing, Indymac says its current reserves are enough to absorb the bad loans. But in today's housing market, where prices are rapidly declining in some areas, the extent of the possible writedowns is hard to quantify.
Indymac said Thursday that nonperforming loans will amount to 1.5%-2% of its total loan portfolio in 2007, up from 0.6% at the end of 2006. About 10% of the construction loans are projected to turn sour, Indymac said.
Alt-A Under Fire
Another issue down the road for Indymac is whether it can continue to buy and sell mortgages, which are the bread and butter of the company's business.
Last year, Indymac originated $90 billion of mortgages and sold 88% of those loans to the secondary market. There is anecdotal evidence that spreads are widening in the asset-backed securities market because fixed-income investors are now demanding higher yields to assume the additional risk of these loans.
Liu, the UBS mortgage credit analyst, says the asset-backed securities market has yet to adequately price in the growing risk of defaults in the Alt-A segment and expects spreads to widen further.
As spreads wide, it becomes more difficult for Indymac to originate new loans, unless it can get the consumer to absorb a much higher rate.
In recent years, Indymac, like other Alt-A lenders, were playing the volume game to get deals done, says Manuel Ramirez, an analyst with Keefe, Bruyette & Woods.
"Now they have to make a decision about if they are going to sacrifice volume to improve profitability or not," says Ramirez, who rates Indymac underperform.
In the fourth quarter, the company's mortgage banking revenue margin declined to 91 basis points from 110 basis points a year earlier.
One possible doomsday scenario down the road for Indymac is one in which federal regulators decide to shut down the Alt-A mortgage business altogether.
"Regulators are seeing what is happening with subprime. They know that the option ARMs could explode if real estate prices go down," says a source who closely follows the industry and is advising hedge funds to short Indymac. "The last thing they want is an S&L crisis like the late '80s or early '90s."
The doomsday scenario would be something along the lines of what happened to subprime lender
Fremont General
( FMT), which recently consented to a cease and desist order from the FDIC to stop originating subprime loans. Debate in Congress is currently heating up about ways to restrict subprime lending.
The über-bears on Alt-A say the Office of Thrift Supervision could eventually prevent Indymac and other lenders from originating any option ARMs unless homebuyers qualify under the fully amortized rate. In recent years, lenders employed sloppy underwriting standards that qualified buyers for loans so long as they could pay the initial lower teaser rate.
Ramirez believes "it is pretty early on to say Indymac would get hit" by an order like this.
Nevertheless, he does admit that rising default rates in the Alt-A market and a growing panic among asset-backed securities investors could become a siren call.
"Regulators took action on subprime after the market did," he says. "The regulators were somewhat of a step behind."
Meanwhile, shorts have already piled into Indymac, betting it is the next lender for a fall. The stock had a 21% short interest in February. Shares are already down 33% this year, and the stock, at around $30, trades right near its book value.
FirstFed Financial, which relied on originating Alt-A mortgages primarily in California, has a 43% short interest. Shares, at around $55, are down 18% this year, though the stock climbed 5% Thursday after Indymac's release.
Indymac shares, meanwhile, gave back their gains and recently were down 0.1% to $28.90.