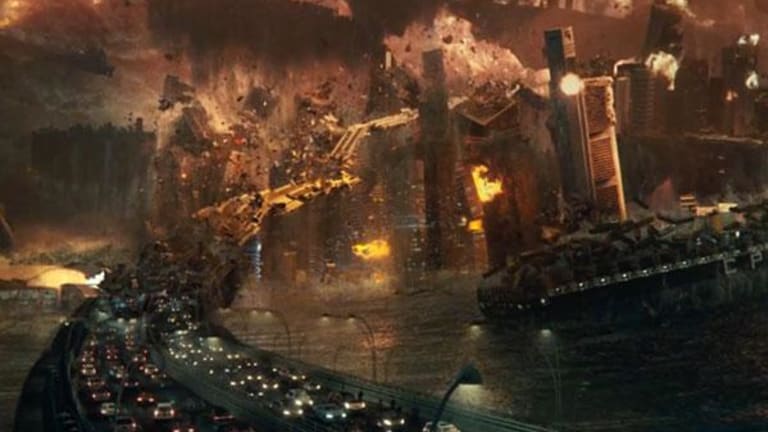 'Independence Day: Resurgence' Will Struggle to Blow Up the Box Office
The sci-fi sequel is likely to fall short of the No. 1 spot, which will likely belong to Pixar for the 29th time in the studio's history.
The sci-fi sequel is likely to fall short of the No. 1 spot, which will likely belong to Pixar for the 29th time in the studio's history.
Editor's pick: Originally published June 23.
It will be a battle between fish and aliens this weekend, as holdover "Finding Dory" goes head-to-head with Fox sequel "Independence Day: Resurgence." It's likely that the fish will come out on top, giving Disney its twelfth No. 1 box office weekend of the year. Meanwhile, shark thriller "The Shallows" and Civil War drama "The Free State of Jones" will attempt to lure in audiences who aren't tempted by either sequel. Box office revenue for this final weekend of the second quarter should total about $175 million-a good result, but not enough to propel box office earnings for Q2 past those of Q1.
Unless "Resurgence" surprises this weekend, the No. 1 spot should still belong to "Dory." The Disney/Pixar sequel opened to a massive $135.1 million last weekend, and weekday returns have also been huge for the film. Given the dearth of family competition in the marketplace right now, it doesn't seem likely that "Dory" will suffer the large weekend-to-weekend drop that many sequels face. Instead, the Pixar film should fall around 47%, roughly in line with the 46% drop of "Toy Story 3" six years ago. That would give "Dory" a $72 million weekend and a total of about $285 million through its first ten days.
"Independence Day: Resurgence" will claim the No. 2 spot this weekend, and its returns may be slightly disappointing for Fox. The obvious comparison for this movie is last summer's "Jurassic World," which was similarly a reboot/sequel of a beloved sci-fi movie from the '90s. However, "Resurgence" has a snowball's chance in hell of reaching the $208.8 million that "Jurassic World" devoured in its opening weekend, for several reasons.
Firstly, the "Independence Day" brand has not been kept as healthy as the "Jurassic Park" brand since the '90s. Commercially (if not critically) successful sequels kept "Jurassic Park" in the public memory, as did video games, comic books and Universal theme park rides all based off of the successful franchise. When "Jurassic World" was released last year, just about everyone, regardless of age, was familiar with the "Jurassic" brand. By comparison, Fox has done little to keep the "Independence Day" brand in the public consciousness, and so the movie may struggle to attract young audiences unfamiliar with the first movie.
Additionally, "Resurgence" follows in a long line of large disaster-action movies that have proliferated in the market since the release of the first "Independence Day." "2012," "Pacific Rim" and last year's "San Andreas" are just a few examples of recent films that have used large-scale destruction as a major selling point in the advertising. The image of a large building crumbling no longer makes an indelible impression as it did when the first "Independence Day" was released--now, it's too commonplace to make a movie like "Resurgence" a must-see. These types of movies can no longer be sold on their premise alone; they have to have other appealing aspects in order to be a blockbuster.
A major star, for example, would have helped "Resurgence" sell. Unfortunately, Fox was unable to enlist Will Smith to reprise his role from the original, a major blow to this film's earnings potential. While the return of Jeff Goldblum and Bill Pullman from the first film will give this movie a sense of continuity, it is unlikely to light up the box office. Given these challenges, it may be difficult for "Resurgence" to top the $50.2 million opening of the original, even with 3D surcharges and 20 years of inflation. Expect the sci-fi sequel to open to $45 to $48 million from 4,067 theaters this weekend.
Third place will likely belong to last weekend's "Central Intelligence." The Warner Bros. action comedy has had good word of mouth, having received an A- Cinemascore from audiences last weekend, and it should benefit from the lack of laffers in the marketplace. Expect the film to drop just under 50%, giving it a weekend total of about $18 million and a cumulative total of about $70 million through Sunday.
Sony's Shark thriller "The Shallows" should land in fourth place this weekend. The film stars Blake Lively as a surfer who must fend off a shark out for blood. A close comparison for the thriller is "Piranha 3D", which released to $10 million in the summer of 2010. That movie, however, sold itself largely on the promise of gore, while "The Shallows" is promising more of a suspenseful thriller. It will also be available to a larger audience than "Piranha 3D" was, given its PG-13 rating and wide 2,800 theater release. Social media buzz has been strong, suggesting that the thriller may be connecting with the young audience that "Independence Day: Resurgence" so desires. The movie should open to $14 to $15 million this weekend, a strong result for a $17 million film.
Matthew McConaughey drama "Free State of Jones" should round out the Top 5 and looks as though it will be a major disappointment for new studio STX Entertainment. The film has received unenviable reviews in the days leading up to its release, a major problem for a movie that is targeting adult audiences. McConaughey is a bona fide box office star, but he has been M.I.A. from theaters for the past couple years, and even he can't propel a poorly-reviewed drama to box office success in the middle of the summer. "Free State of Jones" should open significantly below box office analysts' expectations, generating about $6 to $7 million in revenue this weekend from roughly 2,800 theaters.
A weekend recap will be posted on Monday with studio estimates.