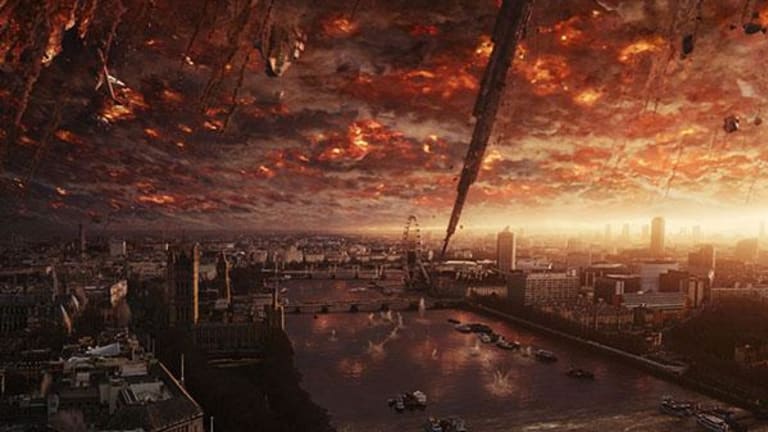 'Independence Day' Franchise Saw No Resurgence at the Box Office
The sequel from Fox disappointed, while 'Finding Dory' continued to reel in big bucks.
The sequel from Fox disappointed, while 'Finding Dory' continued to reel in big bucks.
This weekend saw Disney  (DIS) - Get Report take its twelfth No. 1 opening of the year, as "Finding Dory" stayed afloat at the top box office spot. Opening over $30 million below the Pixar sequel was "Independence Day: Resurgence," which fell way short of its predecessor's performance despite opening with the advantage of 3D premium charges and 20 years of inflation. In total, this weekend's top twelve grossed an estimated $182.1 million, down about 20% from last weekend but up 3% from the same weekend last year.
"Finding Dory" generated $73.2 million in weekend box office revenue, good for the eighth-best second weekend of all time, as well as the best for an animated film. The sequel fell a reasonable 45.8% from its opening, similar to the 46.2% drop that "Toy Story 3" experienced in its second weekend. The good hold for "Dory" is further evidence of strong word-of-mouth and the lack of family competition at the box office. "The BFG," also from Disney, will no doubt cut into some of the family audience next weekend, but the movie is tracking poorly and may not provide enough competition to keep "Dory" from scoring a third No. 1 frame.
"Independence Day: Resurgence" opened with a bit of a thud in second place, grossing an estimated $41.6 million. The $165 million sequel from Fox (FOX) - Get Report fell below the expectations of box office analysts, who generally predicted that $45 million would be the floor for this opening. The low opening for the movie serves as another example that brand recognition cannot carry a film at the box office--a sequel has to carry appeal outside of goodwill generated by the predecessor. In this department, "Resurgence" simply didn't deliver. Large-scale destruction is something that U.S. audiences have seen time and again in big-budget films, and as it is becoming increasingly clear, moviegoers simply aren't going to shell out money for something they've seen a dozen times before.
However, large-scale destruction is something that many foreign audiences are willing to spend their money on, as proven by the huge $102.1 million opening for "Resurgence" from 57 overseas markets this weekend. That includes a $37.4 million bow in China, which nearly matched the U.S. debut despite the fact that the first "Independence Day" never opened in the Middle Kingdom. It remains to be seen how well the film will hold up in overseas markets, given the upcoming releases of other big-budget adventures such as "The Legend of Tarzan" and "Star Trek Beyond." In order to get in the black, "Resurgence" likely needs an overseas total of at least $300 million. Even if "Resurgence" does become marginally profitable for Fox, however, don't bank on seeing a third "Independence Day" invading theaters anytime soon.
The other big news from the foreign box office this weekend was the sizable $43.3 million China debut for "Now You See Me 2." That already greatly exceeds the $23 million that the first film grossed in the territory and means that the magician sequel will see its box office earnings from China exceed U.S. earnings. This is something that will become increasingly commonplace, as China is expected to become the largest film market in the world by the end of 2017. "Now You See Me 2" has made $159.8 million worldwide thus far and will probably add another $100 million or so to the tank when all is said and done.
Turning back to the domestic box office, "Central Intelligence" occupied third place this weekend, dropping a reasonable 48% to $18.4 million. The film has made $69.3 million since opening on June 17, and is very likely to surpass the $100 million domestic mark by the end of its run.
The Top Five was rounded out by two newcomers, which saw divergent box office fortunes. "The Shallows" opened in fourth place with a strong $16.7 million. That number more than doubles the $7 million that the studio was predicting for the film and greatly exceeds the forecasts of most box office analysts. "The Shallows" nearly matched its $17 million budget with its opening, an impressive result. The breakout opening for the film can be attributed to a strong release date--Sony correctly predicted that younger audiences would not have much else to see this weekend--and an appealing premise. Shark thrillers have been popular ever since the release of "Jaws," and Blake Lively proved to be a good choice to anchor the genre film. The B+ Cinemascore that the film received from moviegoers is strong for a thriller and could mean that this film will approach $50 million by the end of its domestic run.
"Free State of Jones," the Civil War drama starring Matthew McConaughey, saw a less-favorable opening this weekend. The movie, distributed by STX Entertainment, generated only $7.7 million in weekend box office revenue, a very poor result for a $50 million feature. The movie is unlikely to play very well overseas, given its focus on American history and will have to hope for some longevity at the domestic box office. This is possible, given the film's A- Cinemascore and the upcoming July 4th holiday weekend. However, the best the movie can hope for domestically is about $30 million, a disappointing result for everybody involved.
Next weekend, three new films will open, although none looks likely to break out. "The BFG" and "The Legend of Tarzan" are big-budget bets for Disney and Warner Bros., respectively, and the studios will likely have to look to overseas grosses for the lion's share of revenue. Meanwhile, "The Purge: Election Year" will hope to attract horror fans and, perhaps, political aficionados. However, unless one of these movies surprises, the box office crown is likely to belong to "Dory" once more. Check back on Thursday for official box office predictions!