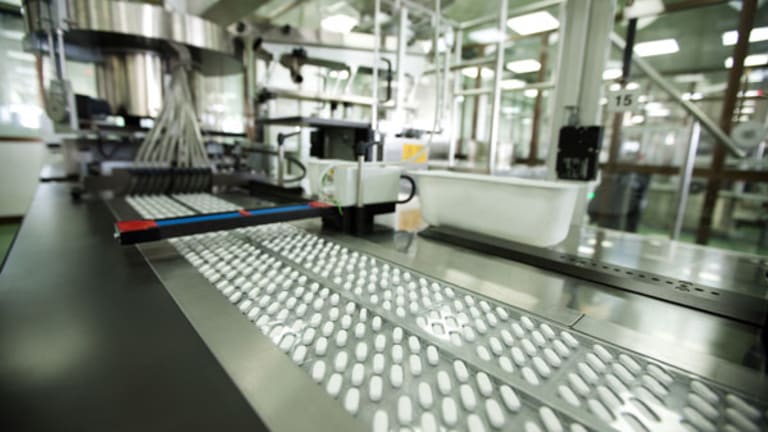 Incyte's Rheumatoid Arthritis Pill Promising
An experimental pill from Incyte reduced symptoms in rheumatoid arthritis patients, according to results from a small phase II study presented Sunday.
An experimental pill from
Incyte
(INCY) - Get Report
reduced symptoms in rheumatoid arthritis patients, according to results from a small phase II study presented Sunday.
Incyte, a small Delaware-based drugmaker, is one of several entrants in a race to develop the first oral drug for rheumatoid arthritis (RA). The prize is a multibillion-dollar market for the company that can develop a pill that is as effective as and safer than current treatments, all of which must be given by injection.
Results from a 28-day midstage study of Incyte's experimental pill, INCB18424, were presented Sunday at the American College of Rheumatology annual meeting.
At the three highest doses in the study, between 40% and 50% of patients reported a 50% improvement in RA symptoms compared with just 11% of patients treated with a placebo.
About 30% of patients treated with INCB18424 reported a 70% reduction in symptoms, while 10% of patients were almost entirely rid of their disease, reporting improvement of 90%. None of the placebo patients reported such improvements.
These results put the efficacy of INCB18424 generally in line with a current class of injectable RA drugs known as tumor necrosis factor-alpha inhibitors, or TNF-alpha inhibitors. Safety data presented Sunday also suggest that INCB18424 could be safer and better tolerated than TNF-alpha inhibitors, although INCB18424 was not tested head to head against these drugs.
TNF-alpha inhibitors as a class generate billions of dollars in sales annually and include drugs like
Johnson & Johnson's
(JNJ) - Get Report
Remicade,
Abbott's
(ABT) - Get Report
Humira and
Amgen
(AMGN) - Get Report
and
Wyeth's
( WYE) Enbrel.
"The holy grail in RA has been an oral drug with robust efficacy, a favorable side effect profile, and durable response," wrote JPMorgan analyst Cory Kasimov in a research note to clients. "While very early, '424s emerging profile appears to be competitive with more advanced oral RA compounds," he also wrote. Kasimov has an overweight rating on Incyte.
Rigel Pharmaceuticals
(RIGL) - Get Report
and
Pfizer
(PFE) - Get Report
are also working on oral RA drugs. Pfizer is presenting data on its drug Tuesday, while data on Rigel's drug is expected to be presented late Monday afternoon.
The new Incyte data pave the way for two larger studies that will begin in the fourth quarter. While the data presented Sunday were encouraging, the study enrolled only 50 patients treated for a relatively short 28-day treatment cycle.
Since rheumatoid arthritis is a chronic disease, companies must test their drugs in large numbers of patients over extended periods in order to collect convincing evidence of safety and efficacy.
"In our opinion, investors are unlikely to be too moved by early Ph2a data (especially in this environment), given the short duration of exposure and limited number of patients," wrote Kasimov.
To that point, shares of Incyte were down 74 cents, or 15.9%, at $3.89 in recent trading. Investors who were unmoved Tuesday will have to wait until the first half of 2010 to get results from the larger studies on Incyte's drug, according to the analyst's estimation.
Both Incyte's INCB18424 and the Pfizer drug belong to a new class of drugs called janus kinase (JAK) inhibitors. The drugs work by blocking the role that JAK enzymes play in causing inflammation.
The Rigel drug works by blocking a different inflammatory pathway known as the syk kinase.
Senior Columnist Adam Feuerstein contributed to this report.