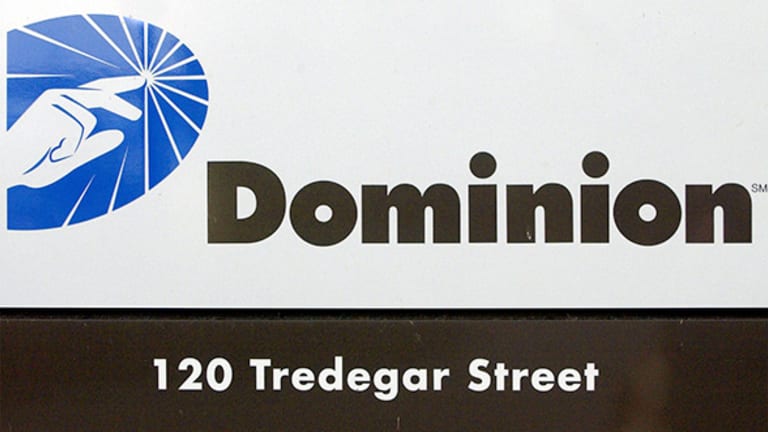 Income Champ Dominion Resources a Safe Bet in Volatile Times
Growing electricity consumption and organic growth should carry this dividend stalwart through the likely turbulence of the next few years.
The daily cacophony emanating from the Trump administration is exhausting, and it's only been a week. You need to stay calm and keep your eye on the numbers.
Consider a safe dividend play that should not only weather the coming volatility but also withstand rising interest rates this year: income champ Dominion Resources (D) - Get Free Report . The utility is scheduled to report earnings on Wednesday. Earnings are projected to be robust.
The average analyst expectation is that the company's earnings per share (EPS) will come in at $1.01, compared to 70 cents in the same period a year ago. Next quarter, EPS is pegged at $1.07, versus 96 cents in the same year-ago quarter. Full-year EPS is projected at $3.81, compared to $3.44 last year.
Based in Richmond, Va., Dominion operates via three divisions: Dominion Virginia Power (DVP), Dominion Generation, and Dominion Energy. DVP is focused on regulated electric transmission and distribution that serve residential, commercial, industrial and governmental customers in Virginia and North Carolina.
Dominion Generation generates electricity generation through coal, nuclear, gas, oil, hydro, and renewable sources. Dominion Energy centers around regulated natural gas distribution and storage.
The company has been boosting capital expenditures to expand its electric and natural gas businesses and is extending operations throughout the Mid-Atlantic, ensuring organic growth this year and beyond.
Dominion also has been beefing up its renewable energy assets. The growth of renewable energy is an unstoppable trend that the company tapped early.
Dominion's multi-pronged energy strategy has been rewarding shareholders. With a dividend yield of 4%, this stock confers both a juicy dividend as well as solid potential for capital appreciation. If you're looking for stability, remember that Dominion has paid a growing dividend for more than 10 years.
In 2016, Dominion racked up a total return of 17.37%, beating the full-year total returns of 11.96% and 10.44%, respectively, for the S&P 500 and the overall utilities sector.
Analysts peg Dominion's earnings growth over the next five years at 5.95%, on an annualized basis.
Watch the thermostat, which plays a key role in propelling utilities' earnings. According to the U.S. Energy Information Administration, the average residential electricity usage is expected to jump 4% from December 2016 to March 2017, as compared to the same period a year ago. The reason: winter temperatures during this period are expected to be lower than normal.
Dominion's valuation is roughly in line with its major peers: shares trade at a trailing 12-month price-to-earnings ratio of 23.6, compared to 22.4 for Duke Energy and 26 for Exelon.
What's more, the policies of Donald Trump are expected to greatly benefit utilities. The free-market oriented Trump has vowed to reduce regulatory pressure on utilities such as Dominion. The new president also has suggested that his administration will boost spending on energy infrastructure. If Trump makes good on these promises, Dominion and the entire utility sector should get a huge boost.
---
As 2017 grows more volatile, you want to be in control of your own destiny. That means being able to predict in advance how much money your investment portfolio will generate. Think it can't be done? Our top analyst has a system that can ensure you will make a profit on more than 80% of your trades. To find out the secret, just click here now!
John Persinos is an analyst at Investing Daily. At the time of publication, he owned none of the stocks mentioned.