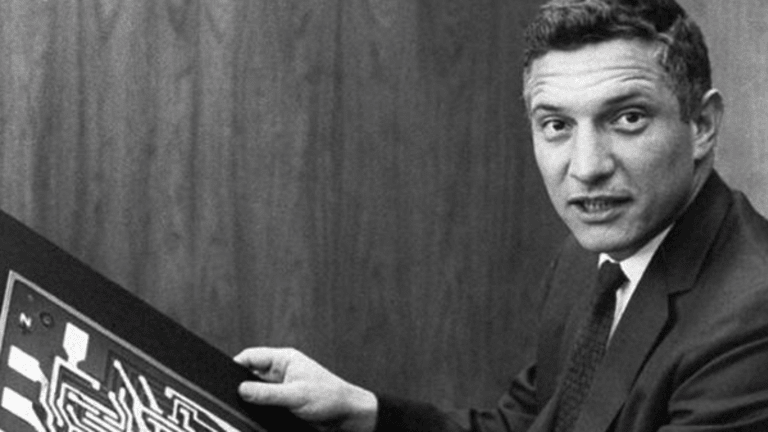 In Case You Missed It: Thursday, Oct. 27
Qualcomm's $47 billion deal for NXP is the largest chip deal of all time. Below is engineer Robert Noyce (1959) showing off a model of the first silicon microchip.
If you'd like to receive "In Case You Missed It" in your email inbox every evening, please register for TheStreet Alerts and follow me.
A strong showing from banks buoyed the European markets and bled into the United States in early trading. That positive sentiment, however, faded throughout the day and into the close as the utilities and basic materials sectors slipped due to a spike in Treasury yields.
The S&P 500 closed down 0.30% while the Dow Jones Industrial Average fell 0.16%. The Nasdaq slid 0.65%. 
While all eyes were on Action Alerts PLUS holding NXP Semiconductors (NXPI) - Get NXP Semiconductors NV Report  , as Qualcomm (QCOM) - Get Qualcomm Inc Report  announced Thursday morning it would acquire the chipmaker for $47 billion, the largest semiconductor deal in history, as the day wore on focus turned to Alphabet (GOOGL) - Get Alphabet Inc. Class A Report  (also an AAP holding) and Amazon (AMZN) - Get Amazon.com, Inc. Report  , which reported earnings after the bell.  
The Google parent company reported adjusted earnings of $9.06 per share, topping analysts' estimates of $8.63 per share. The Seattle-based e-commerce and web services giant, Amazon, meanwhile, posted earnings of 52 cents per diluted share, below analysts' estimates of 78 cents, according to FactSet. 
But while a big week of earnings and M&A deals (more than $150 billion in two transactions this week) continued to be in focus for much of Wall Street, TheStreet and staff were exploring a host of stories today, as well. From which company set to fare better over the holiday season -- Target (TGT) - Get Target Corporation Report or Walmart (WMT) - Get Walmart Inc. Report  to the impact of the Time Warner (TWX) - AT&T (T) - Get AT&T Inc. Report deal on your cable bill to the demise of the casual dining industry, among others, TheStreet and affiliates have dug up a fresh batch of exclusive content.
Here are the highlights from TheStreet and its affiliates:
Target, Walmart Vie for Early Holiday Season Edge
TheStreet sits down with executives from the retail giants to discuss plans for the holiday season and how they will combat e-commerce players like Growth Seeker portfolio holding Amazon. Full story
Casual Dining Spots Face Liquidation Amid a Saturated Market
To compete in the casual dining space, companies are shuttering stores through Chapter 11, but who will survive and who will be forced to restructure? Full story
The Good (Celgene) and Bad (Biogen) Ways to Deliver Drug Revenue Growth
This week's announcements from Celgene and Biogen provided a contrast between volume- and price-driven revenue growth. Full story
Video of the Day: Jim Cramer Says Don't Look for Earnings Surprises from Exxon and Chevron
Exxon and Chevron should see improved results on the third-quarter, compared to the prior quarter.Full story
Tweet of the Day:
TheStreet team says goodbye to @vinehttps://t.co/e16j2fPa7Z... https://t.co/8lVLycrXVb
NFL ratings are off, but sports franchise valuations are fine
The league has seen ratings decline in recent months, but sources say it's just a blip on the radar screen of the NFL, which has a number of other catalysts. Full story
Advocates Say AT&T-Time Warner Merger is Toxic for Consumers
Free markets are at risk if this mega-merger goes through, one consumer group states. Why you should fear 'a tight oligopoly on steroids.' Full story
Chart of the Day: Dow Chemical Is on the Edge of a Historic Breakout
Maybe you bought Dow Chemical in the past year or two for its relatively attractive dividend or solid fundamentals. Whatever made you click "BUY" it is OK because DOW's charts of look really bullish. Did I say really bullish? Full story
How a 'Bad Moon Rising' Could Break Gold's Breathtaking Fall
Should you be worried by the precipitous decline in gold prices this fall? Not if you're pessimistic about the future of the global economy, says Simon Constable. Full story