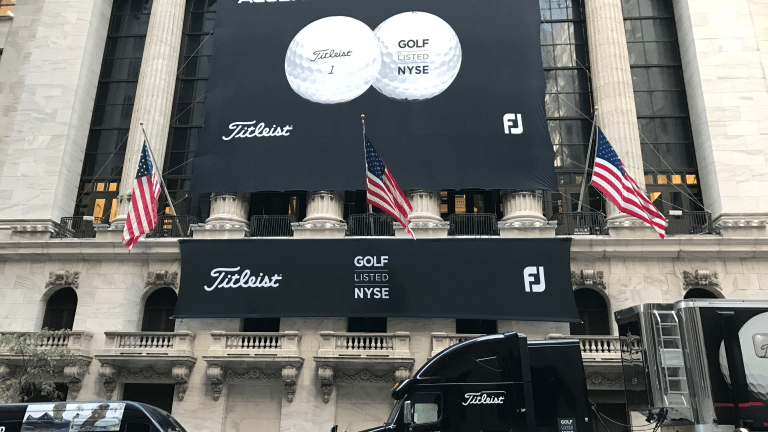 In Case You Missed It: Friday, Oct. 28
Today on Wall Street: Acushnet, the holding company of Titleist, Footjoy and other golf brands, teed off a public listing on the NYSE after being acquired by Fila in 2011.
If you'd like to receive "In Case You Missed It" in your email inbox every evening, please register for TheStreet Alerts and follow me.
A media mega merger, more than 300 company earnings reports, the largest chip deal in history, a rumored mega oil deal and email scandals dominated the news cycle throughout the week as the markets shifted and adjusted to the tumults.
But behind the headlines, questions loom: Are the major exchanges doing a lot to help sway the likes of Snapchat, AirBnb, BlueApron and others looking to go public on their platforms? How is Brexit affecting London's biggest financial players? TheStreet explores these and other issues that won't fade with the news cycle.
Meanwhile, the energy sector will continue to draw M&A interest even if the General Electric (GE) - Get Free Report -Baker Hughes (BHI) rumors turn out to be just talk, as crude slipped from a six month high and some of the world's largest companies reported mixed results in the third quarter. For distressed producers that have lasted this long in a sub-$50 per barrel world, like Chesapeake (CHK) - Get Free Report , continued consolidation may be the quickest route to a comeback, according to TheStreet and affiliates. 
Less scarily, perhaps, PartyCity (PRTY) - Get Free Report  has been and continues to staff up during a busy Halloween weekend while Dave and Busters, which is backed by Texas billionaire Robert Bass's Oak Hill Capital Management LLC, looks ready for an IPO or sale despite the downturn in retail. 
And while everyone (including TheStreet and its various properties) was reacting to AT&T's (T) - Get Free ReportTime Warner (TWX) hookup and General Electric's potential deal or at least partnership with Baker Hughes , amid earnings from Action Alerts PLUS holding's Apple (AAPL) - Get Free Report and Google parent Alphabet (GOOGL) - Get Free Report , as well as Amazon (AMZN) - Get Free Report and Chevron (CVR) - Get Free Report among others, TheStreet was also hard at work on a host of proprietary stories from across the business world.
Here are the highlights:
You May Ask Yourself, Is Amazon a Once-in-a-Lifetime Opportunity?
Jeff Bezos' tech and retail giant is spending and Wall Street doesn't like it. But the tactic should strengthen the bull case for the company. Full story
Corralling the Unicorns: Nasdaq and NYSE Work to Court the Next Blockbuster IPO
TheStreet talks to representatives from the exchanges to explore what they are doing to entice companies, especially ahead of a number of big potential tech listings. Full story
European Cities Line Up to Compete for Post-Brexit Business
Rivals vie for a share of the spoils in financial services and other sectors. Full story
Video of the Day: Last-minute Shoppers Rejoice -- How Party City Picks Your Costumes
When's the last time you took a selfie? Or, a group picture with your friends? Full story
Private Equity Looks Ready to Let Dave and Buster's Play on Its Own
Both strategics and financial sponsors are said to have an appetite to Eat Drink & Play. Full story
Chart of the Day: Chesapeake's Comeback Should Continue
Chesapeake Energy suffered a huge decline in 2014 and 2015. Prices finally stabilized in the first half of this year and now it looks as if the company is set up to make more of a comeback in the months ahead. Full story
Retail Remains a Restructuring Hot Spot
As The Deal, a sister publication of TheStreet, released its third-quarter Out-of-Court Restructuring League Tables, turnaround pros share their thoughts on retail distress and other trends. Full story
Tweet of the Day: