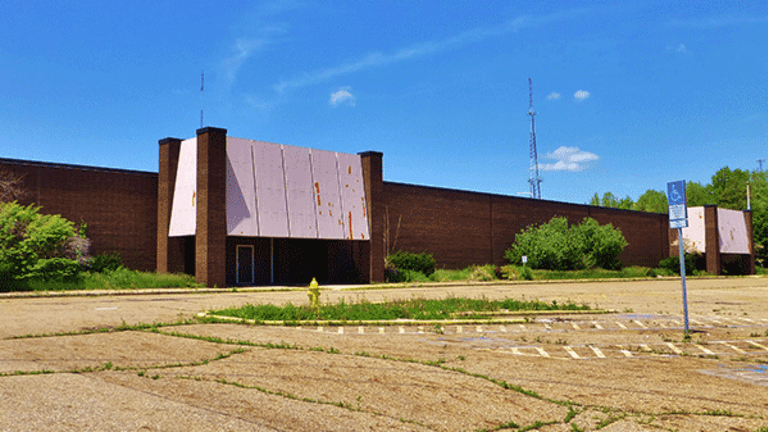 Publish date:
Sears' Embattled CEO Eddie Lampert Just Assured Everyone He Isn't in 'Denial'
Lampert comes out swinging.
Lampert comes out swinging.
Huh?
In a rare and borderline completely out-of-touch interview with the Chicago Tribune, embattled Sears Holdings Corp. (SHLD) CEO Eddie Lampert blamed media reports for his inability to get the retailer out of its sure decline to death and suggested that the company is "ahead" of rivals J.C. Penney (JCP) - Get Report , Macy's (M) - Get Report and Target (TGT) - Get Report .
"Some of them have greater financial resources than us or certain advantages in certain categories," Lampert said. "Clearly we have our challenges. Every time people use the word bankruptcy, somebody who reads that doesn't get past that word. It makes it very unfair for us, and it's a very uneven playing field for us."
Lampert added that the media has only been focused on its massive number of store closures and financial issues, hindering its ability to successfully transition back to profitability.
"It is true that on the left, we're closing stores," Lampert said. "We're not making money. On the right is where we're going. A lot of these things are happening and they're happening in plain sight."
At Sears' annual shareholders meeting on Wednesday, Lampert continued to sound bullish on the retailer's future. 
"We don't need more customers. We have all the customers we could possibly want," Lampert said. "As soon as we start making money, people are gonna say, 'How did I miss this?'"
"I give you my assurance I am not in denial," Lampert concluded.
Lampert's comments raise a very simple question: how could one not be overly focused on the demise of Sears?
The dying retailer said recently that same-store sales since the start of the year crashed 11.9 percent between both its Sears and Kmart banners. Excluding one-time gains related to the sale of the Craftsman tool business and certain real estate, Sears lost between $190 million to $230 million. That is worse than a year ago when it lost $181 million.
Sears also announced the departure of CFO Jason Hollar, who had only been on the job for about six months. The company hinted strongly it will move to shutter more stores beyond the round of 150 closures it just completed.
To try and keep the lights on a little while longer, Sears has outlined more than $1 billion in cost savings this year through layoffs, store closures and other restructuring efforts.
But, the inability of Sears to turn a profit despite significant store closures and other cost cuts is unlikely to alter the dire predictions of the ratings agencies that apparently Lampert really hates. S&P has come out this year with its probability of default model, which calculates the possibility of default for a one- to five-year time frame, and found that Sears is most at risk among major retailers with a one-year probability of default reading of 23.84 percent.
"With negative news like this, it's never good for confidence on the company," Moody's VP Christina Boni told TheStreet in the wake of Sears disclosing in March it may be unable to stay in business. Earlier this year, Moody's downgraded its credit rating on Sears to Caa2 from Caa1. The downgrade reflected the accelerating negative sales performance of Sears' business and risk of possible default.
It could be easily argued that what's happening to Sears today is a byproduct of Lampert's failed leadership. It was Lampert who orchestrated the 2004 merger of Kmart and Sears. Since then, the combined company has grossly under-invested in its stores, lost legions of customers to Walmart and Target (names Lampert believes Sears is ahead of) and subsequently, has sought to shutter hundreds of stores. Locations that haven't been closed, and which Sears owns, have been sold off to raise badly needed cash.   
Even still, Sears drained its cash position to $286 million in 2016 from a high point of $1.7 billion in 2009. It hasn't generated cash flow from its operations or seen revenue growth since 2006. Shares of Sears have crashed by about 93 percent since hitting a high point in October 2006. Earlier this year, Sears even closed the first-ever Kmart store. 
All of this suggests Sears has one foot in the grave, not on the cusp of a turnaround as Lampert suggests.
A Sears spokesman didn't immediately respond to a request for comment. 
Trending right now on TheStreet:
ESPN Woes Overshadow Disney's Strong Showing in Parks and Movies: What Wall Street's Saying
Walmart's Jet.com Finally Has a Physical Store Open--What It Sells Will Surprise You
Snap's Much-Anticipated First Earnings Report as A Public Company -- Here's What to Watch