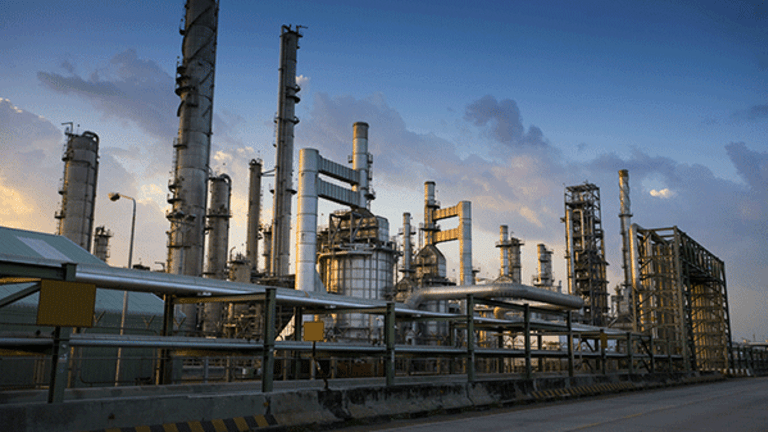 Integrated oil company Imperial Oil (IMO) - Get Imperial Oil Limited Report is a hold with a six-to-12-month price target of $55 a share.
Imperial Oil is engaged in the exploration for and production and sale of crude oil and natural gas. The company's operations are divided into three business segments: upstream, downstream and chemical.
The stock has a forward price-earnings ratio of 19.5, compared with 19.1 for the S&P 500, indicating that the stock is pretty fairly priced. However, based on the valuation done on the multiple and estimated earnings per share for full-year 2016, we set the six-to-12 month target price of the stock at $49.57.
Our valuation model suggests an upside of up to 15% for Imperial Oil's stock.
The company reported third-quarter net income of $1 billion, up from $479 a year earlier. This income included a gain of $716 million from the sale of retail sites.
The sale of the company-owned Esso retail sites for $2.8 billion, announced in the first quarter, was expected to be completed by the end of last year. More than 200 sites involved in the sale have converted to the Esso-branded distributor operating model, representing more than 40% of the total transaction value.
Imperial Oil continues to focus on reducing costs and also prudently managed cash in a low-commodity-price environment. Third-quarter capital and exploration expenditures were $205 million, down $937 million from a year earlier, reflecting the completion of major upstream growth projects and a continuing focus on capital selectivity.
Also, gross oil equivalent production was 393,000 barrels per day, up 7,000 barrels per day from a year earlier and up by 64,000 barrels per day from the second quarter. Syncrude production averaged 85,000 barrels per day, up 26,000 barrels per day from a year earlier.
The increase in production illustrates the company's strong recovery from the effects of the northern Alberta, Canada, wildfires. Therefore, the company seems to have come a long way from the loss in the second quarter to profitability in the third quarter, turning cumulative nine-month figures into positive ones.
Between 2013 and 2015, Imperial Oil traded at an average multiple of 19.8 times. That assumes a multiple of 19.8 times to calculate the target price.
The stock is trading at about $35 a share. It has surpassed the 50-day and 200-day moving averages of $34.5 and $32.1 respectively, so it seems that the oil giant is set for a breakout and can make fresh highs.
The support and resistance for the oil giant is at $30 and $40, respectively.
This article is commentary by an independent contributor. At the time of publication, the author held no positions in the stocks mentioned.