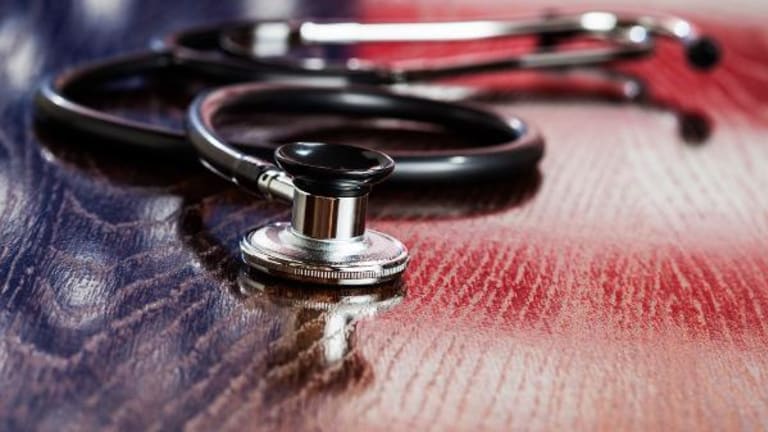 Impax Gains 38% On CEO Appointment, Talk of Sale
The company hired Paul Bisaro, former chairman at Allergan, to become CEO as Morgan Stanley helps explore alternatives, including a sale.
Impax Laboratories (IPXL) shares were up Monday as a former Actavis Specialty Pharmaceuticals executive takes the helm at the company as president and CEO.
Impax shares popped 38% Monday on news that the company hired Paul M. Bisaro, hitting $12.77 apiece midday.
Officials at Impax, which makes a generic version of Adrenaclick, which is a competitor to EpiPen, said Bisaro will replace J. Kevin Buchi, who had been serving as interim CEO since December.
Bisaro had previously been working as chairman of Allergan plc (AGN) but left their chairman's role in October. He worked as president and CEO of Actavis Specialty Pharmaceuticals before Allergan acquired the company. Bisaro has also served as a board member at Zimmer Biomet Holdings (ZBH) (he stepped down earlier this month) and Zoetis Inc. (ZTS) .
Bisaro remains on the board at Zoetis and Allergan.
"Following a thorough review of candidates, the board determined that Paul's broad experience across the specialty pharmaceutical industry and demonstrated ability to grow and transform an organization, make him the right person to oversee the company's future direction," said Robert Burr, Impax's chairman, in a statement.
The company could not be reached immediately for further comment.
The company has reportedly hired Morgan Stanley to explore strategic alternatives, which could include a sale. Both Morgan Stanley officials and those at Impax declined comment on the news, which was initially reported by Reuters.
The $905.28 million market cap company is valuable given that it sells a generic competitor to Mylan's (MYL) EpiPen. Impax makes a generic version of Adrenaclick, which is used to treat severe allergic reactions and anaphylaxis.
It's the only autoinjector maker in the space that has not fallen victim to questions about pricing practices, likely thanks to the fact that patients without health insurance would pay $109 for the device. Those with insurance would pay even less.
The company has steadily been increasing its market share in the space over the past year. In 2016, Impax entered with a 4% market share, with a goal of increasing its market share by 1% each quarter. Impax has taken about 10% of market share at this point, as its involvement in the market was boosted thanks to the outcry over high EpiPen prices that occurred late last summer.
But Impax's rise has not been without problems. The company still uses a manufacturing process that involves assembling the 20-part device by hand. Additionally, Impax's treatment isn't formally an FDA generic equivalent for EpiPen even though the drug being delivered, epinephrine, is the same. The injecting mechanism is different, however.
Thanks to Orange Book regulations in some states, the generic form of Adrenaclick can't be automatically substituted by pharmacists for an EpiPen.