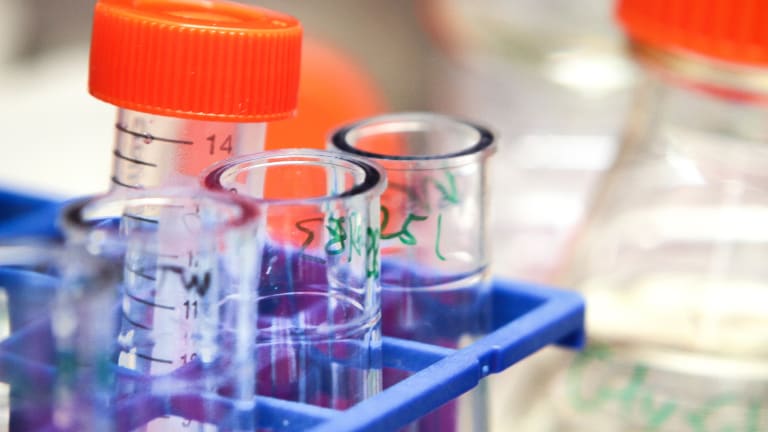 Immunotherapy Stocks Power Higher on Celgene-Juno Deal
Shares of immunotherapy companies including Ziopharm Oncology and Fate Therapeutics rose early on Monday on the heels of Juno Therapeutics' announced sale to Celgene.
Shares of immunotherapy companies rose Monday, Jan. 22, following word of Juno Therapeutics Inc.'s (JUNO) pending sale to Celgene Corp. (CELG) - Get Free Report .
In morning trading, shares of Boston-based Ziopharm Oncology Inc. (ZIOP) - Get Free Report were up 16.1% to $4.97, San Diego-based Fate Therapeutics Inc. (FATE) - Get Free Report climbed 9.3% to $8.06 and Houston-based Bellicum Pharmaceuticals Inc. (BLCM) - Get Free Report shares had risen 2% to $7.96. Also among the stock movers were U.K.-based Adaptimmune Therapeutics plc (ADAP) - Get Free Report , whose American depository receipts were up 8.9% to $8.81 and France-based Cellectis SA (CLLS) - Get Free Report , whose ADRs rose 9.4% to $32.26.
Celgene, which has a 9.7% stake in Juno, said Monday it had agreed to buy the rest of the Seattle immunotherapy company it doesn't own for around $9 billion. Summit, N.J.-based Celgene will pay $87 per share, net of cash and marketable securities acquired and Juno shares already owned by Celgene.
Juno shares were changing hands at $86.02 on Monday morning, up 26.9%. Celgene's shares were trading at $102.76, roughly flat.
Juno's product candidates include JCAR017, a potential treatment for B-cell non-Hodgkin's lymphoma. Regulatory approval for the treatment in the U.S. is expected in 2019, and the product has potential global peak sales of about $3 billion, the companies said Monday.
Celgene and Juno in 2015 signed a 10-year collaboration agreement to develop and commercialize immunotherapies to treat cancer and autoimmune diseases. As part of the agreement, Celgene gained a roughly 9% stake in Juno for $1 billion and an option to commercialize Juno's programs outside North America. At the time, analysts suggested the partnership might be a precursor to a more formal tie-up between the two.
Celgene is is diversifying away from its biggest-selling drug, Revlimid, which is used for the treatment of multiple myeloma, myelodysplastic syndromes and mantle cell lymphoma. Myelodysplastic syndromes are a group of diseases affecting the soft tissue in the bones.
Beginning 2022, Celgene will face generic competition for Revlimid. The drug generated net sales of $8.19 billion in 2017, up 17% from 2016, according to preliminary results issued by Celgene on Jan. 8.
The Juno deal marks Celgene's second acquisition announced this month. Celgene on Jan. 7 agreed to buy Impact Biomedicines for as much as $7 billion, including an upfront payment of about $1.1 billion. San Diego-based Impact is developing fedratinib for the treatment of myelofibrosis and polycythemia vera, a pair of bone-marrow disorders. --Martin Baccardax contributed to this article
More of What's Trending on TheStreet: