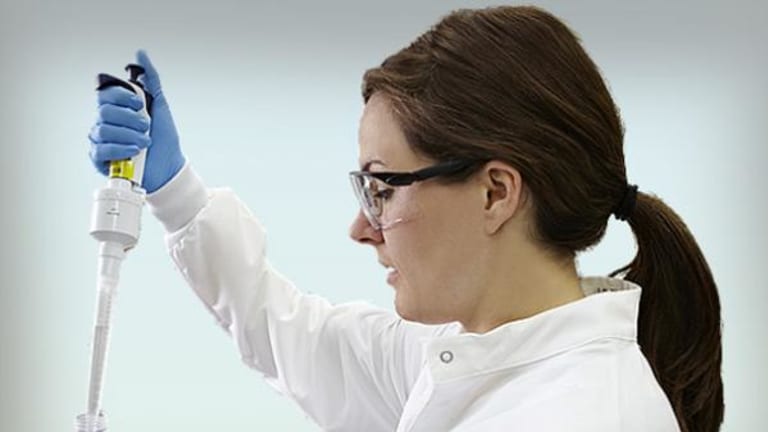 Immunomedics Soars on Injunction Against Seattle Genetics Deal
The biotech company embattled by activist investor VenBio may not be able to go through with its licensing deal.
Immunomedics (IMMU) shares were skyrocketing midday Thursday on news that a judge halted its licensing deal with Seattle Genetics (SGEN) as a result of a lawsuit filed byVenBio, an activist firm invested in Immunomedics.
The company's shares were up 12% midday, hitting $5.60 apiece.
Vice Chancellor J. Travis Laster, based in Delaware, ordered the injunction, which will be for thirty days, pending a hearing. The judge in this case is important - Laster often is aggressive when it comes to M&A law. 
At issue in the lawsuit: VenBio claimed the deal with Seattle Genetics, announced Feb. 10, provides little value to Immunomedics shareholders. Seattle Genetics agreed to pay $250 million in cash to Immunomedics for rights to IMMU-132. Immunomedics is also eligible for an additional $1.7 billion in back-end milestone payments plus royalties on IMMU-132 sales.
In return, Immunomedics has committed to sell a 9.9% equity stake in the company to Seattle Genetics at $4.90 per share. The equity investment is being offered at a discount to the company's share price and would significantly dilute shares of current investors.
Thirty suitors were apparently interested in acquiring IMMU-132, according to VenBio. And Immunomedics kept its process open for a relatively short go-shop period after announcing the deal, but warned that Seattle Genetics could match any proposal. The deal followed a thirteen-month-long strategic review process led by Greenhill & Co.
This review and sale, though were not to the liking of VenBio, which claimed that the go-shop period was two short, the terms of the deal were poor and the board was not sufficiently experienced. 
"The value of the deal, which we can only gauge by the upfront amount given the lack of disclosed terms, is stunningly low by comparison to other deals," VenBio officials wrote in a Feb. 14 filing.
VenBio officials expressed dissent by filing a lawsuit against Immunomedics, in addition to launching an activist campaign to take over the company's board. The activist won the activist campaign on March 3 at the company's annual shareholder meeting, where its slate of four directors were elected to Immunomedics' board. 
As a part of this campaign, VenBio also sought the termination of Chairman, Chief Scientific Officer and Chief Patent Officer David Goldenberg, along with Cynthia Sullivan, the company's CEO and Goldenberg's wife. Ultimately, though, they were unsuccessful in this measure. 
DLA Piper LLP and Vinson & Elkins LLP are acting as legal advisers to Immunomedics. 
Seattle, VenBio and Immunomedics officials could not be reached for immediate comment. Seattle Genetics' shares barely moved on the news Thursday. 
A transcript of the judge's decision from the bench was not immediately available; usually it takes at least a day for the court reporter to produce the transcription.