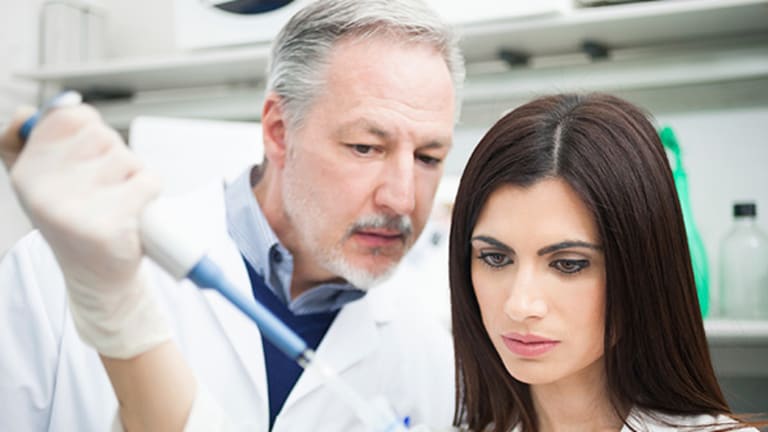 Immunomedics Kicked Out of Prestigious ASCO Cancer Conference
Immunomedics was caught trying to sneak old, previously presented clinical data on its triple-negative breast cancer drug IMMU-132 into the American Society of Clinical Oncology (ASCO) annual meeting.
Updates article from late Thursday, June 2, with stock price, company statement and analysis. 
Immunomedics (IMMU) was caught trying to sneak old, previously presented clinical data on its triple-negative breast cancer drug IMMU-132 into the American Society of Clinical Oncology (ASCO) annual meeting, which starts Friday.
That's a violation of ASCO's rules. As a result, ASCO informed Immunomedics Thursday that the IMMU-132 breast cancer abstract was removed from the meeting.
"Since the confidentiality of this abstract was violated, the abstract and presentation have been removed from the meeting and will no longer be featured in our press program," Alise Fisher, program coordinator in ASCO's science communications department, said in an email Thursday night.
The Immunomedics screw-up was entirely self-inflicted.
ASCO accepted the company's late-breaking abstract for IMMU-132 into the annual meeting on the premise that it contained updated and previously undisclosed results from a mid-stage study in triple-negative breast cancer. But Immunomedics failed to tell ASCO that the IMMU-132 data were not updated or new at all.
Immunomedics Founder and Chief Scientific Officer David Goldenberg had already presented the same IMMU-132 trial results at an industry networking meeting in April, ASCO learned.
The company issued a press release when these IMMU-132 data were presented in April, posted the presentation slides on its web site and discussed the data with investors on a conference call. 
Immunomedics also never told Dr. Aditya Bardia of Harvard Medical School, the principal investigator of the IMMU-132 breast cancer study and the scheduled ASCO presenter, about the April data reveal, Bardia told me in an interview on Wednesday.
Investors look to the ASCO meeting, held in June each year, for the latest developments and newest clinical data on experimental cancer drugs.
On a recent conference call with investors, Goldenberg and his wife, Immunomedics CEO Cynthia Sullivan, played up the importance of the IMMU-132 ASCO presentation. Coupled with the Breakthrough Therapy Designation granted to the drug by FDA in February, the company hopes to win approval of its first drug after 34 years of research efforts. [Immunomedics was founded in 1982.]
Immunomedics stock price has risen by 70% since April 20, when ASCO announced the inclusion of the IMMU-132 breast cancer data as part of its media briefing program for the annual meeting.
But unbeknownst to ASCO and investors, the updated IMMU-132 data hyped by Immunomedics executives turned out to be old and previously seen. For that transgression, Immunomedics was kicked out of the most prestigious and closely watched cancer conference of the year.
Immunomedics shares recently fell 18% to $4.35 Friday. 
The company issued a statement confirming ASCO's decision to remove the IMMU-132 presentation from the annual meeting. CEO Sullivan added:
The presenter, Dr. Bardia, and I are attempting to reverse this with ASCO, because we believe the patient population and results reported in April were different from those in the ASCO abstract submitted last February. Both we and our many investigators involved are disappointed that our excellent therapeutic results, achieving an interim median survival of about 14 months, may not be presented at this meeting. These results are very encouraging for TNBC patients with metastatic disease who failed multiple prior therapies.
IMMU-132, also known as sacitizumab govitecan, consists of a monoclonal antibody targeting Trop-1, a protein found on cancer cells, linked to a metabolite of the common chemotherapy irinotecan. When injected into patients, the antibody portion of IMMU-132 is supposed to find and attach to Trop-1 receptors on the outside of cancer. The chemotherapy payload is then delivered inside the cancer cell, killing it.
Immunomedics enrolled 80 women with metastatic, triple-negative breast cancer as part of a larger phase I/II clinical trial of additional cancer types. The women's breast cancer was growing despite a median of five prior therapies. The women were treated with four different doses of IMMU-132. The company chose to report results on a subset of 60 patients refractory to at least two prior therapies including a taxane. These patients were treated with a 10 mg/kg dose of IMMU-132.
Of the 60 patients, two had a complete response and 18 had a partial response to IMMU-132 for an unconfirmed overall response rate of 33%. The overall response rate dropped to 28% based on confirmatory scans, Immunomedics said. The median progression-free survival, meaning the time before patients' tumors started to regrow, was 5.6 months.
Immunomedics presented these data in April but didn't inform ASCO, which is why the late-breaking abstract was removed from the ASCO annual meeting. 
In an interview Wednesday, Bardia said women with this type and stage of triple-negative breast cancer treated with other drugs can typically expect to see progression-free survival in the range of 1.7 months to 3.7 months.
In this context, the median progression-free survival of 5.6 months observed with IMMU-132 was encouraging, Bardia said, although the results need to be interpreted with caution because the study enrolled a small number of patients and was not randomized to compare IMMU-132 against another drug. Data on overall survival was too immature to be interpretable, he added. 
Regarding regulatory plans for IMMU-132, Immunomedics said the following on Friday:
After receiving guidance from the regulatory authority, the company plans to pursue accelerated approval for sacituzumab govitecan as a treatment for patients with TNBC in this setting. The application for accelerated approval will be based on the ongoing Phase 2 trial with efficacy data, expanding the patient population over the next few months. In addition, a confirmatory Phase 3 clinical study based upon the Special Protocol Assessment (SPA) trial design that the FDA agreed in December 2015 is planned to begin patient enrollment by the end of this calendar year.
Note that Immunomedics doesn't say FDA supports the company's plan to file for accelerated approval of IMMU-132. The company also offers no timeline for when an accelerated approval filing will be completed. Why is it taking Immunomedics almost a year to start enrolling patients in the planned phase III study? 
Regulatory precedent is not on Immunomedics' side. The phase I/II study of IMMU-132 was never intended to serve as the basis for regulatory approval. Neither the drug's Breakthrough Therapy status nor the need for new drugs to treat triple-negative breast cancer are likely to sway the FDA to be lenient if or when the drug is filed.
Celldex Therapeutics (CLDX) was in a similar situation last year with its brain tumor drug rindopepimut. The company sought FDA'a okay to file for accelerated approval based on positive survival data in a randomized, phase II study. The FDA had previously designated rindopepimut as a Breakthrough Therapy drug and a confirmatory phase III study was already underway.
The FDA said no to Celldex's accelerated approval filing request. Immunomedics is trying to go down the same FDA road but with a weaker argument.
Rindopepimut later blew up when the phase III study came back showing no survival benefit. The FDA's decision against allowing accelerated approval proved to be prescient. Likewise, there is no guarantee the IMMU-132 results seen in Immunomedics' small phase I/II study will hold up when tested in a larger group of patients.
Case in point: Nektar Therapeutics' NKTR-102, which delivers the same irinotecan metabolite, SN38, to tumors as does IMMU-132. An early-stage study of NKTR-102 showed an impressive 39% objective response rate in triple-negative breast cancers. However, a larger, phase III study with an overall survival endpoint failed to pick up any difference between NKTR-102 and a control arm.
Experimental drugs with the FDA imprimatur of Breakthrough Therapy status are not guaranteed to succeed. The list of failed Breakthrough Therapy drugs is surprisingly long and includes Biomarin's drisapersen, Aduro Biotech's CRS-2017, Celladon's Mydicar and the aforementioned rindopepimut from Celldex.
The definitive answer on IMMU-132 likely rests with the large, randomized phase III study in triple-negative breast cancer that won't start until the end of the year. Results are years away. Immunomedics would like to find a Big Pharma or Big Biotech partner to fund and conduct this study -- a wise choice given the company's own lackluster drug-development track record.
The ASCO annual meeting is an ideal place to get your drug in front of lots of potential partners, but presenting there usually requires new clinical data. For Immunomedics, that meant submitting an IMMU-132 data abstract to ASCO but omitting the "new" part.
The miscue backfired on the company. 
Adam Feuerstein writes regularly for TheStreet. In keeping with company editorial policy, he doesn't own or short individual stocks, although he owns stock in TheStreet. He also doesn't invest in hedge funds or other private investment partnerships. Feuerstein appreciates your feedback; click here to send him an email.