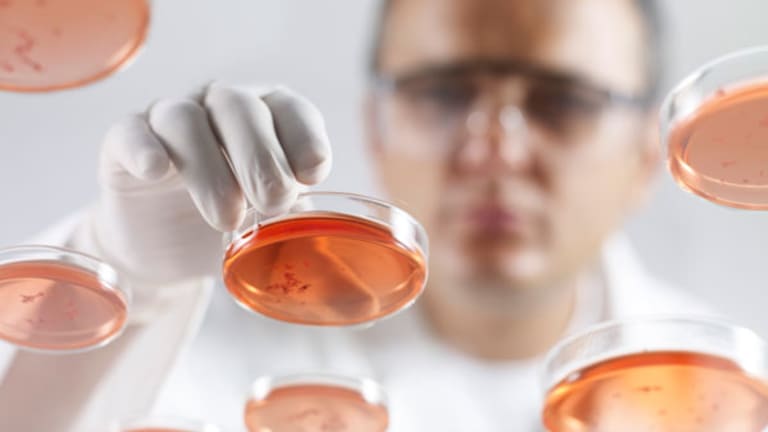 Immunogen's 'Smart Bomb' Cancer Drugs Are Flunking Safety Checks
The lung cancer drug IMGN901 caused infections and deaths, forcing Immunogen to halt a mid-stage study.
The list of toxicity problems linked to Immunogen's (IMGN) "smart bomb" cancer drugs is growing longer. Investors should be entertaining the possibility Immunogen's entire antibody-drug conjugates (ADC) technology platform might need to be scrapped or at least completely overhauled.
Immunogen shares are down 15% to $14.01 Tuesday after an unacceptable number of infections, some of which cause patients to die, forced the company to shut down a study of IMGN901 in small cell lung cancer patients, Immunogen announced. Independent data monitors also concluded IMGN901 had no chance of benefiting patients in the study.
IMGN901 is ImmunoGen's lead drug candidate so Tuesday's news is particularly troublesome. 
In October, Immunogen said some cancer patients treated with SAR566658, an early-stage drug licensed to Sanofi, reported eye toxicity when higher doses of the drug were used. 
In August, Immunogen acknowledged that toxicities attributed to two other wholly-owned cancer drugs -- IMGN853 and IMGN529 -- was forcing the company to use lower-than-expected doses in future, planned studies.
All of Immunogen's ADC cancer drugs link a monoclonal antibody, which targets a specific protein found on cancer cells, with a toxic payload of chemotherapy. The goal is to deliver the toxic payload inside cancer cells where it can do the most damage but prevent the chemotherapy from harming healthy cells. Seattle Genetics (SGEN) used its own ADC technology to develop the lymphoma drug Adcetris. 
The chemical linker which attaches the toxic chemotherapy payload to the monoclonal antibody is the most crucial part of any ADC drug. If the linker is too tight, the chemotherapy won't release in sufficient quantities inside the tumor to do its job. If the linker is too loose, the chemotherapy might release outside the tumor cell, causing too unacceptable toxicity. 
ImmunoGen hasn't provided much detail about the safety problems with its ADC drug candidates, but the list of toxicities suggest its linker(s) are too loose. 
Up until now, a lot of investors have disregarded the risks associated with Immunogen's technology platform because of the approval and early commercial success of the breast cancer drug Kadcyla, which was developed by Roche using its own monoclonal antibody (Herceptin) combined with a linker and chemotherapy payload from Immunogen.
What most investors don't realize, however, is that Roche radically re-engineered the Immunogen linker and chemotherapy to make Kadcyla work. This was proprietary work done by Roche that hasn't extended to Immunogen's other ADC drug candidates.
Which is why Kadycla was approved and the rest of Immunogen's pipeline is blowing up, or at risk of blowing up, due to safety problems.
-- Reported by Adam Feuerstein in Boston.
Follow Adam Feuerstein on Twitter. X
Adam Feuerstein writes regularly for TheStreet. In keeping with company editorial policy, he doesn't own or short individual stocks, although he owns stock in TheStreet. He also doesn't invest in hedge funds or other private investment partnerships. Feuerstein appreciates your feedback;
to send him an email.