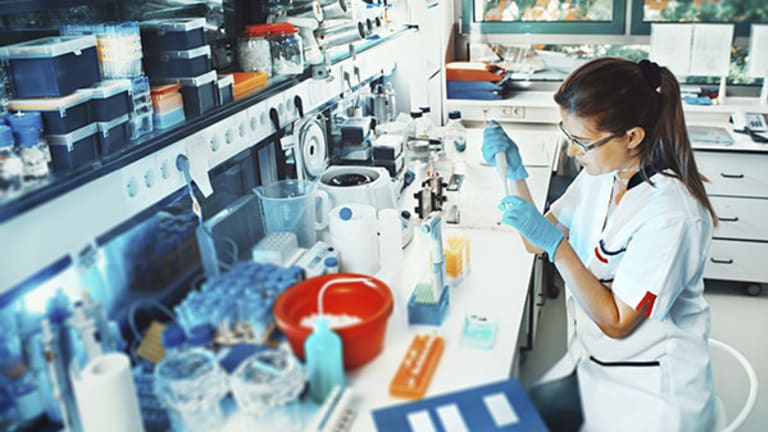 Immune Cell Cancer Immunotherapy Passes First Safety Test in Solid Tumors
The positive phase I safety study was conducted using a CAR-T therapy from Novartis and the University of Pennsylvania.
The positive phase I safety study was conducted using a CAR-T therapy from Novartis and the University of Pennsylvania.
PHILADELPHIA (TheStreet) -- Treatment with the cancer immunotherapy known as chimeric antigen receptor T cells, or CAR-T, was found to be relatively safe and feasible in an early-stage study involving a small number of patients with advanced solid tumors, researchers said Sunday.
The data are preliminary but significant as an indication that CAR-T therapies might have a role as a treatment in the much larger solid tumor cancer market. To date, all of the excitement surrounding CAR-T has come from very high remission rates in patients with advanced blood cancers, a smaller commercial market.
The phase I study was conducted using a CAR-T therapy from Novartis (NVS) - Get Report and the University of Pennsylvania. T cells were taken out of patients and modified with receptors to identify a protein known as mesothelin expressed on the surface of certain tumors. The modified T cells, now able to detect and kill mesothelin-containing tumors, were then grown and reinfused back into the patients.
The new immunotherapy, known as CART-meso (short for mesothelin), was administered to five patients with advanced cancers no longer responding to multiple lines of prior therapy. Two patients had ovarian cancer, two had epithelial mesothelioma (a type of lung cancer) and one patient had pancreatic cancer.
No major adverse events associated with the infusion of CART-meso were reported in the five patients, although other serious side effects, including sepsis, shortness of breath and elevated white-blood-cell counts were reported during follow-up. In addition, the modified T cells were detectable in patients' blood for up to 28 days following infusion, and there was some evidence that the T cells migrated to the tumors, said principal investigator Dr. Janos Tanyi of the University of Pennsylvania.
"The interim results to date indicate that the therapy is safe in the patients treated so far," Tanyi said, in a statement. Results from the phase I study were disclosed Sunday at the American Association for Cancer Research (AACR) annual meeting.
CART-meso appears well-tolerated so far, but does it work? Anti-tumor efficacy in the study was "suggested" by the clearing of malignant cells in the fluid surrounding the lungs of a single patient, researchers said. There was also imaging and clinical evidence of a tumor stabilizing or shrinking in another patient.
Mesothelin is also found in normal tissue, raising concern that the modified T cells would not only target and kill tumor cells, but also damage healthy tissue and organs. Researcher found some evidence that the CART-meso could be detected in the fluid around the heart of patients, but there were no related toxicities reported.
"We are still evaluating the CART-meso program, so really have no further details to share at this time," said Novartis spokeswoman Dana Cooper, in response to a question about the company's plans to advance CART-meso or any other CAR-T therapies directed at solid tumors. 
Juno Therapeutics (JUNO) and Kite Pharma (KITE) both have similar solid tumor CAR-T projects under way, some in more advanced stages.
Adam Feuerstein writes regularly for TheStreet. In keeping with company editorial policy, he doesn't own or short individual stocks, although he owns stock in TheStreet. He also doesn't invest in hedge funds or other private investment partnerships. Feuerstein appreciates your feedback; click here to send him an email.