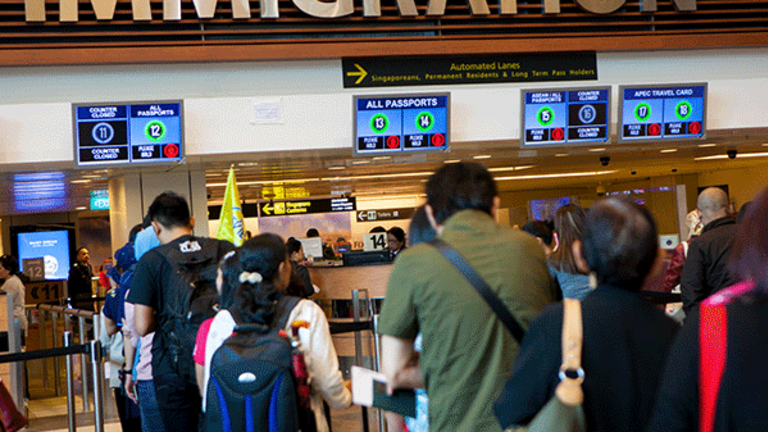 Immigration Mess Boosts Contracts for This Go-To Security Company
President Donald Trump's executive order barring refugees has sparked a crisis in the U.S., but it underscores the growing need for Serco's services.
As protestors fill the streets in cities across the U.S. to register their dismay with President Donald Trump's executive order on immigration, one company is well positioned to turn tragedy into an investment opportunity.
When there is a mess, someone has to clean it up. And Serco is the go-to service provider when the mess involves border patrol, crowd control, detention centers and migrants.
Serco is a member of the FTSE 100, and its American depositary receipts are traded in the U.S. under the ticker symbol (SCGPY) , but those ADRs appear to be so thinly traded as to be illiquid. Instead, U.S. investors should consider buying the U.K.-listed stock, which trades in London under the ticker symbol SRP.
The checks and balances of the U.S. Constitution were on display Saturday, when a federal judge in response to a lawsuit from the American Civil Liberties Union temporararily halted Trump's executive order on immigration.
His order barred Syrian refugees indefinitely; blocked entry for 90 days for citizens of seven Muslim majority countries: Iran, Iraq, Libya, Somalia, Sudan, Syria and Yemen; and suspended refugees to the U.S. for 120 days. 
The judge's ruling is Trump's first court defeat as president, but more court challenges are likely, as the administration instructs federal agents to ignore the court order, sparking what could be a constitutional crisis. Enraged citizenry continued to take to the streets on Monday, in America and overseas.
On Monday, Trump fired Acting Attorney General Sally Q. Yates, after she said that the Department of Justice wouldn't defend his executive order on refugees.
Meanwhile, Europe still grapples with a migrant crisis, as refugees fleeing strife-torn Middle Eastern countries such as Syria pour into the European Union, sorely testing the tolerant immigration policies of Western developed nations.
Budget-strapped governments around the world are scrambling for assistance with border security, migrant management and welfare administration, which increasingly compels them to turn to the private sector. That is where industry leader Serco comes in.
No one likes to profit from human suffering, but the immigration crisis is a harsh and unavoidable reality that won't go away anytime soon. The need for immigration control is an unstoppable trend that spells growth opportunity for investors.
With a market capitalization of $1.56 billion and more than 100,000 employees, U.K.-based Serco provides services to governments in Australia, Europe, New Zealand, North America and its home country. It offers administrative and operational support to local authorities and agencies related to border security, defense, immigration, policing, transport and welfare.
As a provider of mission-critical government functions, the Serco brand is pervasive around the globe. The outsourcing firm operates air traffic control facilities; ballistic missile defense systems; border crossings; detention centers and prisons; military bases; public transit systems; and roadway traffic lights.
The U.K.'s surprise vote last year to exit the EU also could result in more immigration-related work for Serco.
The company's competitors include BAE Systems and Lockheed Martin, which are aerospace/defense Goliaths that aren't as strictly focused on these outsourcing functions as Serco.
Serco reports full-year 2016 operating results on Feb. 22. Management increased full-year guidance in its May and August updates and reaffirmed that guidance last month.
The company forecasts earnings of not less than £80 million for the year, up from previous estimates of £65 million, and revenue of about £3 billion, compared with a previous expectation of £2.9 billion. For full-year 2017, management expects revenue of about £3.1 billion and earnings between £65 million and £70 million.
Serco's influx of new bids is growing in tandem with immigration problems, a tailwind that should reward investors this year and beyond. At the time of reporting its half-year results, the contract pipeline stood at £7.3 billion, and management estimates that this number has increased to about £8 billion.
The company's stock has soared 69.52% over the past year but remains reasonably priced. Shares trade at a trailing 12-month price-earnings ratio of 27.67, compared with 25.54 for the industry.
It is worth noting that cost-cutting has made Serco a leaner global operation. The company boasts a return on equity of 15.63%, compared with -41.23% for its industry, implying future high growth for the company.
---
It's not just immigration. A global financial crisis is coming and it will clobber the weakest stocks. You need to protect your portfolio! I've found seven "survivor stocks" you should own no matter what the economy is doing. Each one of these powerful yet overlooked companies barely notices when the market tumbles. And they'll skyrocket when it rebounds. You can pick up all seven for pennies on the dollar right now. To get the names of these seven survivor stocks, click here now.
John Persinos is an analyst with
Investing Daily.
At the time of publication, he owned none of the stocks mentioned.