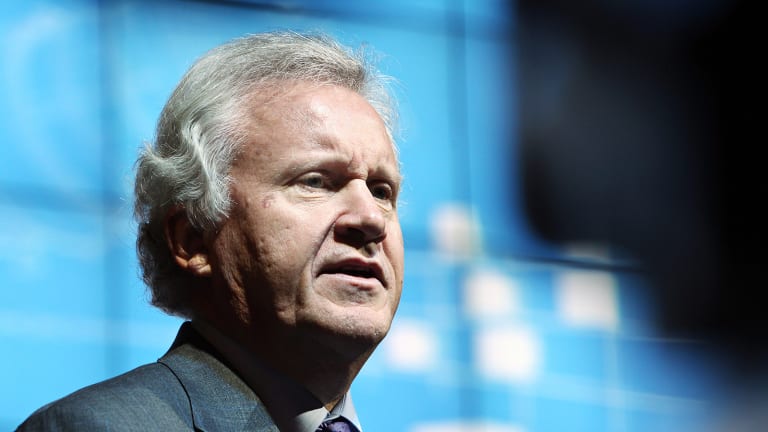 Immelt's $37 Million Pay Package Shows He's Still the Boss
General Electric CEO and Chairman Jeff Immelt's job appears secure, at least for now.
NEW YORK (TheStreet) -- Just as doubts were surfacing about the future of General Electric (GE) CEO and Chairman Jeff Immelt, along came his pay package.
Immelt, who has led the conglomerate since Sept. 7, 2001, earned $37.25 million in 2014, according to the company's latest proxy statement, released Tuesday. The figure includes an 8% bonus increase to $5.4 million and a 9% salary hike to $3.8 million.
In defending Immelt's compensation, an email from GE spokesman Seth Martin cited GE's "unprecedented actions to reshape its portfolio to focus on higher-value earnings from core infrastructure businesses by completing the Synchrony Financial SYF IPO and announcing the sale of Appliances and transactions with Alstom. At the same time, Industrial segment profit grew double digits to $17.8 billion, margins expanded 50 basis points to 16.2%, we generated more than $15 billion in cash from operating activities, and we returned $11 billion to shareowners in dividends and buyback."
The announcement of Immelt's pay package comes as some followers of the company are showing increasing signs of restlessness. GE shares have underperformed the S&P 500 by a wide margin since Immelt took over leadership of GE from legendary executive Jack Welch, and last year was no exception. GE shares lost more than 9% as the index gained nearly 12%. Since Immelt took over, GE shareholders who reinvested all their dividends lost 1%, while the S&P 500 posted a total return of 146%.
Barclays analyst Scott Davis wrote last week that "most investors are ready for change at the top" of GE and that CFO Jeff Bornstein could replace Immelt within a year. GE's investor relations team convinced most other analysts Immelt still had the confidence of the board, however.
"We see no indication of an imminent transition, and furthermore, we do not believe a new CEO would change the plan materially enough to merit a more constructive stance on the stock," wrote J.P. Morgan analyst Stephen Tusa on Wednesday.
Interviewed before the latest compensation numbers were released, Bob Wright, a longtime GE executive who left the company in 2008, said he didn't expect the board to seek Immelt's resignation.
"That board doesn't really take actions like that or hasn't shown any inclination to do that," he said.
Wright, who still owns GE shares, acknowledges he's "very disappointed," in the performance, but if he blames Immelt, he won't say so outright. Rather, he sounded like he sees Immelt as something of a victim of circumstances.
"Going out of 2000, we were in a bubble: a huge energy bubble in the United States particularly brought billions of orders," Wright said. "Many of those had to be canceled and so forth. Then 9/11 brought a whole series of insurance problems that were fairly severe. As a matter of fact they were very severe and 2008-9 brought the closing down of the debt markets, which was particularly devastating for GE Capital. So we had all kinds of issues in the meantime and Immelt's tried to build it up. He's put a tremendous reliance on energy, which at this juncture is not a positive story."
But if analysts show some frustration with GE for not moving quickly enough to sell off assets to make the company easier to value, some investors clearly believe GE is on the right track.
"Their dividend growth and their continued leadership in growing their infrastructure business and reducing their financial business I think is the right direction," said Bryan Spratt, portfolio manager at Miller/Howard Investments, an $8.7 billion money manager based in Woodstock, N.Y. that owns GE shares in several of its portfolios.
Spratt believes GE is well-positioned to profit from increased global infrastructure investment. While he believes more aggressive actions to break up the company could benefit the shares, he still thinks the current strategy will bear fruit over time.
He argues the company has become more efficient from an operational standpoint and expects margins to improve over the next year.
"I think they're been doing the right things in their core infrastructure and industrial businesses," he said.