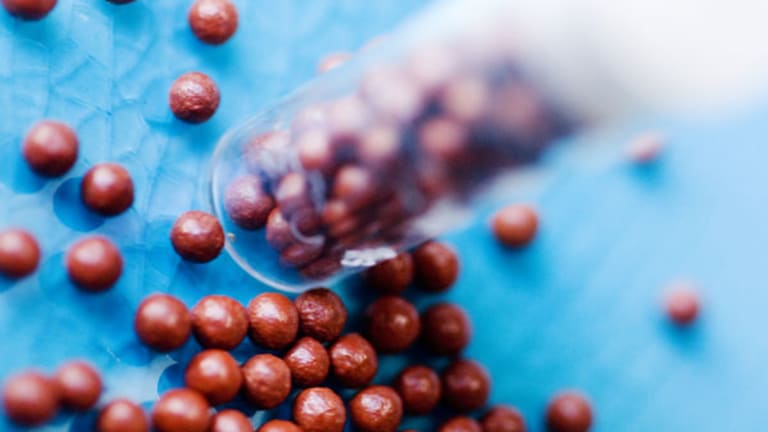 Publish date:
ImClone Swings to a Loss
A $50 million litigation settlement hits third-quarter profits.
A $50 million litigation settlement hits third-quarter profits.
Imclone Systems
(IMCL)
reported a third-quarter loss Thursday due to a settlement charge that fell shy of consensus targets but posted year-over-year and quarterly sales growth in cancer drug Erbitux.
The New York-based biopharmaceutical company reported a net loss of $900,000, or a penny a share, compared to net income of $57.3 million, or 65 cents a share, in the 2006 period. Earnings suffered from a $50 million litigation settlement with the Massachusetts Institute of Technology and
Repligen
(RGEN) - Get Report
.
Revenue was $147.5 million, down from $150.7 million in the third quarter of 2006.
Analysts surveyed by Thomson Financial were looking for 26 cents a share in earnings on revenue of $149.72 million.
Royalty revenue from ImClone's partnered Erbitux rose 12% to $87.9 million, vs. $78.6 million in 2006. This consisted of 39% of
Bristol-Myers Squibb's
(BMY) - Get Report
U.S. in-market Erbitux net sales of $184.5 million and 9.5% of
Merck KGaA's
international Erbitux net sales of $166.9 million.
Global net sales of Erbitux increased 23% to $351.4 million from $284.8 million in 2006. U.S. sales increased 6% to $184.5 million -- although the company said $9 million of that was attributable to a distribution model change that resulted in wholesaler inventory buildup. International sales increased 52% to $166.9 million.
License fees and milestone revenue fell 45% to $19.2 million from $34.9 million in the year-ago quarter, a decrease of 45%. ImClone company said this was due to an amendment to the commercial agreement with Bristol-Myers that became effective Aug. 1.
Shares fell 5 cents, or 0.1%, to $43.66 in recent trading Thursday.