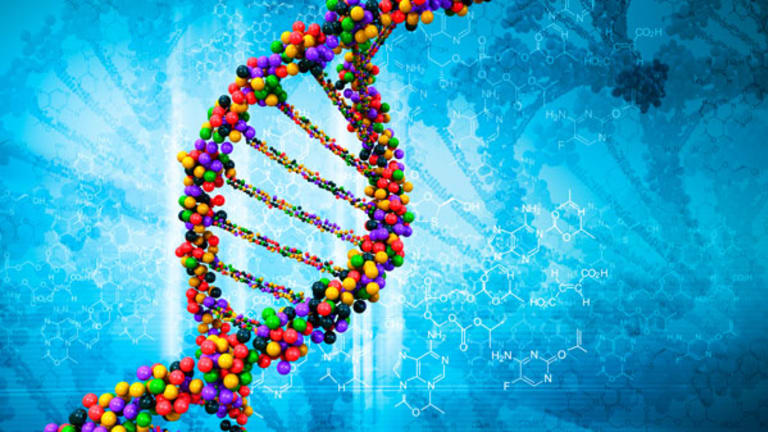 ImClone Study Signals Hurdle for Erbitux
Results don't suggest a significant market-share assault on Genentech's Avastin.
CHICAGO -- When it comes to
ImClone Systems
(IMCL)
, the data-leakers had it right.
The addition of Erbitux to a standard first-line colon cancer chemotherapy regimen lowered the risk of new tumor growth by 15%, according to results presented Monday at the
American Society of Clinical Oncology
annual meeting.
But while these data were positive, the benefit to using Erbitux in these colon cancer patients is not as large as when doctors treat similar patients with
Genentech's
( DNA) cancer drug Avastin.
From a Wall Street perspective, these data are being viewed as a disappointment because ImClone won't likely grab any significant market share away from Avastin in the lucrative first-line colon cancer treatment market.
But then, some Wall Street investors didn't need to wait to find this out. ImClone shares have been
weak in the weeks leading up to the ASCO meeting because data from the so-called Crystal study were leaked to select Wall Street investors.
Often, ASCO rumors that circulate before the meeting turn out to be false, but in this case, the specific data points from the Crystal trial whispered around institutional trading desks were dead-on accurate.
In the Crystal study, 1,217 first-line colon cancer patients were randomized to receive either Erbitux plus the chemotherapy regimen known as FOLFIRI, or FOLFIRI combined with a placebo. The primary endpoint of the study was to compare the time it took for tumors to grow or spread, otherwise known as progression-free survival.
Erbitux plus FOLFIRI patients reported a median progression-free survival of 8.9 months compared with 8 months for patients treated with FOLFIRI alone -- a reduction of 15%. Significantly more patients (47%) responded to Erbitux plus FOLFIRI compared with FOLFIRI alone (39%.)
But instead of seeing a progression-free survival benefit of less than a month, it was hoped that the benefit would exceed three months or more, which might have made Erbitux more competitive against Avastin.
Avastin used in combination with multiple chemotherapy regimens has produced a median progression-free survival of between nine and 11 months, or a benefit of three to four months over chemotherapy alone. More importantly, use of Avastin in these colon cancer patients prolonged survival by up to four or five months, depending on the precise chemo regimen used.
The Crystal study was designed to measure a survival benefit of Erbitux, but data were not ready for analysis.
If there is a silver lining to this Erbitux data, as well as other colon cancer data being presented at the ASCO meeting this week, is that Erbitux could become the favored drug used in second-line colon cancer treatment regimens.
ImClone closed Friday off 7 cents to $41.25.
Adam Feuerstein writes regularly for RealMoney.com. In keeping with TSC's editorial policy, he doesn't own or short individual stocks, although he owns stock in TheStreet.com. He also doesn't invest in hedge funds or other private investment partnerships. Feuerstein appreciates your feedback;
to send him an email.