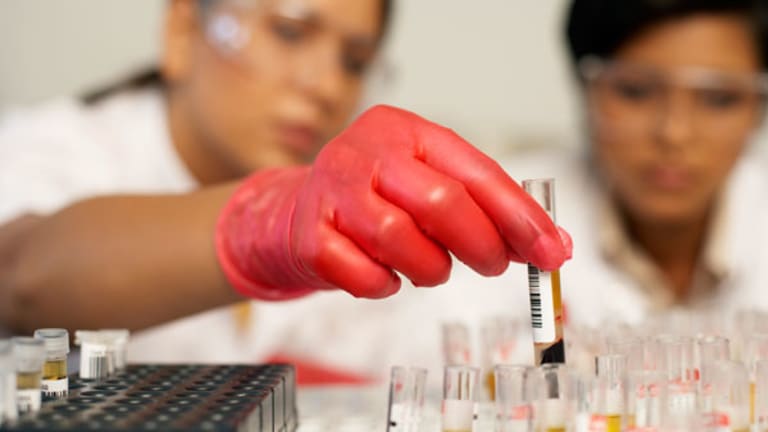 ImClone Scandal: A Timeline
Former ImClone CEO Dr. Samuel Waksal is looking to launch a new biotech venture. Here's a look back at some of his less-than-finer moments.
NEW YORK (TheStreet) -- ImClone founder Samuel Waksal is raising money, hoping to launch a biopharmaceutical start-up. But it wasn't so long ago that the biotech entrepreneur was serving seven years behind bars for a series of white collar crimes that also enmeshed friend and domestic doyenne Martha Stewart.
A quick recap: After receiving a tip in December 2001 that the U.S. Food and Drug Administration would reject the application for Erbitux, a colon cancer drug, Waksal tried to sell 80,000 of the company's shares. The day before the FDA's rejection, Waksal's family, close friends, and other big ImClone shareholders -- including Stewart -- sold millions worth of stock. The stock then started to tank, falling into the teens after its December high of around $60.
Six months later, Waksal was arrested on charges that he illegally acted on inside information in attempting to sell ImClone shares -- and that he tipped family members to do the same.
A host of other charges followed, including bank fraud, obstruction of justice, and even tax evasion on $15 million worth of art.
Here, in pictures, is a brief timeline of Waksal and Co.'s less-than-finer moments with ImClone.
Next>
June 13, 2002
A day after being arrested on charges he illegally acted on insider information about selling shares of his company's stock, Waksal is sworn in on Capitol Hill, where he testified before a House Commerce subcommittee hearing. During the hearing, Waksal invoked his Fifth Amendment right against self-incrimination and refused to answer questions that examined a case that wound up costing investors millions and disappointed dying cancer patients.
Next>
Oct. 10, 2002
Harlan Waksal, Samuel Waksal's brother and co-founder of the company, eventually took over as the company's chief before resigning in July 2003. Here he testifies before a U.S. House subcommittee, which released documents showing that officers and directors of ImClone sold $70.3 million of their company stock in December, just weeks before it plunged on news that the government rejected ImClone's application for Erbitux.
Next>
July 16, 2004
Martha Stewart, founder of
Martha Stewart Living Omnimedia
(MSO)
, a home/gardening/crafts media and merchandise company, sold almost 4,000 ImClone shares the day before the FDA rejected ImClone's application for Erbitux. Initially Stewart denied any wrongdoing, but she was eventually found guilty and sentenced to five months in prison, five months of home confinement, and a $30,000 fine for lying about the stock sale. Here she's flanked by U.S. marshals as she leaves a Manhattan federal court after sentencing.
Next>
March 4, 2005
Despite Stewart's requests to serve out the sentence near her home in Connecticut or near her mother in Florida, Stewart was ordered to report to the Alderson Federal Reformatory for Women -- affectionately known as "Camp Cupcake" -- in Alderson, W. Va. Here, on the day of her release, Stewart waves as she boards her airplane at Greenbrier Valley Airport in Lewisburg, W. Va.
Next>
October 2006
About three years after Waksal was convicted of insider trading, activist investor
acquired the majority of ImClone's stock and took control of the company's board. Icahn and his pack ran the company for about two years, until overseeing its sale to drug giant
Eli Lilly
(LLY) - Get Eli Lilly and Company Report
.
Next>
Oct. 6, 2008
Looking to broaden its pipeline of cancer treatments, biotech firm Eli Lilly acquired ImClone for about $6.5 billion -- a deal that priced ImClone stock at $70 per share. Lilly beat out rival
Bristol-Myers Squibb
(BMY) - Get Bristol-Myers Squibb Company Report
, which held a partnership to market ImClone's flagship cancer drug, Erbitux, in the U.S.
Pfizer
(PFE) - Get Pfizer Inc. Report
also reportedly entertained a bid at one time.
Bristol-Meyers, which helped ImClone develop the cancer drug, bid first, offering $62 a share. Today, both firms market the drug.
Start Over>
-- Written by Maggie Overfelt in New York
Related Stories
>>ImClone Ex-CEO Sam Waksal Indicted
>>Martha Stewart's Image, Share Price Hammered
>>Waksal Friends Implicated in ImClone Trading Scandal