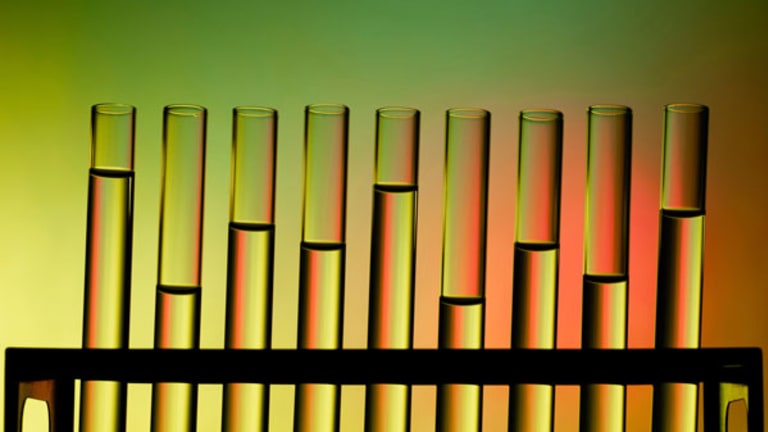 ImClone Investors Await Key Cancer Data
The much-anticipated overall survival data for lung cancer Erbitux will be released June 1.
Biotech aficionados have waited since September 2007 to find out just how many weeks of survival
ImClone's
(IMCL)
Erbitux can offer to patients with advanced non-small cell lung cancer, particularly a difficult-to-treat squamous subset. Those waiting for the data are now just a week away.
On May 30, the American Society of Clinical Oncology will kick off its annual meeting in Chicago. More than 30,000 people will attend, but many more will follow the data-sharing and analysis from afar.
The organization released upwards of 5,000 abstracts midmonth to be perused ahead of the event. The most highly anticipated, though -- late-breaking and plenary sessions -- are reserved for disclosure during the conference
Now a familiar topic to biotech investors, data from a study dubbed FLEX finally will be presented in Abstract #3 on June 1. FLEX is a randomized, multicenter phase III study of ImClone's Erbitux with cisplatin/vinorelbine vs. the latter chemotherapy regimen alone in previously untreated patients with advanced non-small cell lung cancer (NSCLC).
In September, the company and U.S. partner
Bristol-Myers Squibb
(BMY) - Get Bristol-Myers Squibb Company Report
surprised Wall Street by saying that the FLEX trial had succeeded in meeting its primary endpoint, an increase in overall survival. It caught investors off guard because the drug had previously failed a phase III trial, dubbed BMS CA225, when paired with a different chemotherapy regimen in July of 2007.
Although the company announced the success of the trial, the full results were held until the ASCO meeting, creating ample time for debate.
ImClone's Erbitux, which is already approved for colorectal and head and neck cancers, could be approved to treat advanced non-small cell lung cancer in 2009, and strong data would help its approval and commercial viability -- of course weak data would not. The specifics will also help to determine what sort of challenge Erbitux will present for competitor
Genentech's
( DNA) Avastin.
The primary endpoint in the FLEX study was overall survival (the amount of time the drug extends patients lives beyond treatment with just the chemotherapy regimen), with secondary endpoints of progression-free survival, response rate, disease control rate, safety and pharmacokinetics.
"We believe there is a reasonably good chance that this trial will show: a) a mediocre overall survival benefit of
about 5 weeks (this is in-line with current consensus) that barely reaches statistical significance, b) no progression free survival (PFS) benefit, and c) no benefit on response rates," wrote Morgan Stanley analyst Steven Harr in a note to investors that sparked a dip in the stock mid-May.
Erbitux has better tolerability and fewer side effects than Avastin. But Avastin has an overall survival benefit closer to two months, making it hard for Erbitux -- should the four- to five-week survival benefit ring true -- to take a piece of Genentech's market share.
But, ImClone has its eye on a non-Genentech market. Avastin can't be used in about 40% to 50% of lung cancer patients, and notably that includes those with squamous lung cancer, a difficult to treat subtype. The drug is contraindicated in the squamous population primarily because of occurances of severe bleeding in a phase II study. It also isn't used for cancer that has spread to the brain and patients who have hemotysis, or are susceptible to coughing up blood from the lungs.
Just what that market might amount to is much in debate. Morgan Stanley's Harr lowered his estimate for Erbitux in NSCLC to $350 million.
On March 20, Friedman Billings Ramsey had estimated $405 million in NSCLC sales for Erbitux in 2011.
Stanford Group's Han Li is currently pegging $1 billion in 2012.
And Rodman & Renshaw's Michael King currently has it at $900 million, by 2015.
On May 16, a day after the bulk of the ASCO abstracts hit the Web, King ended a note to investors: "IMCL remains one of our top names for 2008."
ImClone shares, which started the year at $43, were off by just 50 cents to a dollar on Friday from the year's start. But shares have lost about $4, or roughly 9%, since the start of May on ASCO jitters.
FLEX Talk on Wall Street
"If FLEX data are as we expect, we believe lung cancer estimates will come down and questions will increase among oncologists and investors about how much Erbitux adds for patients."
-- Steven Harr of Morgan Stanley on May 12. ($38 price target, underweight rating)
"We agree entirely that the FLEX data, if robust, might allow Erbitux to take some share from Avastin in lung cancer, and our forecast assumes modest share loss. However, we would be shocked if the data are good enough for Erbitux to take dramatic share from Avastin given that the data release has been delayed for so long."
-- Mark Schoenebaum of Bear Stearns on May 6. (Covers Genentech)
"We believe the Erbitux results in Avastin-eligible (i.e., adenocarcinoma) and -ineligible (mostly squamous) will be broken out at ASCO, and that the adenocarcinoma data will not be as good as Avastin (i.e. two months or 20%), but the squamous data will show a small but statistical benefit, which will justify use in that subset."
-- Jim Reddoch of Friedman, Billings, Ramsey on March 20. ($42 price target, market perform rating)
"While the final OS (overall survival) benefit improvement of Erbitux FLEX study may not be as robust as that seen in Avastin , Erbitux could offer a viable alternative to NSCLC patients with squamous cell histology, which represents 20% to 40% of NSCLC patients."
--Han Li of Stanford Group on Oct.1, 2007. ($60 price target, buy rating)
The Data to Come
May 31
Abstract #LBA4011: Phase III data from CAIRO II study in mCRC
Abstract #7516: Two-year survival data from phase II RTOG-0324 study in locally advanced NSCLC
Abstract #4000: K-Ras mutational status effect on PFS and response rate outcomes for patients in phase III OPUS trial
June 1
Abstract #3: Phase III FLEX data in NSCLC
Abstract #2: K-Ras mutational status effect on progression-free survival and response rate outcomes for patients from phase III CRYSTAL study
More reading material for your tortuous wait for data: