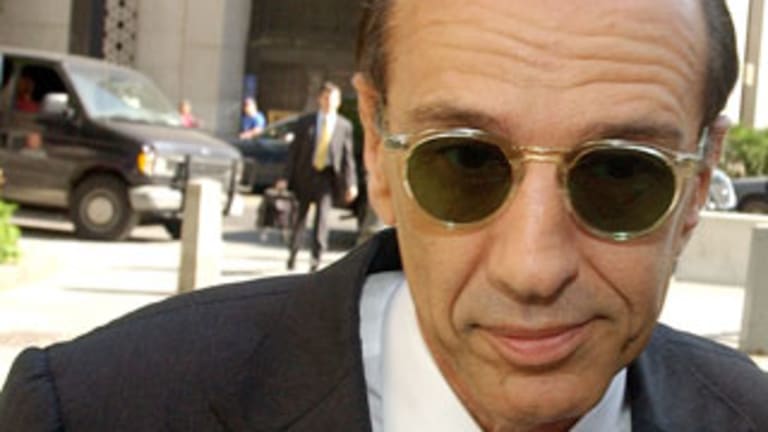 ImClone Founder Waksal Forming New Biotech Venture
ImClone founder Samuel Waksal, whose insider stock tips landed him and friend Martha Stewart in federal prison, is raising money for a new biotech venture, TheStreet has learned.
NEW YORK (TheStreet) -- Samuel Waksal, the former CEO of ImClone Systems whose insider stock tips landed him and friend Martha Stewart in federal prison, is getting back into biotech in a big way.
Waksal is trying to raise $50 million for a new privately held biopharmaceutical company, according to a confidential fund-raising prospectus obtained by TheStreet.
Kadmon I LLC, of which Waksal is managing member, would acquire, develop or license new drugs targeting cancer and infectious diseases. Kadmon is also in negotiations to acquire an unidentified drug company to use as its operational base, although binding agreements are not yet in place, according to the prospectus dated Feb. 3.
>>ImClone Scandal: Photo Gallery
Samuel Waksal, the former CEO of ImClone Systems
Waksal and his team intend to sell a 50% stake in Kadmon to qualified investors for $50 million, which would value the company at $100 million. The offering could be upsized to as much as $175 million if demand warrants, according to the prospectus. TheStreet obtained the confidential Kadmon offering from a prospective investor who was considering an investment in the new venture. David Pitts, a spokesman for Waksal, said Kadmon was still in the early stages of development and therefore declined to offer any details but he did confirm that Waksal is currently seeking investors to fund the new company.
Sam Waksal's Comeback

"His basic idea is to pick up interesting drug compounds for development that other companies have orphaned," said a different person familiar with Waksal's plans, but who did not want to be identified because he's not authorized to speak on Waksal's behalf.
Waksal last exited the biotech stage in 2002, after his arrest on insider trading charges tied to the sale of stock in ImClone, the cancer drug company he led at that time. A year earlier, Waksal had been tipped off that the U.S. Food and Drug Administration was going to delay the approval of ImClone's cancer drug Erbitux. Waksal used that inside information to help himself, family members and close friends sell million of dollars worth of ImClone stock.
Waksal pled guilty to insider trading and other charges and served five years in federal prison. He was released in early 2009.
The scandal ultimately enmeshed the domestic doyenne Stewart, who was one of those tipped off by Waksal to sell her ImClone stock. She was charged and convicted of obstruction of justice and also served a short jail sentence.
An agreement with the Securities and Exchange Commission bars Waksal from serving as an officer in a publicly traded company, but Kadmon is a private venture.
Few believed Waksal was going to let a perp walk and a prison cot end his biotech career, so his movements in and around Wall Street have been closely watched since his release.
In January, Waksal was spotted networking with investors and other biotech executives in San Francisco at the J.P. Morgan Healthcare conference. Waksal tried maintaining a low profile while mingling in the lobby of the Westin St. Francis hotel, his entourage shooing reporters away who wanted to speak with him.
Waksal hasn't let his fall from grace while CEO at ImClone or his prison sentence dent his considerable ambitions -- which some might call ego. This is exemplified in the way the fund-raising prospectus describes plans for Kadmon:
"Our business plan is a simple, yet revolutionary idea for creating the preeminent 21st Century biopharmaceutical company. We intend to replace the traditional, quantitative development paradigm of the pharmaceutical industry with a model that seeks out the most innovative elements of academia, and innovative activities in the private sector, dramatically increasing the number of high-value drugs we discover and develop, while keeping costs to a fraction of the industry mean."
In several spots, the prospectus describes Kadmon's management, including Waksal, as "the team which effectively built one of the most successful biopharmaceutical companies in the world, ImClone Systems, which was sold to Eli Lilly (LLY) for almost $7 billion in November 2008." Bristol-Myers Squibb (BMY) also made a play for the company before it was sold, and Pfizer (PFE) also reportedly eyed a bid.
Kadmon intends to use the $50 million raised by the offering to kick start operations. The company's drug research programs include a "statin inhibitor for influenza" from a "leading Ivy League university" along with a variety of monoclonal antibodies for use as targeted cancer treatments, similar to Erbitux. Kadmon is also eyeing several existing cancer-focused drug companies, one of which already has a marketed product, as acquisition targets, according to the prospectus.
Waksal is running the show at Kadmon, as its managing member. Dr. Richard Mulligan, a friend, Harvard Medical School scientist and former ImClone director, and Dr. Larry Witte, a current executive vice president in the ImClone division of Eli Lilly, are in charge of the company's research efforts.
Laurence Blumberg, managing partner of the biotech hedge fund Blumberg Capital Management, is in charge of Kadmon's business development.
Kadmon's executive team also includes several other former ImClone staffers who worked under Waksal during his tenure there.
-- Reported by Adam Feuerstein in Boston.
Follow Adam Feuerstein on Twitter.
Adam Feuerstein writes regularly for TheStreet.com. In keeping with TSC's editorial policy, he doesn't own or short individual stocks, although he owns stock in TheStreet.com. He also doesn't invest in hedge funds or other private investment partnerships. Feuerstein appreciates your feedback;
to send him an email.