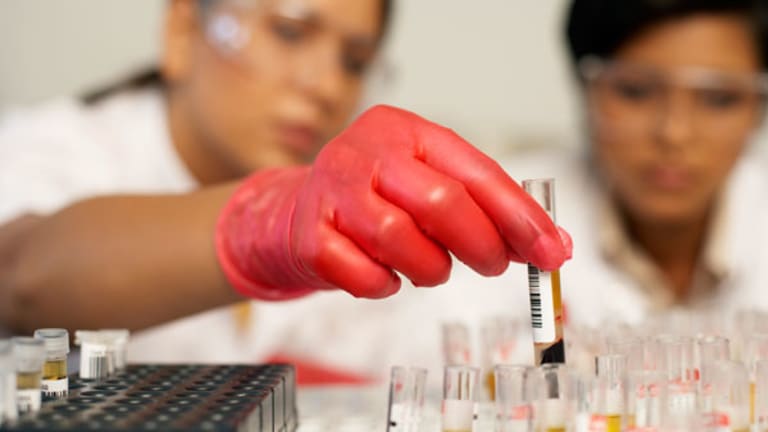 ImClone 'Eager' for Erbitux Data Release
The biotech stock has fallen ahead of ASCO on doubts about the FLEX study, but management remains bullish.
Since I featured
ImClone Systems
(IMCL)
in my weekend
Biotech Stock Mailbag just over two weeks ago, the biotech stock has taken a hit.
ImClone was expected to be the big news at the American Society of Clinical Oncology annual meeting, but its stock has now fallen from $47 to $42.
So what happened, you ask? Let's review with a litte hypothetical Q&A.
ImClone is weak because investors are worried about the
upcoming presentation of the Erbitux lung cancer data
from the so-called FLEX study at the ASCO meeting. Some of these concerns were sparked by Morgan Stanley analysts, who have published research notes casting doubt on the strength of the FLEX data in the past two weeks.
What is Morgan Stanley saying?
On Monday, analyst Steve Harr downgraded ImClone to underweight (read:
sell
), from equal weight. He put a $38 price target on the stock.
Harr's bearishness on ImClone boils down to his belief that a four-to-five-week survival benefit for Erbitux in lung cancer patients will be viewed as "mediocre" by Wall Street and practicing oncologists. Erbitux's future in lung cancer will be further clouded by lackluster results from key, secondary endpoints of the FLEX study: Patients in the Erbitux arm are not likely to show a benefit on progression-free survival (PFS) or tumor response rate, predicts Harr.
Let me quote from Harr's note:
"The combination of these outcomes could lead to the emergence of questions on the actual validity of the survival benefit seen with these data and whether or not the benefit was driven by Erbitux or subsequent therapies. ... Therefore, investors would need to take down forward sales expectations and/or put a higher discount rate because of greater uncertainty," writes Harr.
Is he right?
I hope not, and I suspect he's being a bit too negative. I was on a Cowen conference call Friday with a couple of lung cancer specialists. Both doctors said that a four-to-five-week survival benefit for Erbitux would be viewed favorably and would lead to significant use in the lung cancer market. There are more than enough lung cancer patients who are not treated with
Genentech's
( DNA) Avastin for Erbitux to do quite well without having to compete head-on for Avastin patients.
What does ImClone say?
I spoke with CEO John Johnson and Chief Medical Officer Eric Rowinsky on Monday afternoon. Neither man could discuss the actual FLEX data, of course, but both sounded confident going into ASCO.
"People are losing sight of the fact that, today, Avastin has about a 17%-18% share in the first-line
lung cancer treatment setting," said Johnson. "Approximately 50% of patients are not good candidates for Avastin, so there is a tremendous unmet medical need in this setting, and that is a tremendous commercial opportunity for us."
Rowinsky added that the key thing that sets the FLEX study apart from the study upon which Avastin was approved is that FLEX was essentially an all-comer, real-world trial, enrolling patients with all of the different subtypes of non-small-cell lung cancer, patients with good and bad performance status and a wide degree of co-morbidities like heart disease and hypertension.
"When doctors, especially doctors in the community setting, look at the FLEX study, they will say that my lung cancer patients are in there," said Rowinsky.
I thought the FLEX data were embargoed until the ASCO meeting. How can Morgan Stanley make such bold -- and bearish -- forecasts on data that's under wraps? Shouldn't I believe the ImClone guys, since they've actually seen the data, over some analyst who hasn't?
Well, most worrisome is if Harr and his crew found an investigator in the FLEX study who was willing to blab about the embargoed data. Of course, if that's the case, they're not telling, but nothing surprises me with ASCO data -- ever. Leaks can and do happen, especially as we get closer to the conference. But for the record, I have not heard of any specific FLEX data leaks, just a lot of rumors.
The more benign explanation is that Morgan Stanley's analysts are reading something negative into a comment apparently made by an executive with the German drug firm
Merck KGaA
at a recent Morgan Stanley investment conference.
This Merck executive said that the FLEX study did not need to show a significant benefit on progression-free survival (a secondary endpoint in the study) in order for Erbitux to be approved or successful as a lung cancer treatment.
Responding to that remark, Morgan Stanley's European drug analyst Andrew Baum wrote in a May 6 note: "Our interpretation of these remarks is that FLEX may have failed to show a significant improvement in PFS, despite showing a significant improvement in overall survival."
So what if Erbitux doesn't show a PFS benefit, isn't survival all that matters?
Yes, survival is No. 1, but still, a survival benefit in favor of Erbitux without a corresponding PFS or response rate benefit will look a bit odd and might muddy the story. We'll just have to wait to see the data.
Did Johnson or Rowinsky say anything to tamp down these investors concerns?
I asked, but neither man wanted to comment directly on PFS or response rate data in the FLEX study. What they did say repeatedly was that they're eager for everyone to see the data and for them to be able to discuss openly how they intend to move Erbitux into the lung cancer market.
Is that genuine optimism or two company men doing a bit of pre-ASCO spin control?
Ha! A bit of both, I reckon. But then, we do know that there is a survival benefit in the FLEX study and that the ASCO decision makers gave the study a primo plenary presentation spot. Would ASCO do that if Erbitux's survival benefit was wimpy and unsupported by anything else on the efficacy side of the ledger? I guess it's possible, but it doesn't seem very likely to me.
Has your overall positive outlook on ImClone changed?
No, it hasn't. I'm anxious about the stock's weakness, and I want to see the darn data already, but I also remind myself that ImClone's ASCO 2008 experience acts and smells very much like that of
Onyx Pharmaceuticals
(ONXX)
in 2007. That turned out very well for Onyx, if you recall, even though it took some time for investors to get fully on board.
ImClone, for well-understood reasons, is always going to carry more baggage than many biotechs. Heck, I'm as guilty as anyone about being wrong and too negative on ImClone for too long.
Last thing, Harr's $38 price target on ImClone: Why does that price sound familiar?
Good memory! ImClone closed at just under $38 a share on Sept. 10, 2007. The next morning, Germany's Merck KGaA announced that the FLEX study was positive, sending ImClone shares higher. Now, at that time, Harr had ImClone at an equal-weight rating, so he probably thought ImClone at $38 was expensive without the lung cancer opportunity.
But the market last September thought otherwise, so one could argue alternatively that Harr's new $38 price target today gives the company zero value for any Erbitux lung cancer revenue, nor does it place any value on the company's pipeline or its brand-spanking new manufacturing plant.
That doesn't sound right to me at all.
Adam Feuerstein writes regularly for TheStreet.com. In keeping with TSC's editorial policy, he doesn't own or short individual stocks, although he owns stock in TheStreet.com. He also doesn't invest in hedge funds or other private investment partnerships. Feuerstein appreciates your feedback;
to send him an email.