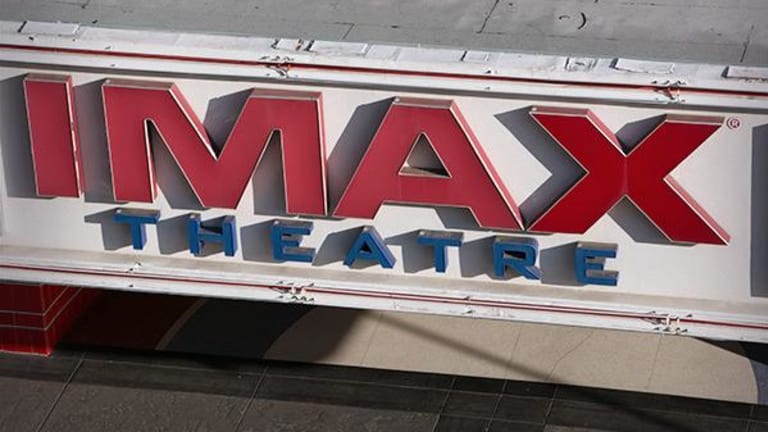 Imax Not Expected to Shine Brightly in Earnings Report
The large-screen company is likely to be battered by weak box office grosses.
Imax Corp.'s (IMAX) - Get IMAX Corporation Report stock may have been goosed by the strong debut of Christopher Nolan's "Dunkirk" last weekend, but the company's second-quarter earnings report could send shares crashing back down to earth.
Imax reports its earnings after the close on Wednesday, July 26, with analysts projecting 14 cents in earnings per share on $89.3 million in sales, according to FactSet Research Systems Inc.
Those figures would be down slightly from a year ago, when the company reported 18 cents in EPS on revenue of $91.7 million and would be a disappointing result for a summer frame that has been marred by poor box office results. The company's second-quarter box office number was $268.8 million, below the more than $300 million estimated by most analysts entering the quarter.
Canaccord Genuity Group Inc. analyst Aravinda Galappatthige noted that soft box office for the quarter led to a harsh decline for Imax's stock. 
"Given the elevated expectations that investors had for Q2 with initial box office estimates in the $330-340M range, the disappointment as the box office numbers trickled in led to the stock falling a staggering 40% since April 1, 2017," he said in a research note. "The steep downturn was due to the fact that the market (ourselves included) was anticipating a strong turnaround in box office trends starting Q2/17 following an extended period of declines."
Eric Wold, senior analyst at B. Riley & Co. LLC, had foreseen a $381 million gross at the outset of the quarter, over $100 million more than the actual figure.
"Global Imax box office for Q2 came in well below initial RILY/consensus expectations," he said in a recent note. "A number of second‐tier film franchises have not resonated with movie‐goers on any format so far this summer."
Indeed, most franchise fare has underwhelmed at the box office this summer, with films such as "The Mummy" and "Transformers: The Last Knight" disappointing on Imax screens. Wold, maintaining a buy rating on the stock and a price target of $43.50, cited a strong upcoming slate with near-surefire hits such as "Thor: Ragnarok," "Justice League" and "Star Wars: The Last Jedi."
Imax shares were down 0.9% to $21.55 at midday Wednesday.