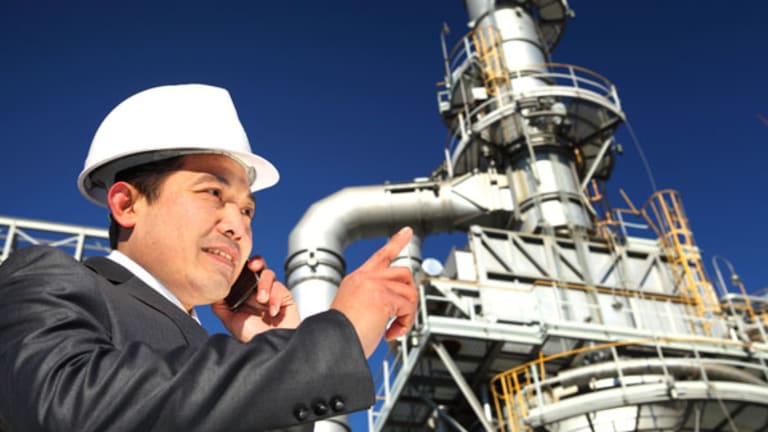 Illinois Tool Ready for Rebound: Is It Safe?
Illinois Tool Works has held up well compared with its peers and stands to gain even more from a rebounding economy.
Illinois Tool Works has held up well compared with its peers and stands to gain even more from a rebounding economy.
"Is It Safe?" is a feature by TheStreet.com that looks at a company's risk-and-reward potential. Find out if your stocks are safe Tuesday and Thursday mornings at 4.
GLENVIEW, Ill. (
) --
Illinois Tool Works
(ITW) - Get Report
does, in fact, make tools but not anything the average person would know about.
Illinois Tool Works supplies goods to car makers, food producers and other manufacturers. Counting manufacturers among your customers seems like a shaky bet, at best, given the recession, but Illinois Tool Works' stock has been a strong performer and is still a solid investment.
Illinois Tool Works makes products such as resins, epoxies, polymers, fasteners and cooking equipment, to name a few. Most of its products blend into the background in vital, yet inconspicuous, applications. One of the only Illinois Tool Works brands that consumers may recognize is Zip Pak, a maker of food-closure systems for products like Oscar Mayer lunch meats.
The boring and unassuming nature of these products means few investors may be aware of the stock, which might prove to be profitable as hot stocks including
Apple
(AAPL) - Get Report
and
General Electric
(GE) - Get Report
top out.
Illinois Tool Works' stock has fallen 9.3% over the past year, less than half that of the S&P 500 Index. Investors who clung to Illinois Tool Works during the stock-market crash are in better shape than most: The shares have risen 23% this year, three times that of the benchmark.
Still, Illinois Tool Works is trading at a discount relative to its competitors. Its price-to-earnings ratio is 28, compared with the industry average of 40.
Earnings at Illinois Tool Works have been volatile, dropping nearly 65% in the second quarter from a year earlier. For revenue, it's a different story. Over the same period, revenue declined only 26%. Fixed costs put a damper on profits.
There's little that management could do to prevent earnings from slipping due to fixed costs. Even with the large drop in net income, Illinois Tool Works still managed a return on equity of 17.9% in the trailing 12 months, well above the industry average of 4.6%.
Inventory levels have been falling for several months, suggesting companies will soon need to resume production to replenish diminished supplies despite low demand. With that short-term boost coinciding with a general improvement in the economy, sales are likely to increase. Exposure to manufacturing may be scary, but this stock is diversified and a safe bet.
TheStreet.com Ratings has Illinois Tool Works rated as a "buy" with a grade of B-minus.
Prior to joining TheStreet.com Ratings, David MacDougall was an analyst at Cambridge Associates, an investment consulting firm, where he worked with private equity and venture capital funds. He graduated cum laude from Northeastern University with a bachelor's degree in finance and is a Level II CFA candidate.