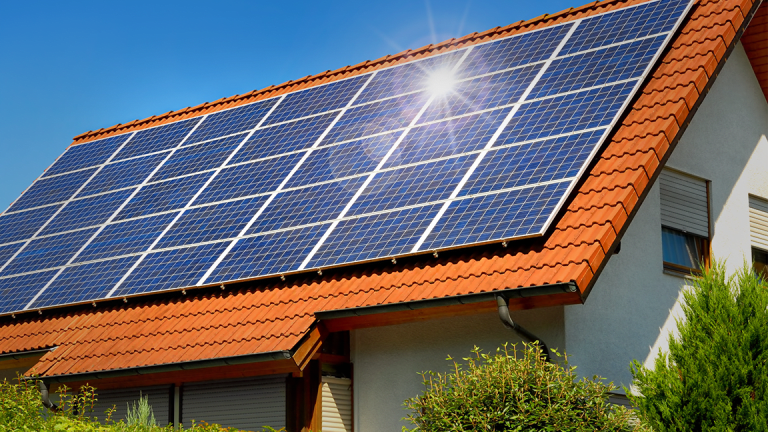 Ignore Solar Stock Run, Trump Tariff May Not Be Good for Anybody but First Solar
Solar installers saw shares soar Tuesday following an announced 30% duty on solar imports, but a tariff on imports is good for no one in the industry, analysts asserted, including U.S. solar panel manufacturers and solar panel installers.
Several U.S. solar companies' shares skyrocketed Tuesday, Jan. 23, as news circulated over a new 30% tariff on foreign solar module imports enacted by the Trump administration. 
Analysts are on the fence over the potential impacts of the tariff; and several refuse to believe it will lead to an influx of Chinese investment in U.S. manufacturing capacity, and subsequently create U.S. jobs, the crux upon which the legislation stands.
Residential solar panel installers Vivint Solar Inc. (VSLR) - Get Report , Sunrun Inc. (RUN) - Get Report , saw shares jump above 5% on the day Tuesday, while solar panel manufacturers First Solar Inc. (FSLR) - Get Report and SunPower Inc. (SPWR) - Get Report saw shares spike in early trading before diving shortly after 10 a.m.
Goldman, Sachs & Co. analysts on Tuesday wrote that rooftop solar companies, including Sunrun and Vivint, stand to rally after the introduction of new U.S. tariffs on imported equipment, as both have muted exposure to module costs and relatively high pricing power in the U.S. market.
But of these publicly traded companies, only First Solar stands to gain from the tariff, according to Vertical Group analysts Gordon Johnson and James Bardowski.
In interviews with TheStreet, the industry watchers and notable solar bears suggested that the 30% tariff is an incremental negative for the broader U.S. solar industry, as many U.S. solar module manufacturers, like FirstSolar and SunPower, produce the bulk of their equipment overseas in places like southeast Asia.
Meanwhile, many residential solar panel installers purchase their equipment in modules, as opposed to cells, which are put together to form modules and are exempt from the tariff up to 2.5 gigawatts, meaning limiting supply options will theoretically increase their expenses and crimp their bottom line.
Johnson said the 2.5 GW exemption has been thought to be a potentially positive loophole for those who petitioned for the tariff, including Chinese-owned Suniva Solar Ltd. and Germany's SolarWorld AG, and others like Tesla Inc.'s (TSLA) - Get Report SolarCity, who could potentially import up to 2.5 GW of solar cells into the U.S. duty-free, construct modules from them at U.S. facilities and slap their logo on the product before selling to U.S. consumers. 
More of What's Trending on TheStreet:
Still, foreign companies are not likely to invest in greater U.S. module production capacity as a result of this tariff, as the 12 to 18 months it would take to bring this capacity online would partially offset the four years the tariff is in place. And when the tariff ends, the U.S. production facilities of these foreign companies would then be left to compete with various producers' international capacity, including their own company's, Bardowski added.
As for the upside for First Solar, aside from the exemption on the importation of up to 2.5 GW of solar cells, the tariff also conspicuously leaves unscathed the importation of thin film solar cells entirely. First Solar manufacturers thin film solar cells, which is flexible and efficient for use in large-scale solar farms, whereas the majority of global solar panel manufacturers produce the rival crystalline silicon solar cell, which is thicker and better for use in residential solar applications and small-scale utility projects.
Of course, the biggest losers are Chinese and other foreign solar panel manufacturers, such as JinkoSolar Holding Co. Ltd. (JKS) - Get Report , Canadian Solar Inc. (CSIQ) - Get Report . These players will not likely sit quietly back, with several analysts suggesting the decision to be challenged by China, Taiwan, and other injured parties at the World Trade Organization. 
But on the whole, the tariffs will not end the solar industry, analysts asserted, and many industry followers actually view the implemented duty as modest compared to the 40% to 50% tariff some anticipated. 
"We are most surprised by how mild were the long-awaited tariffs for imported crystalline silicon solar cells and modules that the Trump Administration announced last night," Height Commentary analyst Katie Bays wrote in a Jan. 23 research note. "Trump could have gone bigger with the tariffs, but the move signals to China and the rest of the international community that he is willing to take action on trade. The story doesn't end here."
To be sure, with Trump expected to voice more rhetoric at the World Economic Forum in Davos this week, it may not. But for now, it is wise to view the bump in the likes of Vivint and Sunrun as the market's relief that the tariff was not worse, according to Johnson, rather than a revival of a continuously struggling U.S. solar industry.