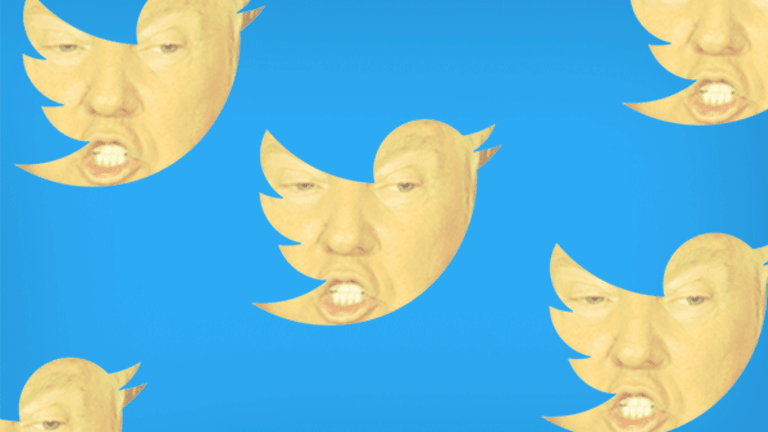 Ignore the Social Media Show; Lockheed Martin's F-35 Is Secure
Donald Trump's complaints about the F-35 combat jet have made Lockheed Martin investors nervous, but an influential analyst says that the president-elect's comments 'seemed designed just to make headlines.'
The world in recent days has witnessed a social media kabuki dance, centered around Lockheed Martin's (LMT) - Get Lockheed Martin Corporation (LMT) Report F-35 Joint Strike Fighter, the most expensive weapons system in U.S. history.
Donald Trump's Twitter broadsides against the ultra-sophisticated aircraft have spooked investors and dampened LMT shares. That spells a buying opportunity for you, especially ahead of Lockheed Martin's next earnings report which is scheduled for Jan. 24.
Richard Aboulafia, vice president of analysis at the aerospace/defense consultancy Teal Group, said in a phone interview Friday that Trump has been pulling F-35 numbers out of thin air.
"First of all, Trump's $1.5 trillion program figure for the F-35 was based on exactly nothing," Aboulafia said in an exclusive interview. "It came from nowhere, and seemed designed to just make headlines. Second, using total program figures is no way to negotiate prices."
Trump's most famous F-35 tweet ("Based on the tremendous cost and cost overruns of the Lockheed Martin F-35, I have asked Boeing to price-out a comparable F-18 Super Hornet!") merely reflects a long-established reality. The U.S. Navy continues to regard the Boeing Super Hornet as a lower-risk and better value way of ensuring that its large aircraft carriers have sufficient numbers of combat aircraft.
The most likely explanation is that the tweets are Trump's way of throwing red meat to his base. He was supported by Tea Party budget hawks, but he also has promised heavy spending on defense and infrastructure, along with enormous tax breaks. He needs to show some level of fiscal discipline to distract from his planned budgetary laxity.
Aboulafia is ranked as among the most influential military analysts in the U.S. As he puts it: "The second alternative explanation is that Trump's dislike of the F-35 reflects the curious 'bromance' between Trump and Russian President Vladimir Putin. After all, the F-35 is very high on Putin's envy list." The F-35, however, remains popular with the Pentagon and the U.S. military services designated to fly it.
The upshot: Lockheed Martin and its F-35 are on track to prevail, making the company's stock a compelling multi-year growth investment.
When the company reports earnings on Jan. 24, the average analyst expectation is that earnings per share (EPS) will come in at $3.06, compared to $2.87 in the same quarter a year ago. For full year 2017, EPS is pegged at $12.19, compared to $11.32 last year. For 2018, EPS is projected to come in at $12.77. Estimated five-year earnings growth for LMT is 7.81% on an annualized basis.
LMT's shares trade at a trailing 12-month price-to-earnings ratio (P/E) of only 15, a bargain considering its growth prospects and the trailing P/E of 18 for the aerospace/defense industry.
If you're looking for a more diversified and safer bet on the massive defense spending hikes that are in the cards under Trump, consider the iShares U.S. Aerospace & Defense ETF (ITA) - Get iShares U.S. Aerospace & Defense ETF Report , of which Lockheed Martin and Boeing are major holdings.
---
Trump's shocking election as president has turned the investment world upside down. If you're looking for new (and safe) growth opportunities in these uncertain times, we've found a genius trader who turned $50,000 into $5 million by using his proprietary trading method. For a limited time, he's guaranteeing you $67,548 per year in profitable trades if you follow his simple step-by-step process. Click here now for details.
John Persinos is an analyst with Investing Daily. For the past 14 years, Persinos also has served as an aerospace/defense analyst with Virginia-based Teal Group. At the time of publication, he held stock in Boeing.