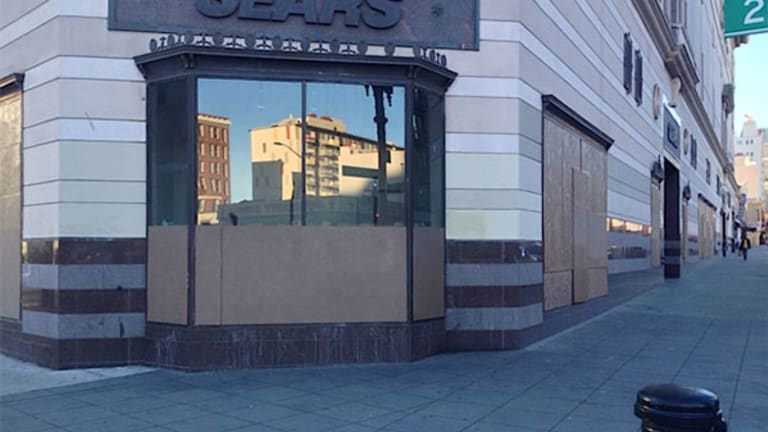 If Sears Finally Goes Out of Business, Here Are the Biggest Winners and Losers
More bad news for Sears raises questions on whether it could survive.
If Sears Holdings Corp. (SHLD) had one foot in the grave coming into the year, then it has just dipped the second foot into a six foot hole.
The dying retailer said in a new filing on Friday that same-store sales since the start of the year crashed 11.9% between its two banners. Excluding one-time gains related to the sale of the Craftsman tool business and certain real estate, Sears lost between $190 million to $230 million. That is worse than a year ago when it lost $181 million.
Shares of Sears fell slightly to $13.35 in early trading on Monday.
Sears also announced the departure of CFO Jason Hollar, who had only been on the job for about six months. The company hinted strongly it will move to shutter more stores beyond the round of 150 closures it just completed.
"While we have made significant progress in reducing our cost base and enhancing our member value proposition, we need to take further action," conceded embattled Sears CEO Eddie Lampert.
"Accordingly, we will increase our structural cost savings target by $250 million on an annualized basis and accelerate our efforts to maximize value from our real estate portfolio, which we believe will improve our financial flexibility as we pursue our strategic transformation."
Sears had previously outlined $1 billion in cost savings this year through layoffs, stores and other restructuring efforts.
This inability of Sears to turn a profit despite significant store closures and other cost cuts is unlikely to alter the dire predictions of the ratings agencies.
"With negative news like this, it's never good for confidence on the company," Moody's VP Christina Boni told TheStreet in the wake of Sears disclosing in March it may be unable to stay in business. Earlier this year, Moody's downgraded its credit rating on Sears to Caa2 from Caa1. The downgrade reflected the accelerating negative sales performance of Sears' business and risk of possible default.
In February, Fitch Ratings projected that the retailer would burn through another $1.8 billion in cash this year.
Unless Sears raises $2 billion this year, there is a strong likelihood it will be forced to file for bankruptcy protection. Fitch said the restructuring risk for Sears remains "high" over the next two years.
Sears' cash position has melted from a high point of $1.7 billion for the 2009 calendar year to a mere $286 million to close out 2016. Revenue hasn't grown since the credit boom lifted all ships in retail in 2006. The company hasn't generated cash flow from its operations since 2006.
With Sears continuing to be on shaky ground, TheStreet takes a quick look at the winners and losers should the retailer finally go under. 
Losers If Sears and Kmart Go Under
Appliances: Instant losers will include Whirlpool (WHR) - Get Free Report and Samsung. Not only will each lose a major distribution channel, but will have to endure months of their brand being cheapened due to close-out sales. Think of this as the Under Armour (UA) - Get Free Report Effect -- the sportswear maker lost The Sports Authority (it went bankrupt) and other distribution channels last year and has had to suffer through waves of discounted inventory sitting at TJX Companies (TJX) - Get Free Report owned TJ Maxx and Marshall's.
Jim Cramer and the AAP team holds a position inTJX Companiesfor theirAction Alerts PLUS Charitable Trust Portfolio. Want to be alerted before Cramer buys or sellsTJX?Learn more now.
Tires: Not a huge loser, because Sears Auto Centers have been lagging for years, but Goodyear (GT) - Get Free Report will lose a distribution channel. It's unlikely Goodyear will be hugely affected.
Clothing: Step right up and pick your loser. Carter's (CRI) - Get Free Report (baby clothes), Sketchers (SKX) - Get Free Report and Wolverine Worldwide (work boots) are some of the most exposed clothing retailers to Sears. Nike (NKE) - Get Free Report is also on offer at Sears, but not in a material way.
Land's End: One of the biggest losers from a potential Sears demise. Lands' End has more than 200 shops -- which have seen weak results for a while -- in Sears stores. The Sears business now makes up about 14% of Lands' End's overall sales. All of that will vanish.
Electronics: Based on what happened when Circuit City went under, Sears going out of business could really depress prices for Microsoft (MSFT) - Get Free Report computers, tech accessories more broadly and large-screen TVs from a Samsung. As a result, this not only presents risk to the manufacturers but also to Best Buy (BBY) - Get Free Report -- it may lose business in the short-term as people shop for closeout deals at Sears.
Camping and exercise equipment: Sears claims it's the largest fitness equipment seller in the United States (nothing to be proud of, as people are spending more to exercise in boutique classes and in discount gyms such as Planet Fitness (PLNT) - Get Free Report ). When Sears goes bust, it could weigh on Dick's Sporting Goods (DKS) - Get Free Report exercise business for several quarters. To Dick's credit, in recent years it has reduced its floor space dedicated to exercise equipment.
Lawnmowers, outdoor patio equipment: Discounting both at Sears and Kmart on these items could hurt Home Depot (HD) - Get Free Report and Lowe's (LOW) - Get Free Report in the near term. The same logic applies to the tool business.
Dollar stores: Should Kmart go under, it may be a short-term disruption to the dollar stores such as Dollar Tree (DLTR) - Get Free Report and grocery stores.
Toy makers:Hasbro (HAS) - Get Free Report , Mattel (MAT) - Get Free Report and Jakks Pacific (JAKK) - Get Free Report (more so Jakks) will be losers if Kmart goes away. As a result of the liquidation sales, Toys R' Us -- which in its own right continues to battle the shift to online shopping -- could be harmed.
Long-Term Winners from Sears' Death
Best Buy: The company will completely dominate the bricks-and-mortar electronics business, and to lesser extent appliances. Best Buy gained a good amount of market share after the Circuit City liquidation sales stopped and the chain went away.
Home Depot and Lowe's: Winners in tools, home installation services (a very lucrative industry that Sears once dominated), appliances and outdoor equipment.
J.C. Penney (JCP) - Get Free Report will essentially be the department store left in many malls. Hence, it will win across the board.
The mall: Some of the best mall-based specialty apparel names like Foot Locker (FL) - Get Free Report will win. Sears stores have been empty for years, and when these locations start to get leased out to traffic-driving grocery stores, movie theaters, H&M, Dave & Buster's (PLAY) - Get Free Report , health centers and Dick's Sporting Goods, it could bring traffic back to the mall.
Updated from February 10 with new details.