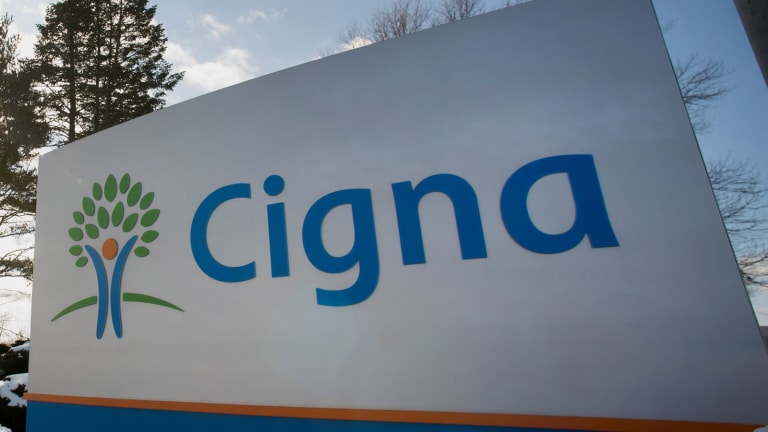 As confidence wanes that Anthem's (ANTM) - Get Anthem, Inc. Report $54.2 billion acquisition of Cigna  (CI) - Get Cigna Corporation Report will survive regulatory scrutiny, analysts are already considering what the target will do if the deal falls apart.
Ana Gupte of Leerink Partners LLC believes that Cigna could look to acquire a smaller managed-health care company, such as Long Beach, Calif.-based Molina Healthcare (MOH) - Get Molina Healthcare, Inc. Report or Tampa, Fla.-based Wellcare Health Plans (WCG) - Get WellCare Health Plans, Inc. Report if the deal doesn't push through.
Thanks to the $1.85 billion break-up fee Anthem would pay to Cigna, the Bloomfield, Conn.-based company would have extra cash on hand to make an acquisition.
"A Cigna combination with Wellcare or Molina can be strategically attractive given the entry for Cigna into Medicaid and particularly, dual eligibles markets, which has been an area of interest," Gupte wrote, referring to people who are eligible for both Medicaid and Medicare benefits.
The likelihood that the Anthem-Cigna deal falls apart keeps growing. On Thursday, California's insurance commissioner, Dave Jones called the Anthem-Cigna deal anticompetitive. Though he doesn't have authority to prevent the deal, his view does carry weight among national regulators.
"The perception on the street that the odds of a deal getting done are a bit lower," said analyst Frank Morgan of RBC Capital Markets in a phone interview.
Leerink Partners' Gupte agreed, writing in a note that the health care research firm recently lowered its deal probability on Anthem-Cigna to less than 50% from 70%.
When it comes to an alternative plan for Cigna, she believes Molina and Wellcare would provide unique benefits. Wellcare would be complimentary to Cigna's Medicare Advantage platform, while Molina offers a profitable health insurance exchange platform built on Medicaid provider networks.
According to Gupte, Molina and Wellcare would likely see a purchase price that represents a 35% to 45% premium to their current trading prices, meaning either company could sell for anywhere between $5 billion to $7 billion.
While this is a wide pricing spread, it's not surprising, said RBC's Morgan.
"The acquisition prices for these types of companies is all over the place," he asserted.
Alas, the health care services market is already incredibly consolidated. Not many deals have been done lately, and the ones that are being attempted, such as Anthem-Cigna and Aetna (AET) -- Humana (HUM) - Get Humana Inc. (HUM) Report , haven't actually received antitrust approval yet.
A Cigna acquisition of Molina or Wellcare wouldn't be sidetracked by these issues, Gupte wrote.
The only barrier to a deal with either company could be the managements of Molina and Wellcare. Neither have expressed openness to being acquired.
"We believe Wellcare management is likely open to take out by 2018," Gupte wrote. "Molina has a strong family dominance, though currently at only 25% shareholder interest and absent a successful turnaround may be pressured to sell."
Officials at Molina and Wellcare didn't respond to requests for comment. Cigna officials couldn't be reached for comment Thursday.
"I suppose you would think if they can find a ripe opportunity, then yeah, I think they could be back in the market," Morgan said of Cigna. "You would certainly think that their interest in being bigger would contribute to wanting to do a deal."
Wellcare finished Thursday at $105.40 per share, up 2%, with a $4.66 billion cap. Molina finished at $50.86, up 0.8%, and has a $2.88 billion cap.
Cigna shares finished at $128.64 per share, up 1.6%. It has a market cap of $33 billion.
This article originally published in The Deal, a sister publication of TheStreet on Thursday, June 16. Click here to learn more about The Deal.