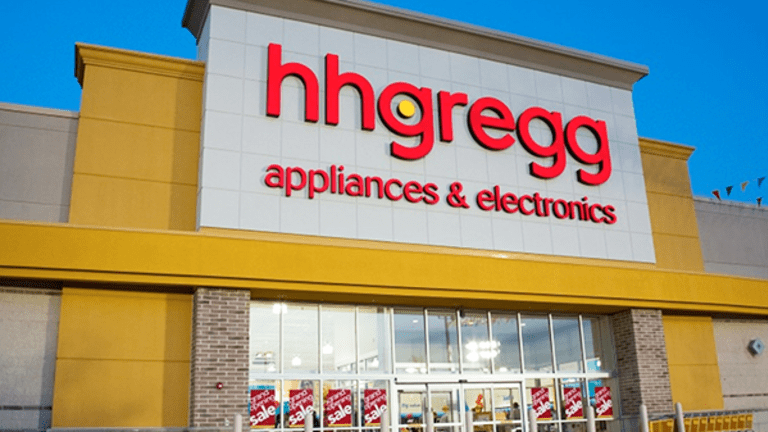 Here Are The Next Two Retailers Headed to the Chopping Block
These two retailers are likely to be next to file for Chapter 11 protection.
These two retailers are likely to be next to file for Chapter 11 protection.
HHGregg (HGG) looks like it has one foot in the grave, which could be good news for several competitors. 
The struggling appliances, electronics and furniture retailer could be nearing a Chapter 11 filing sometime this week, according to a report from Bloomberg. Last Thursday, the company announced plans to close three of its distribution centers and 88 stores as part of an out-of-court restructuring process. It will shutter its distribution and delivery centers in Brandywine, Md., Miami and Philadelphia, while store closures are slated for New Jersey, Florida and Virginia, among other states.
Jim Cramer sat down Wednesday with four market experts to talk about how to play the Trump tax plan. Click here to check out their recommendations.
Late last month, talk began circulating that HHGregg would file for bankruptcy as soon as March, as was first reported by Bloomberg. If HHGregg goes onto liquidate its business through Chapter 11, some $1 billion in sales would be up for grabs, Best Buy (BBY) - Get Report chairman and CEO Hubert Joly told analysts on a call last Wednesday. Hence, it's no small surprise that shares of Best Buy and appliance-selling J.C. Penney (JCP) - Get Report climbed 5.68% to $44.53 and 2.24% to $6.38, respectively, on HHGregg's dour news Thursday. 
Here are three companies that stand to gain if HHGregg liquidates.
Updated from March 2 with new details