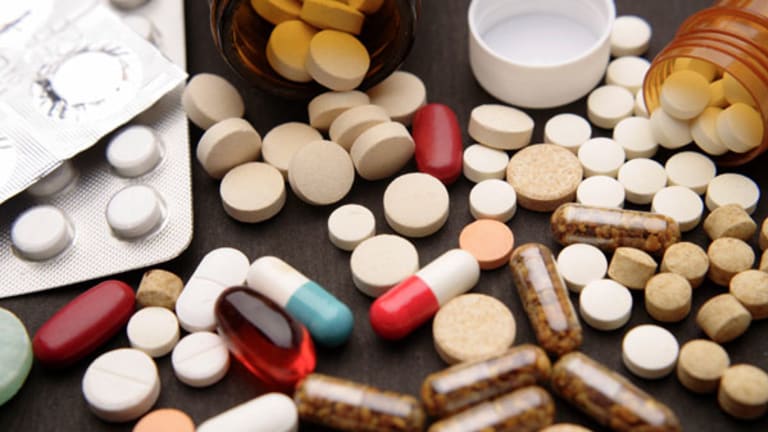 NEW YORK (
) --
Thursday, Idenix Pharmaceuticals
(IDIX)
presented investors with a detailed update on IDX-184 and the earlier-stage IDX-19368, two hepatitis C drug candidates that were placed on clinical hold by the FDA last month.
Idenix' new investor slide deck, also filed as an SEC Form 8-K, offers lots of detail about the compounds' status and highlights management's admirably open-minded communication style. Unfortunately, I'm not convinced the company's woes will be easily fixed.
IDX-184 has had no safety issues to date. Nonetheless, structural similarities between Idenix's IDX-184 and
Bristol-Myers Squibb's
(BMY) - Get Bristol-Myers Squibb Company Report
BMS-094 were sufficient to
. Clinical development of the latter drug, which Bristol-Myers acquired in the $2.5 billion takeover of Inhibitex, has been discontinued because of severe cardiovascular toxicity.
The FDA's clinical hold -- effectively a "stop work" order triggered by unexpected safety issues -- suggests that regulators are also concerned about the safety of IDX-184. In order to get the clinical hold lifted and continue development, Idenix must now convince the FDA that IDX-184 doesn't put patients' lives at unnecessary risk. (At least one patient in the Bristol-Myers study died.)
Let's start with the good news by diving into some chemistry. IDX-184 and BMS-094 are both nucleotide polymerase inhibitors and, structurally speaking, 2′-methylguanosine (2′-MeG) triphosphates. When BMS-094 breaks down in the body, it produces 1-naphthol, a toxic metabolite possibly responsible for the drug's side effects. However, metabolism of IDX-184 does not produce 1-naphthol. Furthermore, while Bristol-Myers' compound showed evidence of mitochondrial toxicity in cell line studies at relatively low concentrations, IDX-184 has a wide margin of cellular level safety.
My first instinct was to recommend buying Idenix shares, which have plunged 40% since the FDA news. The company has three drug candidates in development for a disease that bulls expect will offer multiple players a mega-blockbuster opportunity. (I'm more skeptical than most about the commercial opportunity in hepatitis C, but there's no denying that it's a very attractive market for a company of Idenix' size.)
Management has also approached challenging conversations armed with details rather than deferrals. This commendable behavior doesn't make the company's problems any easier, but it does reduce worries about credibility. Finally, the prospects for several hepatitis C competitors have either blown-up or faded in recent months.
Unfortunately, I don't think the clinical hold on IDX-184 -- the company's lead drug and the key to investor confidence -- will be easy to remove. That means Idenix will likely be dead money near-term.
Here's why: FDA's concerns stem from a theoretical connection between the Idenix and Bristol-Myers compounds. Idenix hasn't seen any clinical cardiovascular toxicity or preclinical warning signs thus far, which makes it hard to reassure regulators that the risks are manageable. As the saying goes, it's difficult to "disprove a negative."
FDA has asked Idenix for new data, including preclinical studies and cardiac evaluations of existing patients. The company plans to submit this information by year-end, which means that investors should expect a response -- and, perhaps, a path forward -- during the first quarter of 2013.
FDA also wants Idenix to propose additional monitoring of IDX-184-treated patients for signs of cardiovascular toxicity in any new studies, but it's unclear which metrics would be useful. The company has started to explore a potential biomarker for cardiovascular toxicity -- the creatively named N-terminal prohormone of brain natriuretic peptide, or NT-proBNP -- but the impact of other drugs on NT-proBNP levels in hepatitis C patients makes definitive interpretations difficult.
Idenix is in a tough spot, and it's hard not to empathize with management. Nonetheless, until Bristol-Myers determines what caused the side effects associated with BMS-094, I don't foresee an expeditious path forward. Idenix does have other drugs in development, including the promising NS5A inhibitor IDX-719, but these will likely be overshadowed by the clinical hold on IDX-184. Given the potential for-tax loss selling as we approach year-end and the risk that the clinical hold on IDX-184 could remain unresolved until at least mid-2013, prudence dictates that investors wait on the sidelines for now.
Disclosure: Sadeghi has no positions in any of the stocks mentioned in this article.
Follow Nathan Sadeghi-Nejad on
.
Nathan Sadeghi-Nejad has 15 years experience as a professional health-care investor, most recently as a sector head for Highside Capital. He has worked on the sell side (with independent research boutiques Sturza's Medical Research and Avalon Research) and the buyside (at Kilkenny Capital prior to Highside). Sadeghi-Nejad is a graduate of Columbia University and lives in New York. You can follow him on Twitter @natesadeghi.