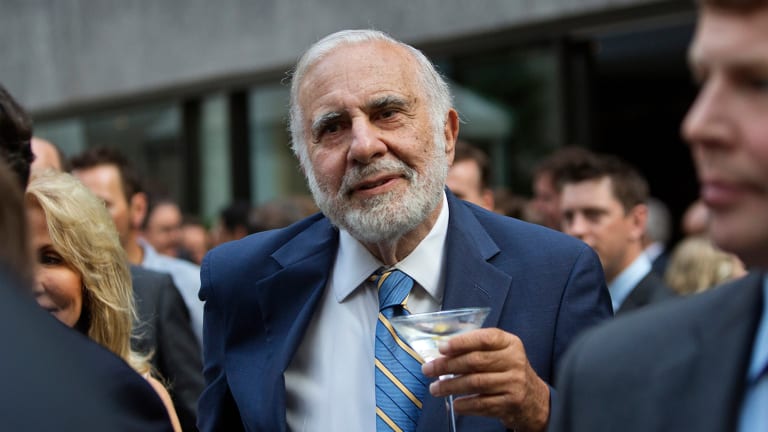 Icahn Enterprises Stock Is About to Rally -- Here's Why
Technicals indicate a major buying opportunity in Icahn Enterprises stock (IEP) is near.
Carl Icahn is one of the smartest guys in the room, if not the smartest. So why has his investment vehicle, Icahn Enterprises (IEP) - Get Icahn Enterprises L.P. Report  fallen 32% over the past year? Most of us will never know, but we don't have to. Instead we can rely on objective analysis of the stock to figure out whether it's time to buy or sell. 
Click here to see the following chart in a new window.
We created the decision support engine (DSE) to remove ego and emotion from investing. It relies on objective analysis of vast numbers of stock charts going back through history and a wide range of technical indicators. In February, we wrote about how the DSE had indicated it was time to stop selling shares of Icahn's investment vehicle and begin buying them ahead of a multimonth bounce. 
From the February low, near $43, prices reached $68, before rolling back over. The analysis back then included a forecast toward $100, which would mimic the 156% rise off the bottom in 2008, which was the last time Icahn Enterprises was as oversold as it was earlier this year. So far, only a 50% rise in price has been seen, but it's not yet February of 2017, which is when the 12-month forecast terminates. 
We don't know what other else is contained within Ichahn Enterprises, or whether it may be hampering its further rise, but with Icahn's just-announced exit of his Herbalife stake, in which he doubled his money, perhaps he's pruning the laggards?
We will see, but in the end it's irrelevant. What matters is the crowd's mood toward him and his firm. While we can't know whether February's low was the final low, we are about to get a second chance in the green oval, where stochastics will retest their green box. This will set up a tremendous buying opportunity, which should only be a partial entry into Icahn Enterprises stock. Prudence requires that one also reserve capital for a test of $35 +/-$5, which should be the worst case in this stock. 
February's low also tested the olive/gold line, which is the lower two-standard-deviation band (controlling 95% of normality). That line is presently around $43, and the lower three-standard-deviation band is around $39 (controlling 99.7% or normality). This $44 +/-$5 zone represents the highest-probability entry zone for the coming six to 12 months, causing our DSE to warn, like it did in February, that any short exposure should be covered or protected with buy stop orders at $52. This is also pertinent for those who missed the buy zone in February, as these parameters can be used to establish long exposure. It's not the absolute price that DSE wants us to focus on, but the price zone of
$44 +/-$5. Accumulating a position into this price zone should lead to handsome rewards into early 2017, if DSE is still on the right track with Icahn Enterprises.
For updates on this dynamic opportunity, as well as others, try our DSE Alerts service for free for a couple of weeks, or contract us at support@dsetrading.com
This article is commentary by an independent contributor. At the time of publication, the author held no positions in the stocks mentioned.