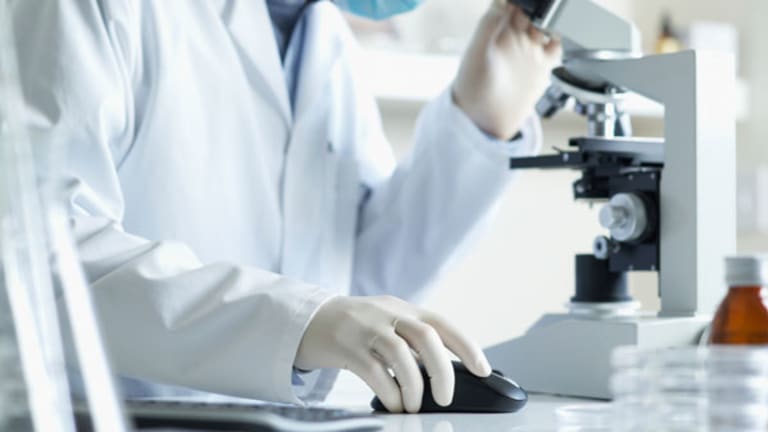 Icahn, Byetta Sales Boost Amylin (Update)
The biotech's shares rise on news of an increased bet by investor Carl Icahn and an uptick in its diabetes drug's prescription data.
Updated from 3:19 p.m. EST
Amylin Pharmaceuticals'
(AMLN)
got a strong boost Monday from an uptick in prescription numbers for diabetes drug Byetta and news that Carl Icahn has been increasing his stake in the biotech stock.
Overall prescriptions of Byetta -- although still down 9% year over year -- increased 3.9% during the first week of November, according to new IMS data. Also on Monday,
CNBC's
Mike Huckman reported that
Icahn
recently increased his stake in the company.
The billionaire, activist investor disclosed holding about 10.7 million shares of Amylin at the end of the most recent quarter, up from roughly 6.8 million shares at the close of the second quarter, according to a
with the
Securities and Exchange Commission
.
Amylin's shares rose 50 cents, or 7.8%, to $6.91 on Monday, bucking the trend of an otherwise
.
Piper Jaffray analyst Thomas Wei notes that Byetta's week-over-week increases were not as large as other name-brand diabetes drugs like Avandia (up 6.6%), Actos (up 7.8%), Januvia/Janumet (up 5.9%) and Lantus up 6.2%). "However, given two weeks of Byetta prescription growth exceeding 3%," wrote Wei, "we believe it remains unclear if media dissemination of what we regard as misleading headlines on pancreatitis risk will have a long-term negative impact on the company's new sales effort to expand Byetta prescriptions." Wei has a buy rating on Amylin stock.
The biotech company lately has been taking much-needed steps toward profitability, but restoring investor confidence in the struggling diabetes-drug maker is still very much a work in progress.
Shares of San Diego, Calif.-based Amylin have fallen more than 75% in the past three months to around $6.50. The company's enterprise value today is just over $1 billion, or about 2 times Amylin's share of sales from Byetta, the diabetes drug co-marketed with
Eli Lilly
(LLY) - Get Free Report
.
Amylin's slide started Food and Drug Administration concerns regarding instances of pancreatitis, a sudden inflammation of the pancreas that can cause severe complications and possibly death, in diabetes patients who took Byetta. There is no known link between the drug and the incidence of pancreatitis, and the incidence is still in line with the broader diabetes population. But the emergence of a possible safety risk with Byetta had pinched prescriptions, leading to a wider third-quarter loss for the company.
In a move aimed at sparking a turnaround, Amylin last week announced a corporate retooling that will involve the dismissal of 340 of the company's 2,140 employees. The goal is to reduce 2009 spending by more than $80 million without sacrificing Byetta's commercial operations and get the company to cash flow-positive by the end of 2010.
"The company was burning a lot of money -- it would have been hard to see how they were funded through profitability without making these cuts," says Cowen and Co. analyst Phil Nadeau. "But it's not the type of move that's going to get people excited about the stock."
If there's an upside to Amylin's bottomed-out valuation, it's that investors now appear to have priced in a further deceleration of Byetta's prescription growth. With expectations low, any upside to Byetta sales could work in Amylin's favor -- as evidenced by the stock's move today.
What would really get investor confidence in Amylin moving in a positive direction would be progress in bringing the next-generation Byetta LAR to market.
Amylin's partner,
(ALKS) - Get Free Report
disclosed in a filing with the Securities and Exchange Commission earlier this month that the drug may face a regulatory hiccup.
The FDA has indicated that data Amylin submitted -- to show that the drug manufactured in Alkermes' facility and used in clinical trials was the same as that manufactured on a commercial scale in Amylin's facilty -- did not meet the agency's requirements. Amylin is still hoping the application will be filed by the end of the first half of 2009, but if required, additional trials could delay the drug's approval and launch.
Investors are aware of looming competition:
Novo Nordisk
(NVO) - Get Free Report
has submitted its application for a once-daily injection, the first potential direct competitor to Byetta, and depending on the outcome of a panel in March, could have its product approved by mid-2009.
Because Amylin's long-acting product is taken once a week, it's still likely to take the majority of the market even if it follows Novo Nordisk's product, liraglutide, by six months or a year, says Cowen's Nadeau. But it's important that Byetta LAR not be delayed by more than a year, because fellow competitor
Roche
is also bringing a product to market, "and then it starts to get close," he says.
Goldman Sachs analyst Meg Malloy, who has a buy rating for the stock, has estimated that the Byetta/Byetta LAR franchise could address a commercial opportunity of more than $2 billion to $3 billion after several years on the market.
But some stakeholders are running out of patience. Eastbourne Capital, which owned a nearly 13% stake in Amylin as of late August, said earlier in the month that it intended to hold discussions with management, other shareholders and third parties, regarding actions that could enhance shareholder value, including a possible sale of the company.