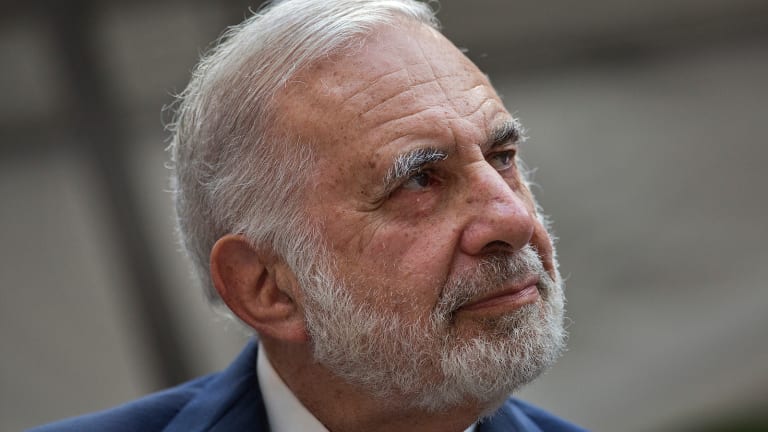 Icahn Alters Energy Bets by Exiting Chesapeake and Transocean
Carl Icahn exits positions in both Chesapeake Energy and Transocean, while trimming another refiner.
After previously selling down his stakes in Chesapeake Energy (CHK) - Get Chesapeake Energy Corporation Report and Transocean (RIG) - Get Transocean Ltd. Report , Carl Icahn is officially out of his position in both companies.
During the third quarter, the billionaire sold out of Chesapeake and Transocean but maintained his stakes in Cheniere Energy (LNG) - Get Cheniere Energy, Inc. Report and Freeport-McMoRan (FCX) - Get Freeport-McMoRan, Inc. (FCX) Report , according to a regulatory filing Monday.
Icahn didn't immediately respond to TheStreet's request for comment.
Icahn's recent moves, however, shouldn't come as a surprise to investors considering he had been trimming his position in both Chesapeake and Transocean throughout the year.
In September, the activist investor slashed his stake in Chesapeake to 4.5% from his 9.4% stake in August. Also that month, Icahn cut his RIG position by approximately three-quarters to 1.5%, representing some 5.48 million shares, according to an SEC filing.
Icahn cited "a capital loss for tax planning purposes" as the reason for trimming his position in both companies.
While Icahn exited Chesapeake and Transocean, he also sold off some of his stake, roughly 250,000 shares, in petroleum refiner CVR Energy (CVRR) .
The billionaire's move to trim his CVR Energy position is interesting given the current political outlook in the U.S. In August, Icahn penned a letter to the Environmental Protection Agency detailing why the renewable fuel credit market could bankrupt oil refiners.
"The (Renewable Identification Numbers) market will cause a number of refinery bankruptcies," Icahn wrote. "The domino effect of this will be that 'big' oil will sop up the bankrupt refineries, causing an oligopoly resulting in skyrocketing gasoline prices," he continued.
But Donald Trump is about to become the 45th president of the U.S. and as he works to implement his policies the responsibilities and role of the EPA could change.
"Environmental Protection, what they do is a disgrace," the 70-year-old Trump told Fox News' Chris Wallace in October 2015. "Every week they come out with new regulations. They're making it impossible." He also called the EPA the "laughingstock of the world" in a January 2016 Wall Street Journal report.
That being said, the president-elect hasn't outlined any details on his plan for the EPA, therefore, leaving the RIN market and refineries in flux.
Shares of CVR Energy were volatile during the trading session, hovering between flat and down. Chesapeake shares jumped by nearly 10% following the news, while Transocean shares were up nearly 2.5%.
Employees of TheStreet are restricted from trading individual securities.