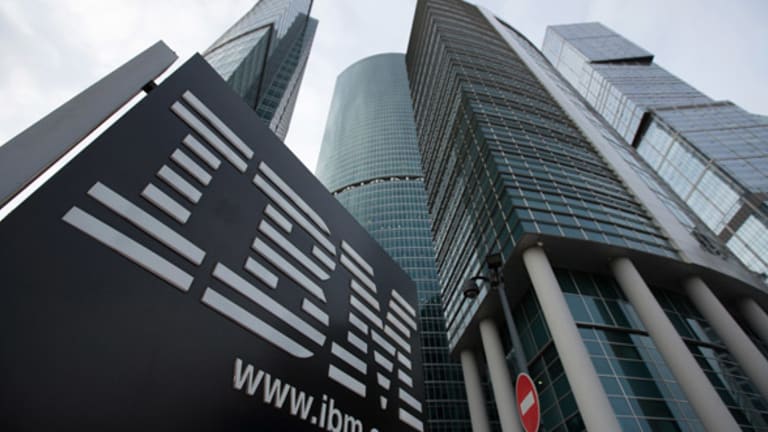 IBM's Security Tie-Up With Cisco Once More Shows Big Blue's Value as a Tech Partner
Though IBM continues to face major revenue headwinds, its software and services expertise in numerous fields makes it a valuable ally to tech giants and others.
As its first-quarter results drive home, many of IBM's (IBM) core hardware, software and services franchises face major long-term revenue headwinds. Cloud infrastructure adoption, together with stiff competition from HP Enterprise (HPE) , Microsoft (MSFT) , Oracle (ORCL) and others, have made life tougher for the IT giant in numerous markets.
Big Blue, far from oblivious to these pressures, has tried to counter in part by making a string of 9 and 10-figure acquisitions in fields such as healthcare analytics, security software and cloud apps and services. It has also sought to respond by leveraging its unique software and services assets, along with the industry-specific expertise various IBM teams have built up, to partner with Global 2000-type companies within tech and elsewhere as they go after lucrative growth markets.
IBM's new, multifaceted, security alliance with Cisco Systems (CSCO) certainly adds to the latter effort. As part of the deal, Cisco will create apps for IBM's QRadar security analytics platform, which analyzes potential threats by collecting data from both IBM and third-party products. The apps will be available on IBM's Security App Exchange, which had 92 third-party apps as of April, and work with Cisco's security appliances and malware-prevention software and services to probe and respond to threats.
The deal also calls for IBM's incident-response software and services, the product of its 2016 acquisition of private Resilient Systems, to be integrated and share data with Cisco's Threat Grid malware-protection and threat intelligence software. As an example, the companies note IBM's incident-response analysts could use Threat Grid's intelligence to detect possible breaches, and leverage its sandboxing tech to neutralize malware.
This isn't Cisco and IBM's first tie-up. Among other things, the companies formed an IoT-related alliance in 2016, through which IBM's analytics software and Watson IoT cloud services could work with Cisco's IoT analytics offerings to understand and act on IoT data close to its source.
The joint Resilient/Threat Grid solution could spell tougher competition for FireEye (FEYE) ; the company has seen its incident-response services used to probe a number of high-profile data breaches, and it's also a notable player in the malware-prevention and threat intelligence fields. Palo Alto Networks (PANW) offers subscription-based malware-prevention and threat intelligence services that work with its firewalls.
Jim Cramer and the AAP team hold positions in Cisco and HPE for their Action Alerts PLUS Charitable Trust Portfolio. Want to be alerted before Cramer buys or sells CSCO or HPE? Learn more now.
During a talk with TheStreet, Marc van Zadelhoff, the GM of IBM's security division, emphasized the complementary nature of many of IBM and Cisco's security offerings -- especially their data and services. He argued the security data produced by Cisco's network security and cloud offerings would make IBM's AI-based Watson cybersecurity offerings more intelligent, and also provide data for IBM's X-Force threat intelligence sharing platform, which now contains over 800TB of data. Zadelhoff also pointed out that IBM and Cisco were sharing data as the recent WannaCry ransomware attacks unfolded.
He noted both companies have security businesses producing about $2 billion in annual revenue. Two weeks ago, Cisco reported its security revenue rose 9% annually in the April quarter to $529 million, and that its security deferred revenue balance (boosted by rising subscription software and services revenue) grew 39%. And CEO Chuck Robbins suggested on the earnings call that Cisco is open to more security M&A. IBM reported its security revenue grew 9% in Q1, but didn't provide a sales number.
IBM and Cisco have each made increasing their security exposure -- both via acquisitions and organic investments -- a priority, as security's share of global IT spending steadily grows. In October, IDC forecast global security hardware, software and services spending would post an 8.3% compound annual growth rate from 2016 to 2020. That's more than the twice the growth rate that IDC expects for IT spending overall, and makes security a notable bright spot for IT giants seeing sales of other on-premise business offerings decline due to cloud adoption.
Over the last few years, IBM has announced a slew of noteworthy partnerships in which one or more differentiated assets have been put to good use. In addition to the Cisco IoT deal, Big Blue has struck Watson-related partnerships with Salesforce.com (CRM) , Twitter (TWTR) , Medtronic (MDT) and GM (GM) , among others. It has also, of course, partnered with Apple (AAPL) to develop iOS apps for specific business verticals such as banking, travel and retail. Many of the Watson-related deals involve leveraging IBM's industry-specific knowledge to obtain business insights.
The Cisco security partnership isn't quite as focused on verticals as some of IBM's other deals. But it is very similar in that it takes advantage of the deep inroads IBM's software and services teams have made with many large enterprises, and the expertise they've obtained along the way. It's a safe bet that more such deals with prominent tech names will arrive in the coming years.