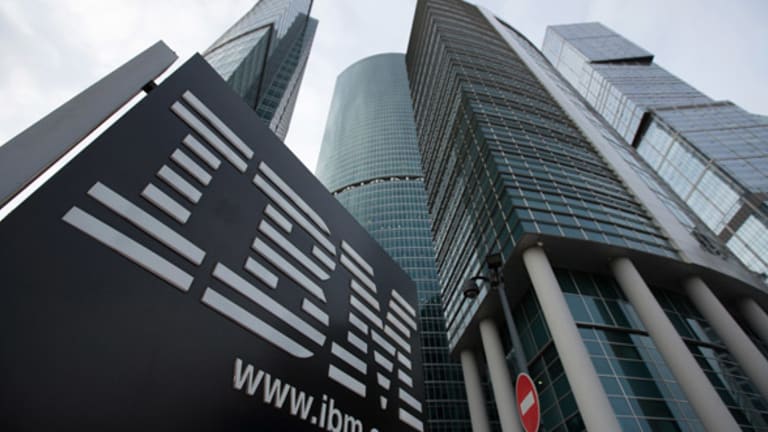 IBM's Fourth-Quarter Earnings Beat: Why Wall Street Is Skeptical
Big Blue beat on its top and bottom line for the fourth quarter, but Wall Street was unenthusiastic about what drove upside to earnings.
IBM (IBM) - Get International Business Machines Corporation Report reported stronger-than-expected 2016 fourth quarter results late Thursday, propelled in part by upside from its cloud services unit, but Wall Street wasn't exactly thrilled with Big Blue. 
After Thursday's market close, the Armonk, NY-based company reported adjusted earnings of $5.01 per share on revenue of $21.8 billion. Analysts were looking for adjusted earnings of $4.88 per share and $21.6 billion in revenue. 
Technology services and cloud platforms revenue increased 1.7% year-over-year to $9.3 billion, while sales related specifically to the cloud rose 33% in the fourth quarter.
The company's legacy systems unit, which includes hardware and operating systems software, declined 12.5% year-over-year to $2.5 billion in revenue. 
Shares of IBM were increasing 0.3% to $167.38 on Friday morning after falling about 1.5% after hours on Thursday. 
Analysts weren't feeling so rosy about the results, however. Several argued that IBM's earnings beat was driven by lower tax rates and intellectual property revenue, giving the results a "poor" underlying quality. Here's what they had to say:
James Schneider, Goldman Sachs (Neutral, Price Target $145)
"Although IBM's headline results and guidance were solid, we expect the stock to see pressure post the report as we believe the underlying quality of IBM earnings -- both in terms of revenue mix and core margin -- remains low. Software growth remains pressured by transactional weakness...The bright spot in IBM's results remains Tech Services & Cloud, where our checks continue to suggest favorable trends."
Ittai Kidron, Oppenheimer (Perform)
"IBM's 4Q16 results were positive, coming in ahead of Street's revenue/EPS estimates, although EPS upside was driven primarily by strong IP revenue and a favorable tax rate. We're encouraged by continued progress in IBM's Strategic Imperatives, which climbed to over 45% of revenue in 4Q16. However, margins remained constrained due to ongoing investments in new products..."
Mark Moskowitz, Barclays (Underweight, PT raised to $144 from $135)
"The Bulls and Bears stand to debate if the headwinds reflect a) IBM just being conservative to start the year or b) earnings quality about to deteriorate. Our take is that quality of earnings needs to improve before grabbing incremental investor sponsorship, particularly as relates to margin stability and transparency related to IP revenue, not mention Watson. Questions also remain as to how IBM's increasing mix of cloud revenue will impact the margin structure over time."

Greg McDowell, JMP Securities (Market Outperform, PT raised to $175 from $169)
"While there are multiple puts and takes in the quarter, ultimately IBM continues to deliver EPS upside for investors, 4Q16 was the fourth consecutive quarter with a revenue beat. We like the progress IBM is making with its transformation (with Strategic Imperatives revenue according for 44% of total revenue)...we still think there is some upside in the stock."
Keith Bachman, BMO Capital Markets (Market Perform, PT raised to $170 from $165)
"We thought IBM had a very mixed Dec Q, with weak margins being offset by higher royalty income and a lower tax rate. Neverthelss, we are encouraged by the comments around PTI growth (off easy comparisons in Q1), and strategic revenues reaching 44% of the total in the Dec Q, which suggests reaching 50% of revenues sometime in 2018, depending on M&A cadence."
Brian White, Drexel Hamilton (Buy, $186 PT)
"After big revenue misses prior to 2016, IBM delivered the fourth consecutive quarter of revenue upside. That said, the company continues to aggressively invest back into next generation areas of technology that depressed 4Q16 operating profits relative to our projections but this drove strong revenue momentum in IBM's strategic imperatives portfolio. As such, we believe IBM is creating the foundation for better trends over the next 12-18 months."
Sherri Scribner, Deutsche Bank (Hold, $150 PT)
"Taking a closer look, profitability metrics continue to degrade and all segments, except Technology Services and Cloud, are seeing organic sales declines. We expect bulls to argue that IBM is close to reaching an inflection point in sales...However, we continue to be bothered by the lack of organic growth, continued declines in profitability and the low quality of earnings, thus we maintain our wait-and-see view on the name."
James Kisner, Jefferies (Underperform, $125 PT)
"While the headlines from IBM's Q4'16 press release imply a revenue and EPS beat and raise to CY17 EPS expectations, we believe a close look at results suggests, as some investors might say, that there was a lot of 'hair' on the quarter...We continue to believe IBM faces secular challenges on the software business and competitive pressures in services that are underappreciated by investors."