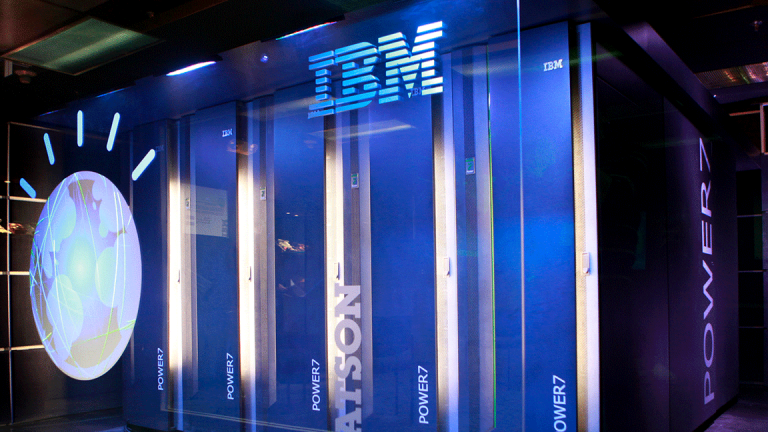 IBM Reports Some Encouraging News, But It's Not Out of the Woods Yet
Big Blue's very profitable software operations returned to revenue growth last quarter, and its tech services signings picked up. Now it needs to keep the momentum going in the seasonally big fourth quarter.
When providing a list of things to keep an eye on as IBM Corp. (IBM) - Get Free Report released its Q3 earnings, the company's software performance was the first item on it. Big Blue's high-margin software businesses appear to account for around half its total operating profits, and their underperformance relative to the software operations of many other IT giants is a big reason why the company's sales and cash flow have been pressured for so long.
IBM's Q3 report doesn't necessarily mean it has put an end to its software share losses, but it does suggest the company made some genuine progress in that direction last quarter. Moreover, the report was accompanied by some encouraging numbers for IBM's mainframe and cloud services operations, and a little more transparency than usual about which businesses are and aren't doing well.
IBM reported Q3 revenue of $19.15 billion (nearly flat annually) and adjusted EPS of $3.30, beating consensus analyst estimates of $18.61 billion and $3.28. And the company reiterated full-year guidance for adjusted EPS to total "at least" $13.80, and for free cash flow (FCF) to be "relatively flat" compared with a 2016 level of $11.6 billion.
In addition, on the earnings call, CFO Martin Schroeter suggested revenue in seasonally strong Q4 will be about $2.8 billion to $2.9 billion higher than in Q3. That implies revenue of $21.95 billion to $22.05 billion, slightly above a $21.85 billion consensus and implying an end to the company's 22-quarter streak of annual revenue declines. Helping IBM's sales out a bit: The company is now seeing a slight forex tailwind -- it got a 1% boost in Q3 -- after many quarters of forex being a headwind.
IBM's hard-luck shares rose 5.6% after-hours to $154.72 on the news and were rallying 9% in morning trading on Wednesday. They're still down about 4% in what has been a pretty good year for tech stocks.
Contributing heavily to the Q3 revenue beat: IBM's Cognitive Solutions segment, which contains a big portion of its software operations, saw revenue rise 3.9% to $4.4 billion. That topped a $4.17 billion consensus and also represented a turnaround from Q2's 2.5% decline. Within the segment, Solutions Software revenue (databases, analytics tools, security software, etc.) grew 4% after having dropped 1% in Q2, and Transaction Processing revenue (mainframe software such as application servers and databases) grew 4% after having dropped 5% in Q2.
Strong security and analytics software demand, including for cloud-based analytics apps and tools, helped IBM's cause. So did healthy demand for IoT offerings (nearly 40 clients were signed for the Watson IoT Platform). At the same time, Schroeter cautioned IBM isn't "counting on continued strong growth" in Transaction Processing.
Also lifting Q3 sales: Though IBM was only able to ship its new z14 mainframe (unveiled in July) for the last two weeks of the quarter, those shipments were enough to drive a 64% increase in mainframe revenue, as a new upgrade cycle commenced. That, along with a 5% increase in storage revenue, allowed IBM's total Systems revenue, which fell 10% in Q2, to rise 10% to $1.7 billion, easily beating a $1.5 billion consensus.
And on the call, Schroeter sounded cautiously optimistic that the latest mainframe upgrade cycle could be a relatively strong one thanks to enterprise interest in the z14's end-to-end encryption features. Though saying IBM is still modeling for the mainframe to be a "very stable" business, he argues there's "an opportunity for us to further expand the market by further expanding the kind of workloads and the relevance that it plays in new environments."
IBM's large Technology Services & Cloud Platforms unit didn't fare as well, with revenue dropping 3% to $8.5 billion and four major segments reporting sales declines. Cloud adoption and a growing preference among businesses for smaller managed IT services deals is still weighing on large parts of this business. At the same time, the unit's large Global Technology Services segment -- it provides a variety of services for deploying and managing IT systems -- reported a 25% increase in signings that was driven by cloud deals.
That, in turn, helped IBM's total services signings rise 15% annually from depressed year-ago levels. The company's services deal backlog still fell 2% to $119 billion, but rose by a billion sequentially and could return to positive growth soon. In addition, IBM's closely-watched cloud-as-a-service annual revenue run rate managed to grow by $600 million sequentially and $1.9 billion annually to $9.4 billion, after seeing a couple of quarters of soft sequential growth.
IBM's Global Business Services (GBS) segment is also still having a rough time: Its revenue fell 2% to $4.1 billion; consulting revenue was flat, while app and business process outsourcing (BPO) revenue fell. GBS signings rose a modest 2%, and Schroeter noted the unit is seeing "pricing and profit pressure in the more traditional IT services."
Big Blue's earnings, meanwhile, weren't propped up by one-time events and actions to the degree that they were in some prior quarters. $900 million was spent on stock buybacks, less than the $1.4 billion spent in Q2, and the adjusted tax rate (14.7%) was close to IBM's full-year guidance of 15%. It helped that SG&A and R&D spending each fell by about 1% thanks to job cuts, and that adjusted gross margin only fell 40 basis points to 47.6%, after having dropped 180 basis points in Q2.
For all the positive developments, it's worth keeping in mind that IBM is still guiding for its 2017 FCF to be down about 11% from 2015 levels, and about 36% from a 2012 peak of $18.2 billion. It's best to see how things go in Q4 -- always a big one for software and services deals -- before proclaiming a turnaround is at hand.
That said, IBM's stock was only valued at 12 times its expected 2017 FCF going into earnings. At such levels, an immediate large-scale turnaround wasn't necessary for shares to rally post-earnings. Some fresh signs of life were good enough.
More of What's Trending on TheStreet:
Editors' pick: Originally published Oct. 17.