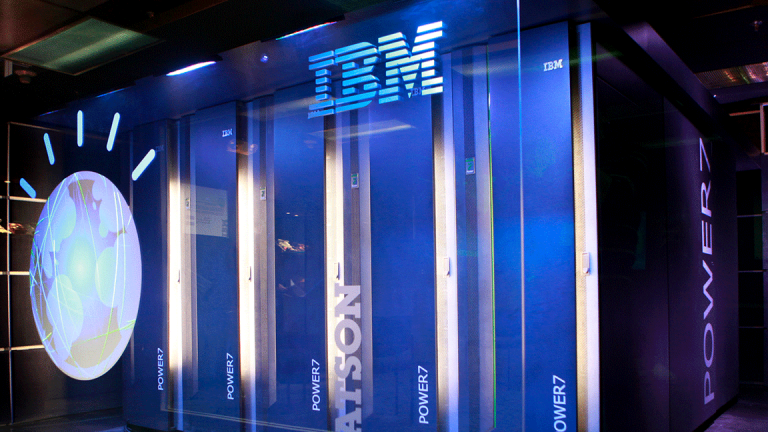 IBM's Guidance and Margins Are Overshadowing Its Return to Revenue Growth
Though Big Blue's revenue and earnings beat estimates, its margins came under pressure. In addition, its 2018 earnings and cash-flow guidance disappointed.
As with so many prior IBM (IBM) - Get International Business Machines Corporation Report earnings reports, a subdued full-year outlook, together with the report's fine print, is overshadowing results that look healthy on the surface.
IBM reported Q4 revenue of $22.54 billion (up 4% annually) and adjusted EPS $5.18, topping consensus analyst estimates of $22.05 billion and $5.17. The company also posted quarterly free cash flow (FCF) of $6.8 billion, up $2.1 billion annually and better than expected, and -- after several consecutive years of revenue declines -- forecast it will see revenue grow in 2018. That outlook is favorable to a consensus for a sub-1% revenue decline.
But IBM only guided on its earnings call for 2018 adjusted EPS of "at least" $13.80, which compares with a consensus of $13.92. It also guided for annual FCF to drop by $1 billion to roughly $12 billion.
Shares fell 3.4% in after-hours trading to $163.45. They had risen about 10% in 2018 going into earnings, after underperforming in 2017.
Even before Big Blue issued its EPS and FCF guidance, the margin figures reported in its Q4 report had pushed shares lower. After declining a modest 40 basis points annually in Q3 to 47.6%, IBM's adjusted gross margin fell by 140 basis points in seasonally strong Q4 to 49.5%. That's a big reason EPS barely beat estimates in spite of a near-$500 million revenue beat and a low 6.1% adjusted tax rate.
Moreover, gross margins declined for all four of IBM's business reporting segments, with the very profitable Cognitive Solutions segment (it contains much of IBM's software operations) seeing the largest drop. Cognitive Solutions margins were hurt by a mix shift away from traditional analytics offerings that performed worse than expected (share loss?), and towards cloud/SaaS offerings that grew at a double-digit clip but carry lower margins.
In addition, IBM indicated its services margins were hurt by "a delay" in the payoff for some of its productivity moves, as well as by "new large contracts that came into the portfolio at lower margins as we invest ahead to optimize our clients' environments." In services businesses, too, margins for IBM's cloud offerings often remain below those of older offerings.
IBM is nonetheless promising it will see "margin stabilization" in 2018. Several analysts pressed the company about its margin outlook on the call; management argued services productivity gains, greater scale for cloud businesses and a mix shift towards higher-margin software offerings will prop up 2018 margins. As it is, analysts were forecasting gross margin would improve slightly in 2018.
Also: Though revenue grew 4% in dollars last quarter, it only rose 1% in constant currency (CC). Cognitive Solutions saw flat revenue in CC, while Global Business Services (GBS) and Technology Services & Cloud Platforms revenue respectively fell 2% and 4%. In both dollars and CC, IBM's Systems (hardware) unit, which is benefiting from a strong mainframe upgrade cycle, drove nearly all of the quarter's growth, as well as most of the revenue beat. Systems sales grew 32% (28% in CC) to $3.3 billion.
And while IBM is forecasting its Q1 revenue will grow in both dollars and CC, it's declining to make a similar promise for now for the whole of 2018. Data provided in IBM's Q4 earnings slides (page 14) suggests that at current spot rates, full-year revenue would get a 2-to-3 percentage point boost, and Q1 revenue a 4-to-5 point boost, from currency swings.
Meanwhile, higher tax payments (the result of the recently-passed tax reform bill) are due to weigh on earnings and cash flow. IBM is guiding for a 16% effective 2018 tax rate, which is up from a 12% 2017 effective rate and -- after accounting for certain "discrete items" -- a 7% 2017 adjusted rate. IBM also suggests its Q1 EPS could benefit from a discrete tax event.
Possibly also worrying investors: IBM's (admittedly lumpy) services signings fell 10% annually to $13.7 billion, after having grown 15% in Q3. And in spite of a larger forex boost, the services backlog fell by 3% annually to $121 billion, after having dropped by 2% in Q3. Nonetheless, new CFO James Kavanaugh states "the projected revenue from the current backlog points to an improved revenue trajectory in 2018 versus 2017" for IBM's services ops.
On the flip side, the Systems segment was a clear bright spot for IBM. A 71% constant-currency revenue increase in mainframe revenue drove much of the segment's growth, as IBM's recently-launched z14 mainframe both proved popular with the existing mainframe base and helped land new clients. In remarks provided ahead of IBM's earnings, Chris O'Malley, CEO of IT services firm Compuware, noted his firm's own business growth "reflects a resurgence in the mainframe."
Systems revenue also got a boost from a 15% revenue increase for IBM's Power server business, which had long been bleeding share to Intel-powered (INTC) - Get Intel Corporation Report server lines. On the call, IBM indicated strong demand for Linux-based Power servers, together with deployments related to deep learning and in-memory database workloads, contributed to the growth. IBM's storage hardware business also outperformed in Q4, posting 8% growth with the help of strong demand for its object storage offerings.
Though IBM's guidance and margin figures weren't disastrous, they did raise fresh questions about the pace of its turnaround -- particularly with regards to bottom-line improvement. And following a recent rally fueled by hopes that the company would build on a market-pleasing Q3 report, investors don't seem keen on giving Big Blue the benefit of the doubt.
More of What's Trending on TheStreet: