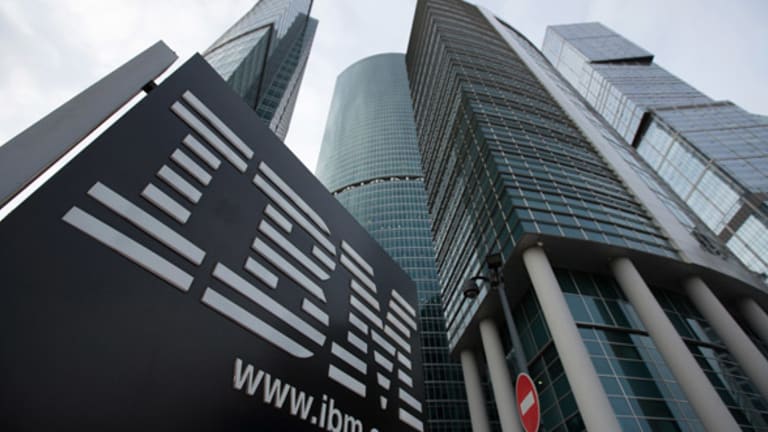 IBM Shares Slide Despite Earnings Beat
Earnings beat consensus estimates, but sales fell short of estimates.
Earnings beat consensus estimates, but sales fell short of estimates.
Shares of IBM (IBM) - Get Report   were falling 1.8% to $151.27 in after-hours trading on Tuesday after the tech giant reported weaker-than-expected revenue for the fiscal second quarter.
IBM posted adjusted earnings of $2.97 per share, which beat analysts' estimated $2.74 per share. Revenue came in at $19.3 billion, however, falling short of Wall Street's projected $19.5 billion.
The company saw declines in all of its of business segments, including its Cognitive Solutions unit, which includes Watson and IBM's artificial intelligence related products. That unit saw its revenue fall 2.5% year-over-year, while IBM's increasingly important Cloud Platforms segment saw its revenue slump 5.1% year-over-year. Revenue for its legacy Systems business dropped 10.4% year-over-year.
The lackluster results mark IBM's 21st consecutive quarter of year-over-year revenue declines.
IBM CEO Ginni Rometty has struggled to prove to investors that she can successfully pivot the company away from its traditional PC business and toward newer technologies such as artificial intelligence and cloud computing. So far, Wall Street has largely remained unconvinced that Watson and the cloud are lifting its bottom line. Rometty continued to remain optimistic in a statement on Tuesday.
"We strengthened our position as the enterprise cloud leader and added more of the world's leading companies to the IBM Cloud," Rometty wrote. "We continue to innovate, adding regtech capabilities to our portfolio of Watson offerings; developing solutions based on emerging technologies such as Blockchain; and reinventing the IBM mainframe by enabling clients to encrypt all data, all the time." 
For 2017, IBM expects operating (non-GAAP) diluted earnings per share of at least $13.80 and GAAP diluted earnings per share of at least $11.95. It also expects free cash flow to remain relatively flat year-over-year. 
Read More: