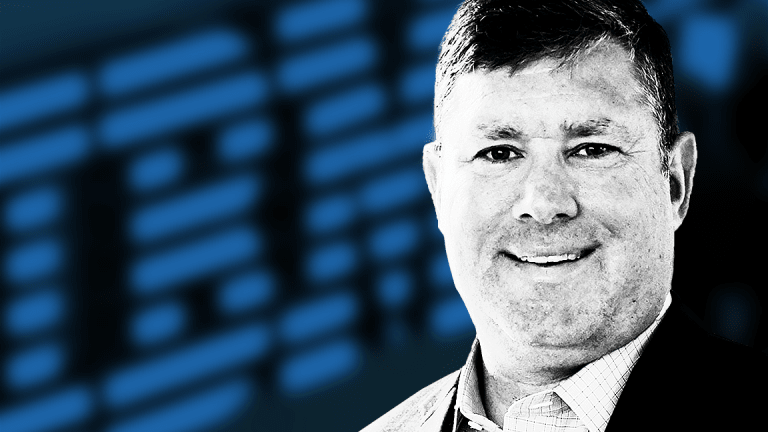 Publish date:
IBM CFO Discusses Big Blue's Long-Awaited Return to Growth
IBM CFO James Kavanaugh tells TheStreet Thursday that it's taken a lot of hard work over the last three years to reposition the tech giant.
IBM CFO James Kavanaugh tells TheStreet Thursday that it's taken a lot of hard work over the last three years to reposition the tech giant.
It's taken a while, but Big Blue finally returned to year-over-year revenue growth in last year's  fourth quarter. 
IBM's (IBM) - Get Report CFO James Kavanaugh told TheStreet on Thursday that the change, which followed 22 consecutive quarters of declining revenue growth, has been fueled by shifting investments toward its high-growth cloud, artificial intelligence and blockchain businesses. Kavanaugh, who was appointed CFO in January after serving in other roles at IBM since 1996, also talked about IBM's advantages in software, the growth of its security business and how it's impacted by the corporate repatriation tax holiday.
On Thursday mid-day, IBM shares were up down 1.5% to $156.03 after the company issued a longer term outlook in a briefing given to investors. Over the last year, the stock is down about 13%.
TheStreet: Q4 marked IBM's first quarter of year-over-year revenue growth after 22 quarters of decline -- what were the main factors in this change?
Kavanaugh: This was a big theme at our investor meeting today. It's been a lot of hard work over the last three years to reposition the company, especially in the high-value segments of our industry, such as cloud, AI and blockchain. Today, nearly half our revenue comes from these businesses. That meant a radical shift in our investment strategy.
Before 2014, around two-thirds of our investments went toward shareholders returns. Over the last three years, we've flipped that, and now two-thirds goes to investments in our business. That's a big shift. It's 34 acquisitions. It's reinvigorating our innovation pipeline to lead in AI, quantum and blockchain. It's building out 60 cloud centers around the world. But it's also about skills -- 50 percent of IBMers have joined the company in the last five years, and we have invested $2.5 billion in training over that time.
IBM's profitable software division notably returned to growth in Q4. What's been most responsible for that growth, and do you expect those factors to continue into the future?
More and more, our clients want to leverage their data for competitive advantage -- think supply chain data, patient data, CRM system data. This is about 80 percent of the world's data, and it is not searchable. Companies want to unlock that data, and apply new tools to it, such as AI and blockchain. This is all about making better, faster business decisions.
To get that done, they want cloud services that are optimized for this data and also highly secure. I believe companies are gravitating to IBM because we have an enterprise cloud platform that's been built for this work, along with expertise they value. They also know they can trust us to be responsible with their data.
Warren Buffett recently disclosed he'd taken down Berkshire's position in IBM to just two million shares. Did you have any discussions with Buffett about his move, and if so, what were his concerns and how did you respond to them?
We are committed to delivering shareholder value. And we believe the best way to do that is to deliver client value. That's why we've made these investments in the emerging areas of IT, where our clients see the most value. I think you can look at our success in scaling the businesses over the last three years as evidence that we are delivering client value.
How much cash is IBM planning to repatriate from abroad this year due to the corporate tax holiday, and how does the company plan to use that cash?
It's not really an issue for us. We have operations in more than 170 countries and for decades we have had a balance between U.S. and overseas cash positions to support those operations. This will continue. In general, we are a supporter of the U.S. tax reform program and we believe it will benefit IBM in the years ahead.
What are the most recent developments with IBM's cloud business? And what are the most promising opportunities going forward?
Our focus has never been low-end commodity cloud services, such as public infrastructure-as-a-service. My sense is that will rapidly become the dial-tone of IT. Instead, we have developed our cloud platform based on how our clients want to manage their applications, data, and use new tools like AI. That means you need a cloud that is optimized for all kinds of data, infused with AI and highly secure.
They also want flexibility. Often they want to manage their applications or data in a private cloud, but incorporate public cloud data or tools. When I talk to clients, I hear as much interest in hybrid and private cloud as in public cloud, and I see more clients shift from public to hybrid as they move from development and into production.
In 2017 IBM's CEO Ginny Rometty said the company had "established IBM as the Blockchain leader for business." How has IBM's Blockchain platform grown and developed recently, and how important is it to IBM's future?
Clients are very interested in blockchain. It's not because of the Bitcoin hype. It's because they see what blockchain can do to improve trust, transparency and speed in their most complex supply chains and markets. We're already working with more than 400 organizations on blockchain deployments. This includes Maersk for shipping, Wal-Mart for food safety, and the DTCC for complex derivatives.
They are working with us because we have the best technology, on the cloud, and we have experts who understand these business processes. And we make it easy. Developers can get up and running on our blockchain tools in minutes.
In Q4 2017 revenue from security grew 132% year over year -- what's been responsible for this?
Everywhere we go business leaders are worried about security. We have developed the most advanced cybersecurity tools and we have built new facilities for clients to test them. They can come to a great new facility, our IBM Cyberrange, and stress test their business against the latest cyber threats. We have optimized our core systems because this is a secular shift in what our clients are looking for. For example, our new mainframe, the IBM z, can automatically encrypt all client data all the time.